Wiseling hired 16 yo Finnish boy to translate

When it launched Wiseling represented it was based out of Finland.
This was problem, because Wiseling was run by Russian scammers.
The Solution?
Wiseling hired a 16 yo boy on Fiverr, to translate in a way that "sounds natural to those who speak Finnish as their mother tongue".
Wiseling approached the 16 year old high-school student last June.
Correspondence provided by Iltalehti reveals Wiseling was looking for a translation that
has to sound alright to a Finnish native speaker, but also preserve the meaning of what's said in English.
Wiseling, using the Fiverr account "recorddd", provided the student with marketing material in Russian.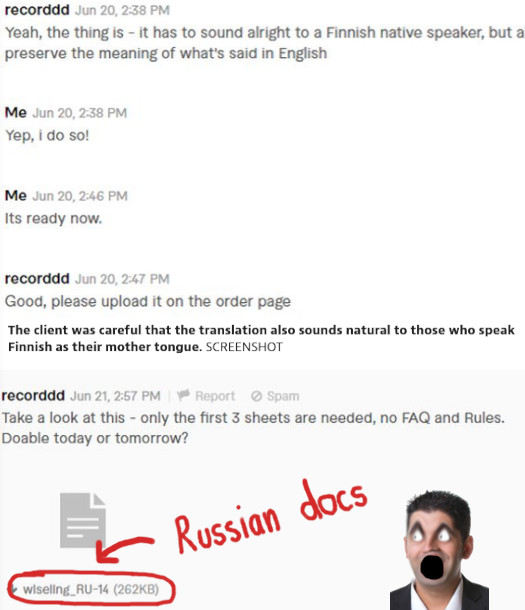 The Fiverr gig costs Wiseling $45 all up.
The Recorddd Fiverr account is also reported to have purchased translation services from other Fiverr users.
Whether Wiseling also hired Andrey Ovchinnikov to play Matias Lappo on Fiverr is unknown.
Whereas Wiseling appears to have put some effort into its marketing documents, BehindMLM readers were unconvinced by Ovchinnikov's portrayal Lappo.
As per Iltalehti's report, Finnish police have received "nearly 200" criminal complaints about Wiseling. Most of those complaints are from Asia.
Finnish police are currently investigating Wiseling for aggravated fraud and identity theft.
Whether they'll actually be able to do anything against Russian scammers though remains to be seen.