Frank Calabro Jr. agrees to stop securities fraud, continues anyway…

Rather than clear his name with evidence he isn't a serial scammer, Frank Calabro Jr. has agreed to stop committing securities fraud in North Carolina.
Calabro Jr. popped up on the North Carolina Securities Division's radar via his promotion of the USI-Tech Ponzi scheme.
Neither USI-Tech or Calabro Jr. are registered to offer securities in North Carolina (or anywhere in the US for that matter).
Conclusions reached in Calabro's settlement include:
USI-Tech's BTC Packages constituted a security
Frank Calabro Jr. violated North Carolina's securities laws by offering unregistered securities across the state
Frank Calabro Jr. violated North Carolina's securities laws by offering securities in North Carolina (registered or unregistered), when he himself was not registered to offer securities and
Frank Calabro Jr. violated North Carolina's securities laws by omitting material facts in the promotion of unregistered securities, resulting in misleading communication to potential investors
Calabro has consented to the finding of the Securities Division, with the intention of resolving the matter 'to avoid further administrative proceedings'.
As per the order, Calabro has agreed to permanently cease and desist from violating North Carolina's securities laws.
The order is dated June 12th, upon which date it became "final upon entry and … binding upon Calabro".
Here's the thing though, Calabro Jr. is still promoting unregistered securities.
As cited in the Securities Division's original cease and desist, Calabro Jr. promoted unregistered securities on his "Planet Millionaire" website.
As I write this, three days after Calabro Jr. agreed to stop promoting unregistered securities, no less than three unregistered securities offers are being promoted on Planet Millionaire.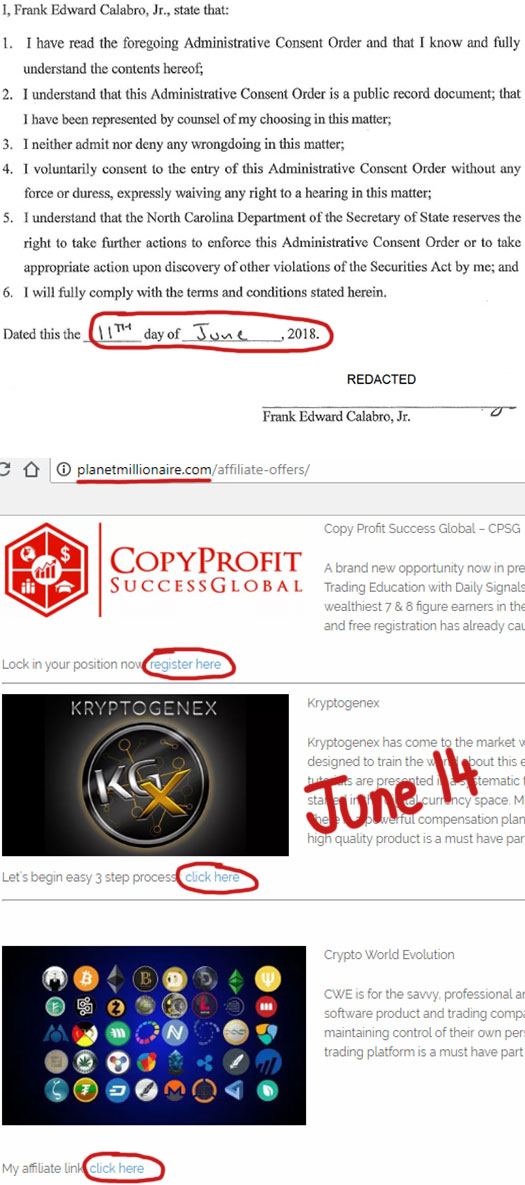 Copy Profit Success Global – secretive forex pyramid scheme, potentially attached to a passive ROI "autotrader"
Kryptogenex – bitcoin pyramid scheme attached to a "Krypto App" that generates a passive ROI
Crypto World Evolution – cryptocurrency trading platform that advertised "automated significant 24/7 earnings" through "trading bots"
Neither of these MLM companies are registered to offer securities in the US.
Whether the Securities Division are aware Calabro Jr. signed their agreement and then went right back to committing securities fraud is unclear.
I mean surely someone from the Securities Division revisited Planet Millionaire before presenting Calabro Jr. with a consent order to sign?