Frank Calabro Jr. up on felony charges, house raided, assets seized

Frank Edward Calabro Jr., one of the USI-Tech Ponzi scheme's top investors, is the subject of an ongoing investigation by North Carolina authorities.
In conjunction with a securities fraud cease and desist issued on March 8th, authorities raided Calabro Jr.'s Guilford County home on March 9th.
According to a March 8th search warrant provided by the Facebook page "Scam Page.", authorities searched Calabro Jr.'s property at 9:45am and seized various items of interest.
An attached "application for search warrant form" confirms the warrant was issued in connection with the North Carolina Securities Division fraud case.
The application also reveals the Securities Division began investigating Calabro Jr. following his involvement in the My Advertising Pays Ponzi scheme
My Advertising Pays collapsed in late 2015.
The Securities Division's investigation also tied Calabro Jr. to the Zeek Rewards and Traffic Monsoon Ponzi schemes.
This background information led the Securities Division to look into the current activities of Calabro.

It was found that Calabro was a prolific promoter of a new online investment program called USI Tech.

Calabro's history is that he uses email, websites and social media to solicit potential investors into Internet investment programs.

On his website, Planet Millionaire, Calabro heavily promotes and sells USI Tech's "BTC Package" investment program to the public.

Recently Calabro has stated in videos on the Internet that in the past four years he has brought in over 19,000 persons into these investment schemes.

He claims to have over 10,000 current members of his website Planet Millionaire.

Calabro recently told his internet followers that he had made $1.3 million in a recent, single month.
Whereas litigation pertaining to securities fraud is typically civil in nature, the Securities Division's case ups the ante by hitting Calabro Jr. with felony charges.
Securities Division agents, working undercover, have collected evidence of Calabro Jr. promoting USI-Tech.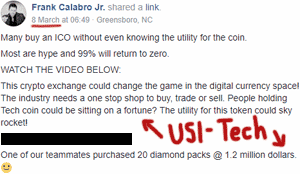 This includes Calabro Jr. stating
investors who purchase the BTC Packages will receive an average daily interest rate of 1%, Monday through Friday, for a term of 140 days.

Calabro has on several occasions sent emails to Securities Division undercover email accounts soliciting the recipient to watch promotional videos that directly link to the USI Tech website under the sponsorship of Calabro.

At no time during the undercover contact with Calabro did he provide information that the State of Texas had already determined that the BTC Packages were securities and that, as a result, USI Tech had been ordered to cease and desist in that state.

He provided no information about the assets, liabilities or other factors concerning the viability and liquidity of USI Tech and no particulars about the software processes that allegedly would provide returns to investors.

Calabro at no time mentioned to the undercover investigator that the BTC Packages were unregistered securities and thus the offer of the same was illegal in North Carolina and most other jurisdictions.

Calabro failed to tell his investors that if they too offered the investments to other persons than they themselves would be breaking the law and be subject to undisclosed penalties and liabilities.
The North Carolina Securities Division are going after Calabro Jr. for
felony registration violations of the North Carolina General Statutes (NCGS)
securities fraud violations of the NCGS
criminal provision as per the NCGS
The search warrant was issued on "probable cause to believe evidence of (Calabro Jr.'s) crime is located" at his residence.
This was based on review of Calabro Jr.'s promotional videos, which typically showcased his residence and home office.
An inventory of items seized from Calabro Jr.'s home is as follows:
boxes of documents seized from an upstairs office
2 "bitcoin" gold coins
$8000 in cash stashed in a black filing cabinet
$1241 in cash from a wooden jewelry box in the master bedroom
$3364 in cash from a metal drawer in the master bedroom
28 silver 1 oz. coins with a value of $9296 stashed in the master bedroom closet
18 silver 10 oz bars valued at $2988 stashed in the master bedroom closet
8 silver 5 oz dollar coins valued at $664 stashed in the master bedroom closet
20 silver 1 oz bars stashed in the master bedroom closet
1 bag of silver bullion containing 14 silver 1 oz coins valued at $232.40, stashed in the master bedroom closet
1 bag of silver bullion containing 82 silver 1 oz coins valued at $1361.20, stashed in the master bedroom closet
11 silver coins in cases stashed in an upstairs room
6 old quarters from a wooden case stashed in an upstairs room
4 one gram gold bars stashed in an upstairs room
4 2.5 gram gold bars stashed in an upstairs room
a "crystal ward" stashed in an upstairs room (lol)
two legal pads (one in the master bedroom the other in an upstairs room)
a Samsung N950 smartphone
five laptops stashed in various locations around the house
various USB sticks
two Ledger Nano S cryptocurrency hardware wallets (one in a filing cabinet, one in the upstairs office)
various SD cards stashed in different locations around the house
$50,000 in cash stashed in a Nissan Frontier
Calabro Jr. wasn't at his property when it was raided. His current whereabouts are unknown.
Meanwhile the seizure of Calabro Jr.'s cryptocurrency wallets are of particular significance.
In an October, 2017 Facebook post Calabro Jr. stated he'd
never turn my coin back into paper.

The strategy is to multiply, stack and live off of BTC!!!
How much of Calabro Jr.'s cryptocurrency stash has been seized is unclear.
No doubt any additional amounts held  in exchanges will be recovered once authorities begin forensic examination of the laptops seized.
The day after his home was raided, Calabro Jr. stated on Facebook that
all is well … be back in a few days!
Other than declaring "god is on his side", Calabro Jr. has yet to publicly address the Securities Division investigation or seizure of his assets.
Stay tuned…