Frank Calabro Jr. serial scammer cease & desist issued in Nth Carolina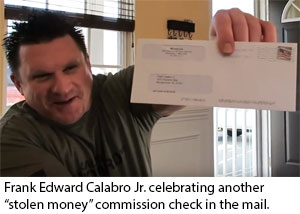 Frank Edward Calabro Jr. has a history of scamming people dating back to Zeek Rewards and beyond.
Since Zeek Rewards was shut down by the SEC in 2012, Calabro Jr. has promoted train wreck after train wreck of collapsed scams – profiting handsomely along the way.
It seems the law has finally caught up with Calabro Jr., following a securities fraud cease and desist issued by North Carolina.
The North Carolina Securities Division identifies Calabro Jr. as 'an adult individual residing in Guilford County, North Carolina.'
Calabro has been in the business of affiliate marketing for at least the last five years.

Over the past five years, Calabro has promoted and sold various investment products, including products on behalf of Zeek Rewards and Traffic Monsoon.
Following an internal investigation, the North Carolina Securities Division found Calabro Jr. has been promoting scams through "Planet Millionaire".
Calabro promotes Planet Millionaire on YouTube and other social media channels that he maintains by explaining how he went from "rags to riches," and offering to teach others how to "escape to the total freedom lifestyle."
Scams Calabro Jr. is currently promoting on Planet Millionaire include Power Lead System, Crypto World Evolution and Global MoneyLine.
The Securities Division adds USI-Tech and their BTC Package Ponzi scheme to the list, citing a cease and desist issued by Texas in December, 2017.
Based on Calabro's representations of the BTC Packages, investors have purchased the packages because they were given the impression that they could profit from the guaranteed returns provided by USI-Tech's efforts in the areas of automated trading and cryptocurrency mining.

The BTC Packages have all the hallmarks of a security, are not registered as securities in North Carolina, and are not exempt from registration.
The Securities Division goes on to state Calabro Jr.'s
solicitation of the investing public poses an immediate and significant threat of irreparable harm to the public welfare.
In an order dated March March 8th, the North Carolina Securities Division requires Calabro Jr. to immediately cease and desist
offering unregistered securities
acting as a securities dealer or salesman
making material misstatements of fact in connection with the offer and/or sale of securities and
continuing to violate the Securities Act
Calabro Jr. has twenty days to request a hearing to defend himself.
If the North Carolina Securities Division receives no response within thirty days, Calabro Jr's cease and desist will be made permanent.