Kryptogenex Review: $250 crypto education with securities fraud

Kryptogenex provide no information on their website about who owns or runs the business.
The Kryptogenex website domain ("kryptogenex.com") was privately registered on January 16th, 2018.
Further research reveals a YouTube video titled "KryptoGeneX – Meet The Founder", uploaded to a YouTube channel bearing the name "KryptoGeneX" on February 12th, 2018.
In the video host Brandon "Bitcoin Brandon" Ivey, an affiliate from California, identifies five Kryptogenex co-founders; Stephen McCullough (Oklahoma), Jeramie and Kathy Keen (Hawaii), Will Fjetland (Washington) and Mike Boggs (Pennsylvania).

Stephen McCullough's claim to MLM fame is being one of the co-founders of SkyBiz.
In 2001 the FTC sued SkyBiz for being a pyramid scheme.
Skybiz affiliates paid $125 for an "e-Commerce Web Pak" and were paid to recruit others who did the same.
The FTC claimed that the program was a classic pyramid scheme.

The agency charged that the claims that consumers who invested in SkyBiz would make substantial income were deceptive; that the defendants' failure to disclose that most people in pyramid schemes lose money is deceptive.
Evidence submitted by the FTC revealed that 96% of Skybiz affiliates lost money.
In 2003 McCullough and nine co-defendants settled the FTC's allegations. The settlement saw $20 million in losses returned to Skybiz victims.
As far as I can tell, none of the other Kryptogenex co-founders have any MLM executive experience.
Read on for a full review of the Kryptogenex MLM opportunity.
Kryptogenex Products
Kryptogenex market an education platform they claim teaches subscribers "everything you need to know about bitcoin and cryptocurrency".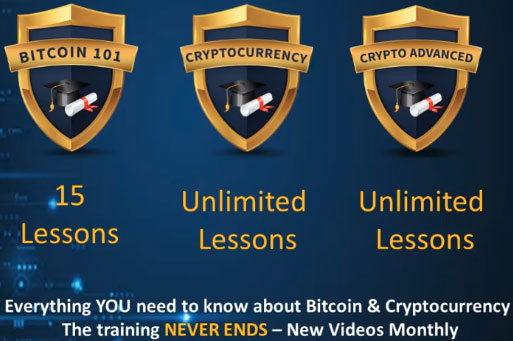 Access to the Kryptogenex platform costs $250.
The Kryptogenex Compensation Plan
Kryptogenex affiliates are paid to sell $250 education platform memberships to retail customers and affiliates.
Retail and Recruitment Commissions
Kryptogenex affiliates are paid $100 each time a retail customer or recruited affiliate pays $250 for the education platform.
Customer Acquisition Bonus
Kryptogenex pay an additional $25 for each $250 education plaform sale to retail customers (non-affiliates).
An additional $250 is paid out for each ten education platform retail customer memberships.
When a Kryptogenex affiliate sells 100 retail memberships, they receive a MacBook Pro or "latest version" iPhone or Android cell phone.
Residual Commissions
Kryptogenex pay residual commissions via a binary compensation structure.
To qualify for residual binary commissions, a Kryptogenex affiliate must recruit at least two affiliates.
A binary compensation structure places an affiliate at the top of a binary team, split into two sides (left and right):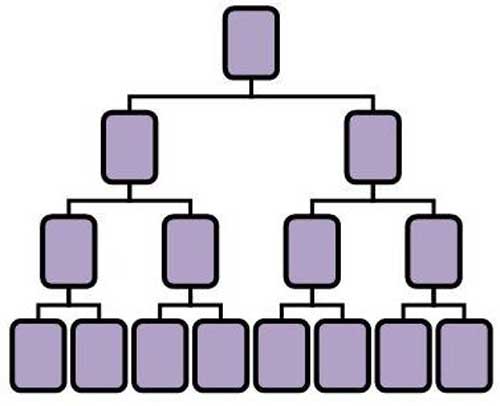 The first level of the binary team houses two positions. The second level of the binary team is generated by splitting these first two positions into another two positions each (4 positions).
Subsequent levels of the binary team are generated as required, with each new level housing twice as many positions as the previous level.
Positions in the binary team are filled via direct and indirect recruitment of affiliates. Note there is no limit to how deep a binary team can grow.
Each filled position in the binary team represents a retail customer or recruited affiliate (can be direct or indirect).
retail customer filled positions generate half a point
recruited affiliate filled positions generate a full point.
Kryptogenex pay residual commissions based on a 2:1 ratio. That is two points matched on one side of the binary team with one point on the other.
Which sides the 2:1 ratio is matched on is irrelevant.
For each 2:1 point match ratio generated in a Kryptogenex affiliate's binary team, they are paid $25.
Note that residual commissions for all Kryptogenex affiliates are capped at $50,000 a week.
If this cap is reached, an affiliate is given a new binary team position above their existing position.
This effectively allows them to build a new binary team and double-up on existing volume in their original position.
Matching Bonus
Kryptogenex affiliates earn a 10% Matching Bonus on residual commissions paid to personally recruited affiliates.
Note the minimum earning amount to trigger the Matching Bonus is $100 per affiliate.
Joining Kryptogenex
Kryptogenex affiliate membership requires payment of $250 for the education platform and a $50 annual fee.
All payments within Kryptogenex are made in bitcoin (both paid and received).
Conclusion
On the front-end Kryptogenex presents itself as a cryptocurrency education platform aimed at people who know nothing about bitcoin.
This is because on the backend, Kryptogenex funnel retail customers and affiliates into an automated bitcoin investment platform.
Before we continue, let me point out that Kryptogenex's retail offering is pseudo-compliance.
Nobody is paying the company $250 for bitcoin information that is readily and abundantly available all over the internet for free.
Further evidence of this is Kryptogenex requiring those that think about acquiring retail customers having to sell twice as many memberships to get paid the same in residual commissions.
To offset this the company does offer the Customer Acquisition Bonus, but again the market for a $250 cryptocurrency education platform written by nobodies is extremely limited.
At least not without the attached Kryptogenex business opportunity.
To be clear, if Kryptogenex did manage to generate more retail membership revenue than it took in affiliate fees, the company would be operating legitimately.
In reality however you're going to find company-wide revenue is primarily made up of affiliates paying $300.
If that was the extent of Kryptogenex's business model, we could chalk it up to likely operating as a simple enough pyramid scheme.
Things get murky however when you get to the "Krypto App" section of the compensation plan: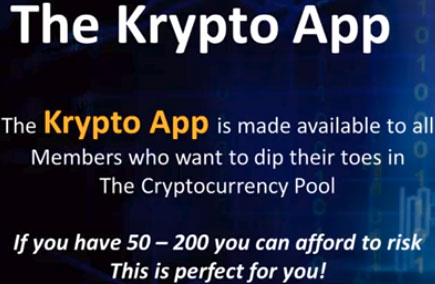 As above, the Krypto App sees Kryptogenex dole out cryptocurrency investment advice to retail customers and members willing to put up $50 to $200.
Given the nature of Kryptogenex business model, this is likely to be similar cryptocurrency MLM opportunities – which of course will provide additional income for Kryptogenex's owner(s).
None of this is disclosed to Kryptogenex retail customers or affiliates.
Dig a little deeper and you'll come across "The Kryptorithm", which sees Kryptogenex engage in full-blown securities fraud:
Through the Kryptorithm, Kryptogenix "manage" their affiliate's and retail customer's "crypto assets" – for an undisclosed Kryptorithm license fee.
This purportedly generates a ROI through a "powerful algorithm", the details of which are again not disclosed.
Further research reveals Kryptogenex are charging $1000 to $3000 in Kryptorithm license fees: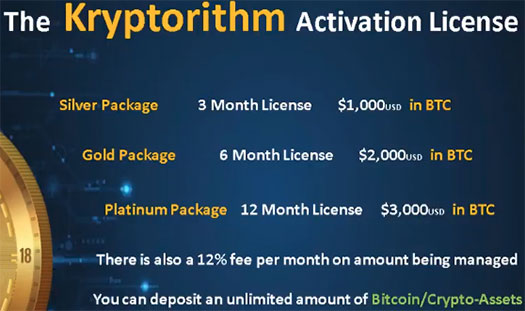 The minimum investment amount is 0.25 BTC and Kryptogenex investors are charged a monthly 12% fee.
Kryptorithm claim "large funds" are using their algorithm.
The company however provides no evidence of funds using their algorithm, or indeed any evidence that the algorithm exists or is being used to generate ROI revenue.
Given the passive nature of Kryptogenex's Kryptorithm platform, quite obviously it fits the definition of a securities offering.
Yet neither Kryptogenex LLC, Stephen McCullough, Jeramie Keen, Kathy Keen, Will Fjetland or Mike Boggs are registered on the SEC's Edgar database.
This means Kryptogenex and its co-founders are illegally offering unregistered securities across the US.
Additionally, those promoting Kryptogenex are also committing securities fraud by way of promoting an unregistered securities offer.
Worse still, Kryptogenex and its anonymous owners appear to know full-well they're committing fraud – as evidenced by the following claims: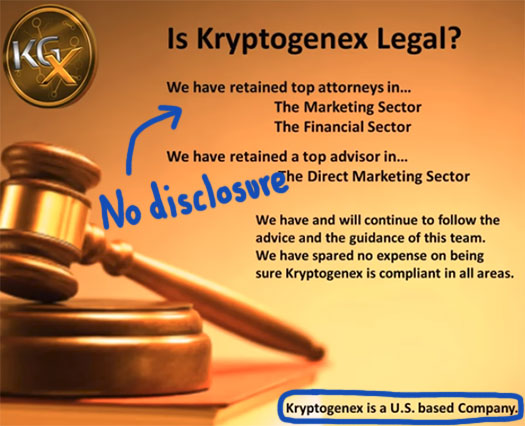 In true MLM underbelly style, Kryptogenex do not disclose who their alleged "top attorneys" or "top advisor" are. Nor does the company explain how offering unregistered securities in the US is legal.
And it gets worse – remember that "meet the founders" video I mentioned in the introduction of this review?
Here's what host Brandon Ivey states [0:41] into the video;
We're solving a problem for most people. We're solving a basic problem.

We're being able teach crypto education to them.

We're gonna show them how to earn passive income and we're 100% SEC compliant.
Buuuuuuuuuuuuuuuullshit!
To recap, Kryptogenex's front-end is likely operating as a pyramid scheme with little to retail activity. On the back-end you have securities fraud, all of which is conducted in bitcoin.
One might even say Kryptogenex is simply Skybiz redux, but this time with a token retail offering and cryptocurrency.