John Wuo fined $2000 by FPPC (USFIA case updates)

It wasn't long into researching BehindMLM's USFIA review that came across photos of John Wuo with USFIA management.
Wuo was an elected government official of the City of Arcadia, California, so his potential involvement in USFIA was concerning.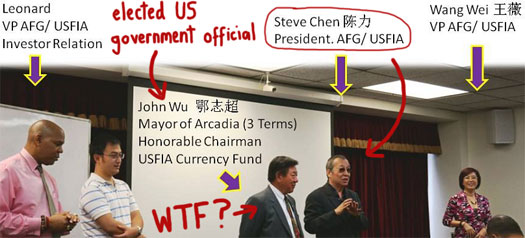 As USFIA's presence continued to grow in Arcadia, residents began to question Wuo's involvement in the scheme.
Less than a week after our published review, Wuo fronted local Arcadia media and denied any involvement in USFIA.
Speaking to the Arcadia Weekly, at the time Wuo claimed
he has no financial interest in and hasn't received any compensation from the companies connected to Gemcoin, nor is he a Gemcoin investor.
The SEC shut down USFIA for being a $32 million dollar Ponzi scheme last September.
Despite initially ignoring calls for his resignation, John Wuo resigned from the Arcadia City Council on October 7th, 2015.
The day before Wuo's resignation, California's Fair Political Practices Commission confirmed it was investigating Wuo for potential violations of the Political Reform Act.
Pertaining to Wuo's involvement in USFIA, the Political Reform Act
prohibits public officials from participating in governmental decisions affecting their "financial interests" and requires certain public officials to disclose certain assets and income.
The FPPC's investigation was spurred by an official complaint filed by Arcadia resident, David Arvizu.
In the months leading up to the SEC's shutdown of USFIA, Arvizu spear-headed public critcism of Wuo's ties to USFIA at Arcadia City Council meetings.
On November 7th, 2016, the FPPC sent David Arvizu notice that their investigation into John Wuo had been concluded.
The letter itself, as published by the Sierra Madre Tattler, doesn't contain any specifics as to the outcome of the investigation.
It does however link to an upcoming meeting, at which the outcome of the investigation and proposed resolution will be 'submitted for consideration'.
This meeting is to be held on November 17th. The published agenda lists "the matter of John Wuo" as follows:
John Wuo, a former member of the Arcadia City Council, failed to disclose on his 2014 and 2015 Annual Statements of Economic Interests that he received income from US Fine Arts Investments and that he had a business position as an officer with 24 HD Surveillance, in violation of Government Code Sections 87203, 87207, and 87209 (2 counts).

Total Proposed Penalty: $2,000.
Now obviously the penalty is not the headline here, rather it's the fact that John Wuo publicly lied about his involvement in USFIA.
Unfortunately the FPPC's agenda does not reveal how much John Wuo profited from USFIA. However I suspect that is almost certainly going to come up in future SEC  and/or Receiver filings.
The November 17th FPPC meeting is open to the public, so if how much Wuo made comes up I'm sure it will be reported on. Whether Wuo himself will attend the meeting is unclear.
Meanwhile the SEC's case against USFIA and owner Steve Chen continues.
Last we checked in both parties were gearing up for settlement proceedings.
December 8th has been decided as an agreed upon date for a settlement conference before a magistrate judge.
This date was approved by the court on November 7th.
If a settlement is reached between the SEC and Chen, the case will be resolved without a trial. If the parties are unable to reach a settlement agreement, the case will proceed to trial.
On November 7th Steve Chen filed an opposition against the SEC's Motion for Summary Judgement (filed October 26th).
Based on this filing (Chen is adamant USFIA wasn't a Ponzi scheme), I believe it's unlikely a settlement will be reached.
Steve Chen's opposition filing is 26 pages long so I'll cover it in a separate article to follow.
Otherwise stay tuned for an updates on the FPPC November 17th hearing and USFIA December 8th settlement conference accordingly.
Update 18th November 2016 – On November 17th the FPPC held a commission meeting at which the John Wuo resolution was passed.