John Wuo resigns from Arcadia City Council

Putting off the inevitable, breaking news out of Arcadia tonight that John Wuo has resigned from the Arcadia City Council.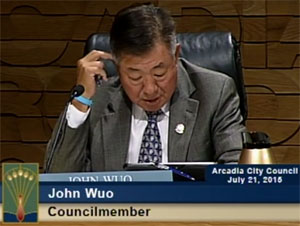 As per a letter submitted to sitting mayor Gary A. Kovacic:
Dear Honorable Mayor Kovacic,

It is with great regret and sadness that I have to resign from my position as council member, effective immediately due to personal and health reasons.

For the last twelve years I have enjoyed serving on the council with you, our colleagues and many of our friends.

It has been an experience that I am thankful for and will always treasure.

Our team at the city is second to none. Our wonderful staff works hard to make sure that we provide the best service to the residents.

That is the Arcadia way, and I think it is the best way.

There is still a rough road ahead and difficult decisions will need to be made to ensure that Arcadia continues to run like a well-oiled machine.

I have total confidence in the current council to do just that.

I love Arcadia and it is time to say goodbye. Best wishes to all, best regards,

John Wuo
Wuo meanwhile is facing a recently announced political corruption investigation, as well as regulatory fallout for his role in the USFIA GemCoin Ponzi scheme.
Stay tuned…