US politician denies involvement in USFIA Ponzi scheme

A few days ago we reviewed the USFIA MLM business opportunity, concluding it to be yet another MLM cryptocurrency Ponzi points scheme.
As part of our review, we noted the appearance of John Wuo on stage at USFIA GemCoin events: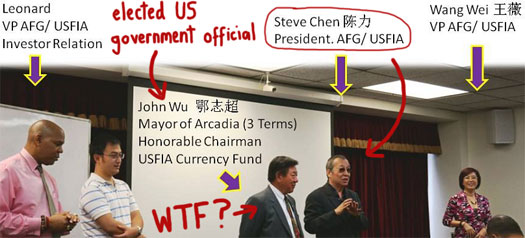 John Wuo is a prominent politician in Arcadia City, California. Having first been elected to City Council back in 2002, Wuo has since served as Mayor for three separate terms.
Following publication of our USFIA review, local media in Arcadia have picked up the story and investigated Wuo's apparent involvement.
Speaking to Arcadia Weekly, Wuo was adamant
he has no financial interest in and hasn't received any compensation from the companies connected to Gemcoin, nor is he a Gemcoin investor.
Wuo also insisted he doesn't "know anything about Gemcoin".
Which is strange, because he also acknowledged 'his presence at … Gemcoin promotional gatherings over the last several months.'
So uh what, Wuo attended GemCoin promotional events, spoke on stage and yet he has no idea what GemCoin is?
Riiiiight.
Citing GemCoin promotional material, Arcadia Weekly claim Wuo is quoted as telling Singaporean USFIA investors;
We help resident[s] to solve problems. USA is like other countries, with relationship it is easier to get things through. I can help you.
Wuo denies those are his words.
Suspended disbelief aside, Wuo, who has been in China for two weeks, vowed to clear his name upon returning.
he intends to demand that the cryptocurrency's marketing department excise his image and statements from the numerous promotional websites.

"When I return I will talk to [Gemcoin founder] Steve Chen and ask him to remove references to me in Gemcoin marketing material," Wuo said in a phone interview.
Why Wuo is only now going to ask for the references tying him to GemCoin be removed is a mystery.
Wuo meanwhile is good buddies with USFIA owner Steve Chen, having known him 'for two years and worked with (him) as a real estate consultant.'
But uh yeah, apparently Wuo has no idea what GemCoin is…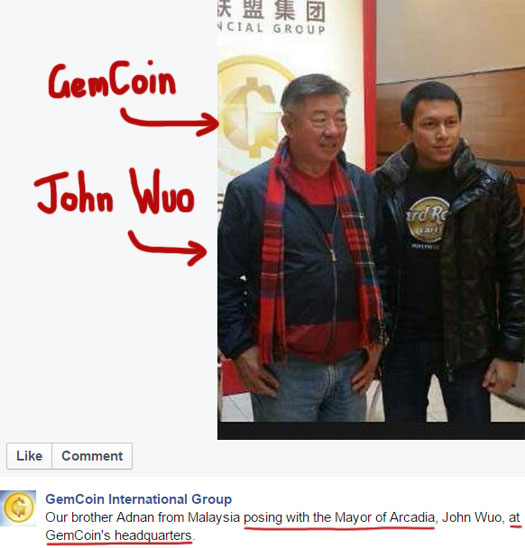 Further pushing the bounds of improbability is Wuo also being good friends with Solomon Yang, Chairman of the  US-China Consultation Association (UCCA).
The USFIA website advises the company is owned by (UCCA).
Wuo said he has known Yang for seven years and confirmed the two worked together at Wuo's now defunct Golden Apple Group International Inc., an Arcadia-based real estate brokerage.

An online business profile describes Yang, an Arcadia stakeholder, as the chairman of Golden Apple and notes his extensive experience with international securities and real estate investing.

Wuo and Chen are described as UCCA board members on the organization's website and throughout Gemcoin's plethora of online promotional copy. Solomon Yang is listed as UCCA chairman.

Wuo confirmed his UCCA affiliation and that he has had business relationships with Chen and Yang.
Whether or not Wuo has received any USFIA GemCoin Ponzi money through his involvement in UCCA, knowingly or otherwise, is unclear.
"They used me to promote their company, and I feel like I have been used," Wuo said.
In an effort to further research the story, Arcadia Weekly attempted to contact USFIA for a statement.
On Tuesday an employee who said he worked in the Gemcoin marketing department deferred public comment to Chen and USFIA executive Leonard Johnson, both of whom the employee said were out of the country.

As of press time neither responded to requests for an interview via phone or email and documents to support the marketing claims.
So Chen and Johnson are also both of out the country, how coincidental. I wonder if they're both in China too…
Arcadia City Manager Dominic Lazzaretto said city officials were "not familiar with Gemcoin or any involvement Council Member Wuo has with it" prior to Arcadia Weekly's inquiry.

Lazzaretto said he referred the information about Wuo's presence in Gemcoin marketing material to City Attorney Stephen Deitsch "to make sure no laws are violated."
Earlier this year Wuo spearheaded a controversial plan to schmooze Arcadia City Council members in China.
Mayor John Wuo had proposed that a group of elected officials and department heads visit China and Taiwan to explore sister city relationships and observe Chinese government.

Three companies each had offered to donate $10,000 to the city's general fund with the unofficial purpose of paying for the trip: Macau-based Companhia de Comercial Dingyuan Limitada, China-based Sichuan Arrow Recovery Tech Co. Ltd. and Rowland Heights-based Perfect Brothers Development Corp.
Following public outcry, the trip was scrapped and the donations returned. Wuo kept mum on the trip and 'did not respond to (the LA Times') multiple requests for comment'.
After the trip was announced at a City Council meeting in January, locals began raising questions not only about how the trip was funded but why it was necessary.

A February staff report describing the trip said "one or more" of the owners of the firms donating had potential business interests in the city. And two councilmen's wives, as well as relatives of the mayor (Wuo), were included on the itinerary's attendee list.

Some longtime residents took the proposed trip as another sign that wealthy Chinese newcomers are exercising too much influence in Arcadia. The suburban community of 57,000 is popular with Chinese investors, who buy homes and build large mansions that some residents say ruin the city's character.

A recent council decision to allow a Chinese architect to build two large homes in the Arcadia Highlands neighborhood — a project a homeowners group had rejected — has compounded those tensions.
And what, John Wuo works with USFIA Founder Steve Chen as a real estate consultant?
You don't say…