Wuo ignores resignation calls & distraught USFIA victims

Another two weeks, another action-packed Arcadia City Council Meeting.
Packed to the rafters, the September 15th meeting saw multiple calls for John Wuo's resignation, along with teary testimony from USFIA victims.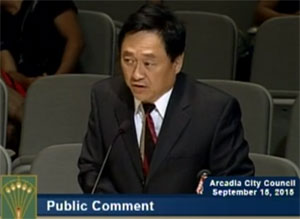 The second public speaker of the night,  Shone Wang, kicked off calls for Wuo's resignation:
[1:13:30] I'm here today to plead for Mr John Wuo's resignation from our city council.

Arcadia city council is a quintessential southern California democracy at its best. We elect prominent public figure for our community who are willing to serve on a volunteer basis.

This is not a money-earning job and it's not a job for job per-say…

This good tradition has kept Arcadia… great and proud for decades.

Until came this Mr. John Wuo, with a big time big time, big boy, big city politician manner, and to try to strike for the fame and fortune that he thinks he deserves in our city.

Tonight I'm Mr. John Wuo's character witness. I've known John for more than 20 years.

This is not a personal vendetta that I come with, I come with great regret. Because, like many other Arcadian Chinese Americans, I chose to keep silent for years when I see a bad apple got rotten.

I know this turmoil of this Gemcoin scam has been brewing for quite a while.

And I read the script of the July meeting of this city council and Mr. Wuo tried to white-wash his involvement in this scam. He even had our city attorney validate his conduct.

There's no mea culpa moment here. There's not the slightest (indecipherable) … this is totally out of line.

I know what we call, innocent until proven guilty. And I know this scam is still under ongoing investigation. Whether Mr. John Wuo will get indicted or not is still unknown.

Yet this (Arcadia Highlands) multi-million dollar lawsuit already has (cast) a big cloud over over Arcadia.  And our reputation has been deeply, seriously dampened.

With an effort to restore our reputation and our proud tradition, I urge you Mr John Wuo to step down.

If he still has one ounce of decency in him, which I doubt it.

(Otherwise) it's then up to this council to come up with some kind of resolution to preserve our good names.

Because you're not dealing with a naive man who inadvertently stepped out of bounds, shaking the wrong hand, cutting the wrong ribbon,  This is not about a man cutting the wrong ribbon, endearing to the wrong people.

This is a savvy business man. Maybe not that successful as we all know, he has tried to entangle himself from head to toe with the money pit that he can find and tried to grab whatever comes his way.

So if we keep giving him the benefit of the doubt by doing nothing, when the big bubble bursts, one day you will say then what the 50 some victims say now: "Gee, we should have seen it coming".
Chimed in another speaker shortly after:
[1:25:00] Councilman Wuo, you sir are a disgrace to our city.

You say you know nothing about GemCoin. You say it is a political attack because of an upcoming election.

This issue was brought up months ago and the election isn't until April, 2016.

This isn't politically driven.

I don't understand how you can say I can't understand how you say you are not endorsing GemCoin, but support the company at numerous events as Mayor of Arcadia – only to wish them good fortune.

You have publicly said GemCoin is a breakthrough and cutting-edge technology, that sure sounds like an endorsement to me.

You say it's up to an investor to do the research. Sir, the apparent endorsement from you as Mayor gave that confidence on GemCoin.

Those investors believed in you. Maybe they were naive in doing so, but they did – due to your position as Mayor.

That is why your comments don't make any sense to me.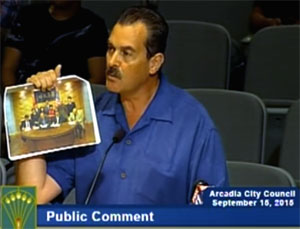 The gentlemen then proceeded to hold up the now infamous photo of John Wuo signing documents with USFIA owner Steve Chen.
Just before this meeting I was made aware of an article from the Arcadia Weekly.

This includes a picture of you with the GemCoin executives, in which you are all signing documents.

Sir, you have shamed our city. You should do the right thing and resign your position as councilman, before our city goes through any further embarassment and scandal.
Frequent speaker David Arvizu was next to address the John Wuo GemCoin scandal, who used his time to pave the way for two Chinese USFIA investors to speak:
[1:35:30] The reason I'm here today… is to discuss John Wuo's involvement with GemCoin.

My main concern, and the issue that I've brought up, was the seemingly endorsement from a political figure, a councilman from the City of Arcadia,  endorsing a private company.

The company seemed to be kind of shady… that'd going to be decided by whoever decides to investigate this in terms of the judicial departments.

One of the most difficult things about what is going on and understanding the complexity of this operation is the fact that it preys on at it preys on Chinese immigrants, who have come over from either Hong Kong, Taiwan or mainland China.

They are used to speaking in either Mandarin or Cantonese and English is a second language to them. It is very difficult for them to express themselves.

In having conversations with these people… we've learned that not everything that we've tried to communicate to them crosses over very easily.

I think it's shameful that John Wuo has used his grasp of the English and Chinese language to manipulate these people.

The stories that they've told us, and it's not just one person or two people, many people have told us stories that they've been encouraged, led to believe and told that this was a solid investment, that was backed either by the City of Arcadia and the United States Government.

These are words coming from people who have directly spoken with John Wuo.

The reason that I ask the two speakers to follow me is that this is very difficult for them to do what they are doing.

There have been threats made against these people. They've been discouraged from contacting the press (and) from contacting the authorities.

When they attempted to contact the Arcadia Police Department a year ago, possibly because of a language barrier, they were turned away.

When they tried to readdress that issue last week, they were told that the statute of limitations had expired and that they could no longer file a complaint against the threat that was made against them.

Two speakers tonight were turned away by police. They were told statute of limitations had expired when they tried to file reports of violent threats made against them.

These next two people have had personal experiences with GemCoin, with Steven Chen and with John Wuo.

I think their stories are very important for the City Council to understand the magnitude of what has been going on.

This is not from me, they have come to me. They came and searched me out, I did not search them out.

(addressing John Wuo personally) When all this settles in the end, however it plays out, I want you to understand that whatever happens here, it's your responsibility.

Your actions, whatever you did, whatever your level of involvement is, however you interacted with these people; that was your choice.

And one of the main things that you have to accept is responsibility for your actions.
Mayor Kovacic did not permit the two USFIA investors to speak directly after Arvizu (instead opting to run through the speaker cards as submitted), but did issue the following statement in response to Arvizu's public address:
Our Chief of Police, Bob Guthrie, is right there… if somebody feels intimidated about… something, and needs to speak to a police officer, tha's about as good a police officer as you can find.

So if anyone in the audience has a problem that they think deserves some kind of police protection, please go to Chief Guthrie right now, if it's that serious.
The USFIA investors did finally get to speak, making up the last two public speakers for the night.
Speaking through an interpreter, Mr. Wong, laid out his USFIA story:
[2:00:22] I'm an Arcadia resident. I'm very happy and proud to live in Arcadia City but this is a little bit changing.

Because our councilor John Wuo has stood beside the business USFIA.

I invested, put the money in $128,000 into this company but have no return so far.

So this is about more than 300,000 people in the world and about the amount of $300 million dollars involved.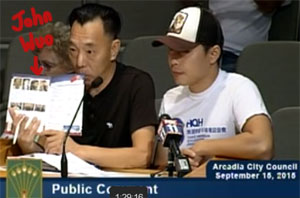 Wong then held up a USFIA brochure featuring John Wuo.
This is the brochure when they introduced the investment to us, and (it) has councilor John wuo involved. His picture is in this brochure.

I want to get an explanation from John Wuo, this is what I want today. And I have no idea what's going to happen or what to do from this point.
The second USFIA investor, a woman named Li Li, spoke next.
She also pleaded with Wuo for answers:
[2:03:45] I invested around $20,000 in USFIA in 2013. This company is located in Arcadia City.

Today I represent alot of people who invested in this company, to make this presentation here.

I invested (in) this company because I saw Mr. John Wuo, who attended a lot of events and also presented  to lots of investors and media at lots of USFIA company events.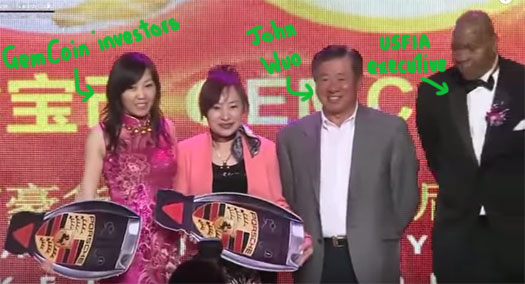 He also talked about GemCoin and that the boss (Steve Chen) is (a) believable (person).

I also saw Mr. John Wuo always go to work in USFIA company very frequently, every week.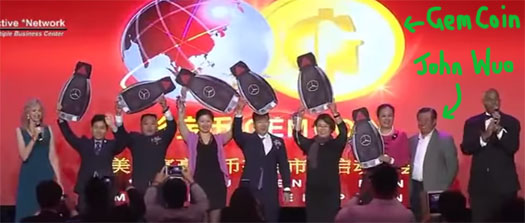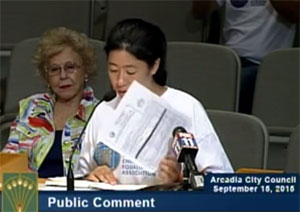 So now we found this company has lots of fraud issues.

Even we found it's a Ponzi scheme because this company defrauded a lot of investors money and they changed lots of things.

Around more than 300,000 people around the world have invested in this company. Most of them are from Asia, like China Singapore and Hong Kong.

Right now we think we need Mr John Wuo to help us get our investment back, because we think you are one of the owners of the company.

We have some evidence.
I'm not sure what the evidence held up was (above right), but I think it's related to Wuo's business dealings with USFIA boss Steve Chen.
Right now I'm pregnant and need to raise my baby…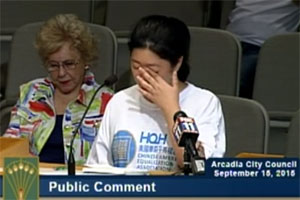 Li Li visibly broke down at this point, taking a moment to compose herself before continuing…
What we really want is Mr Wuo as mayor to stand up to support us investors. To let the company to return and compensate this loss.

We hope you can take (up) this responsibility.
Li Li's recounting of her USFIA experience was indeed difficult to watch.
We often talk about the victims of Ponzi fraud in absolute numbers, but hearing personal experiences adds a whole other dimension.
You really get a graphic illustration of the damage financial fraud wreaks across communities.
Having heard testimony from one USFIA investor who doesn't know what the future holds, and another with a baby on the way break down into tears… Wuo's response was brief and decidedly chilling:
[2:24:13] I'm not gunna comment.
Wuo went on to share that he "was real busy" because his youngest son was getting married next month.
While Wuo's answer to Arcadia citizens who say he played a big part in their investment in USFIA might seem heartless, there's potentially more to the story than we're currently aware of.
Speaking to reporters last Monday outside of USFIA headquarters, Wuo said
he hired an attorney who advised him not to speak with the press.
It seems that GemCoin wall of silence has been extended to Arcadia's residents and Wuo's fellow members of the City Council.
And if you're wondering why John Wuo was at GemCoin HQ earlier this week, well… apparently that's off limits too:
On Monday, Wuo was seen in the lobby of USFIA headquarters, located at 135 E. Live Oak Ave., where he declined to comment on why he was there.
In the same Pasadena Star-News report, it was also revealed that the FBI aren't the only ones investigation USFIA and GemCoin.
Among the agencies conducting investigations are the FBI, IRS, SEC and the California Department of Business Oversight, a consumer protection agency that regulates financial services.

Officials from the Department of Business Oversight confirmed Tuesday that it is conducting an investigation into USFIA and its dealings.

At least one investor, Ning, said he and his wife Bonnie have been contacted by an FBI field agent in West Covina, as well as representatives from the IRS and SEC.

Sgt. Brett Bourgeous of the Arcadia Police Department said it is also investigating complaints filed by other investors over the past week.

The detective said the claims are related to fraud and perceived threats, but could not provide any further details as the investigation is ongoing.
Yet despite the regulatory attention USFIA and GemCoin appear to be getting, all is still apparently well over at Arcadia City Hall:
Arcadia City Manager Dominic Lazzaretto said he and the city attorney regularly review all concerns related to GemCoin, but to date, they had not found any direct evidence of criminal activity.
Possibly in reaction to said regulatory attention, the publication ChineseDailyUSA has removed all references to GemCoin and USFIA from their website: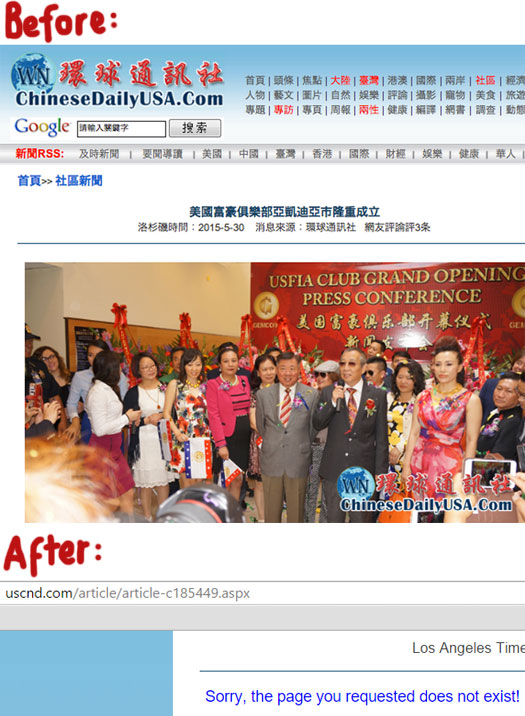 And not only is the content gone, but so too has Google's cache of it. Typically Google will cache deleted content for weeks, even months, after it was deleted, before finally letting it expire.
The owner of a web property however can request Google expedite this expiry, through their Google Webmaster Search Console.
Last month the Sierra Madre Tattler reported that ChineseDailyUSA was owned by fellow Arcadia City Council member, Sho Tay.
Given Tay is now actively scrubbing the internet of Wuo's involvement in GemCoin, you've got to wonder what might of been happening at USFIA HQ these past few weeks.
Do they have the paper shredders running day and night figuring a regulatory raid is all but imminent? Was Wuo there earlier this week to to personally oversee the shredding himself and ensure all traces of his involvement in USFIA were removed?
Stay tuned…