uPayCard distance themselves from uFun Club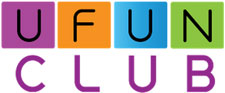 Modeled on AdSurfDaily, StarAd24 sees affiliates invest in €50 "promotion packs" and pay up to €1000 when they join the company (20 positions).
The STARAD24 Affiliate Programme combines several well known and well proven compensation plan models, and has created a above (sic) average and very profitable system.
Each €50 position pays out an eventual €60 ROI, with ROI funds sourced from subsequent investment.
StarAd24 went into prelaunch almost a year ago (August 2014), likely retaining prelaunch status so as to sell the "getting in on the ground floor" illusion to new investors.
Being a HYIP Ponzi scheme (only single-level commissions are offered), StarAd24 naturally requires a constant influx of new investors to fend off collapse.
In a recent presentation the company announced a "new payment system", which was none other than uPayCard.
Towards the end of the call things got interesting when the issue of uPayCard providing processor services to uFun Club was raised…
Hosting the StarAd24 presentation were Herbert Leitner and Sarah Smus. They appear to either be top investors in the scheme or management (StarAd24 do not provide any management or ownership information on their website).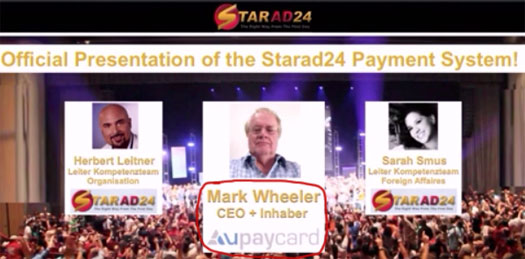 Also present was Mark Wheeler, identified as uPayCard's CEO.
[3:58] My name is Mark wheeler, I'm the CEO of uPayCard.

Our company has been in business for almost two years.

A little bit about myself; I was fortunate to live in London for six years and during that period Visa International was my largest client.

And when I went back to the United States I joined Visa and I was a Vice-President in the International Market Development Division.

And then I left Visa and got into the internet business and I have been in the internet business since 1999 and have been working with prepaid cards for thirteen years now.
Most of the presentation is dedicated to walking StarAd24 investors through the company's backoffice and integration with uPayCard.
At the [37:00] mark Herbert Leitner opens the presentation up for Q&A, with the first question asked pertaining to uFun Club.
[37:44] We have a comment here:

"uPayCard is in collaboration with uFun something run by Alain Brazille, a French guy which has been proved corrupt.
Ten seconds of awkward silence pass, before Leitner asks "What's this?"
[38:11] The question is regarding the validity and legal foundation of uPayCard … whether it has any collaboration with uFun.
Mark Wheeler eventually responds to the question, clarifying uPayCard's involvement with uFun Club:
[38:30] uPayCard has no collaboration with uFun.

It is in a discussion point right now, that we would provide them only loading services and commission payout services for a fee.

So we are simply a transaction processor for them. We have absolutely nothing to do with their business.
For those unfamiliar with the opportunity, uFun Club is a global $1.17 billion dollar Ponzi scheme.
The company is currently under investigation in a number of company's, with criminal charges pending in Thailand.
Of note is that Wheeler's comments during the StarAd24 presentation differ to what uFun Club affiliates have been marketing.
A few weeks ago BehindMLM uncovered uFun Club documentation that showed affiliates signing into uPayCard and conducting uFun Club related transactions.
These transactions were conducted under the business name "uPocket LTD.", with there being no mention of uFun Club on any of the invoices uPayCard provided uFun Club affiliates.
Whether or not uPayCard are being used to pay ROIs to uFun Club investors as of yet is unclear.
I myself tried to get to the bottom of the relationship between uFun Club and uPayCard on May 29th:
I am writing to you about one of your clients, uFun Club, dba uPocket LTD.

Would it be possible to get a statement pertaining to uPayCard's level of due diligence conducted before taking uPocket LTD on as a client?

uFun Club is currently under investigation in Thailand, Malaysia, China and Vanuatu. Thai police estimate it to be a $1.17 billion dollar Ponzi scheme.

Missing that with even the slightest due diligence conducted would be a difficult task, but I'll give you the benefit of the doubt.

I look forward to your reply,

-Oz
My email was assigned a support ticket by uPayCard's support department, but as of the time of publication I've yet to receive a reply.
Whether that's indicative of uPayCard's general level of support is unclear.
What is clear though is that between StarAd24 and uFun Club, uPayCard appear to be targeting very specific type of businesses as clients.
Whether or not that comes back to bite them in the ass remains to be seen.