Malaysian Prime Minister's son linked to uFun, untouchable?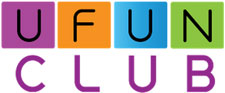 I have to give full credit to my readers for this one, as without their research there would be no story.
Two weeks ago now we saw the arrest of several individuals involved with uFun Club's Thai operations.
Afterwards it was quickly established that uFun Club's owners and upper management had fled to or were already in Malaysia.
From there they released statements professing their innocence, seeking to mislead uFun Club investors while they squirreled away invested funds to who knows where.
Those of us following the case has found it increasingly odd to observe a complete lack of regulatory action on Malaysia's part.
Contrast this with Thailand's authorities, who have done everything they can to seize millions of dollars uFun Club stole from investors.
Now it can be revealed that one possible reason Malaysian regulators are doing nothing, is because the son of the current Prime Minister appears to be involved.
The current Prime Minister of Malaysia is Mohammad Najib Abdul Razak. His son Mohd Nazifuddin has now emerged as a key player in the $1.7 billion dollar Ponzi scheme. operations.
Nazifuddin's name appears as a selling point in multiple Malaysian uFun Club presentations: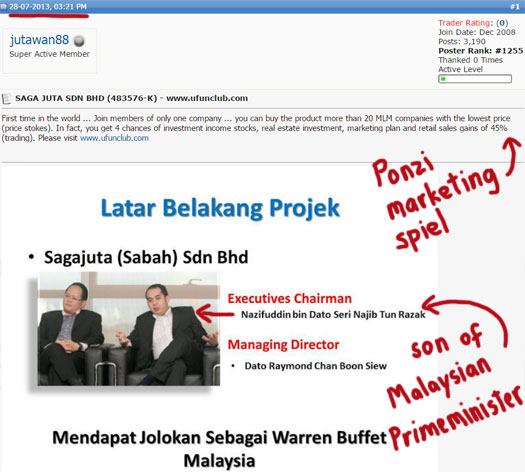 The links go as far back as mid-2013, when uFun Club was just starting. The scheme was initially sold as a real-estate investment opportunity, through the company Sagajuta (Sabah) Sdn Bhd.
A uFun Club marketing spiel from May 2014 reads:
UFUN Group  Ltd is a company which triggered the idea of some Taikunproperty States Saga Million Shd.Bhd.

Together Dato 'Dr Warren (Money Master) has been working with the company owners Sagajuta Sdn. Bhd Managing Director Datuk Raymond Tan Boon Siew and Executive Chairman Dato' Nazifuddin bin Dato 'Seri Najib bin Tun Razak in which they have a multi millionare One Borneo Sabah building, One Embroidery, One GateWay, Tuaran huge project and projek2 ago and has been completed.

UFUN Group Ltd in its early stages is as real estate agent only where he has worked at the company Saga Juta Sdn. Bhd act with promoting and selling property owned Sagajuta Sdn Bhd.

Sabah Borneo One such project, Knit One, One Likas, GateWay Tuaran to outside investors from China, Taiwan and Hong Kong, and received good response.
Another from August 2014 states:
COMPANY BACKGROUND

UFUN Group Ltd is a company that triggered his idea by Property tycoon ie a total of 6 people and founded by Dato 'Dr Warren (Money Master).

They are multi millionare and has collaborated with the company owner Sagajuta Sdn. Bhd namely Dato 'Raymond Tan Boon Siew and Cairman Dato' Nazifuddin bin Dato 'Seri Najib bin Tun Razak who built One Borneo Sabah, One Embroidery, One getway Tuaran and large projects.
Prior to uToken, uFun Club and Sagajuta (Sabah) Sdn Bhd had their investors invest in "e-shares":
UFUN CLUB cooperate with companies Sagajuta Sdn Bhd to create a business that uses e-share system recently launched on May 27, 2013.

The owner of the company Dato Raymond Chan Boon Siew and Chairman Nazifudin Bin Dato Seri Najib Tun Razak.
"E-shares" obviously sounded too Ponzi'esque, hence the uToken facade was brought into the picture.
As per the image above, Mohd Nazifuddin is credited as the Executive Chairman of Sagajuta (Sabah) Sdn Bhd.
Sagajuta (Sabah) Sdn Bhd are a property developer, with several projects currently in the works.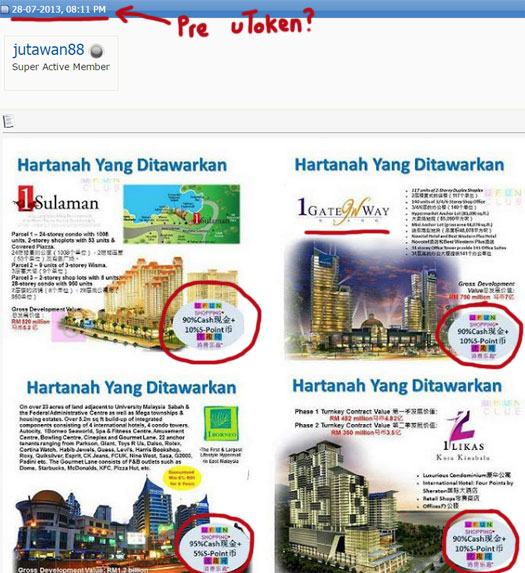 And, if they weren't already, here's where things get murky.
Back in 2013, uFun Club investors were openly advertising investment in uFun Club being tied to 1Gateway Plaza.
This development should be instantly recognizable to uFun Club investors and those following the case, as there's a purported agreement set to be signed this Sunday.
The agreement is to establish a partnership, which is supposed to facilitate the investment of million of dollars of uFun affiliate funds into the development.
Published less than 24 hours ago on a major uFun Club Facebook page:
Over 2000 Utoken members from around the world will be attending the Gateway Klang Signing Ceremony starting today in Kuala Lumpur, Malaysia.
And so what started as a property-development based Ponzi scheme, at some point morphed into the uToken pseudo-cryptocurrency $1.17 billion dollar scam uFun Club is today.
So with all of this taking place right under the noses of Malaysian regulators, why has nothing been done?
The answer to that question brings us back to Mohd Nazifuddin, the Malaysian Prime Minister's son.
uFun Club has clearly laundered money through Sagajuta (Sabah) Sdn Bhd dating back as far as 2013. How many millions in stolen Ponzi funds have flowed between these two companies? Who knows.
That's something Malaysian regulators should be investigating, yet still, even with uFun Club on the Central Bank of Malaysia's blacklist, the lack of inaction sticks out like a sore thumb.
As per a Thai news report that aired yesterday,
It's a very sensitive issue.

(excruciatingly awkward pause)

Well we hope that um, the police will take the appropriate actions.
Hope indeed.
I mean really, if a bunch of BehindMLM readers and this author, who can't string a sentence together in Malaysian, are able to put all of this together, what's the bet that Mohd Nazifuddin's involvement in uFun Club is an open secret among Malaysian police?
And sons of Prime Minister's tend to have powerful connected friends. How far does the integration of uFun Club with the Malaysian construction industry go? Who are they key players? What's really at stake here?
And where the hell are the Malaysian media in all of this?
One BehindMLM reader provides a possible answer:
There have been cases of Malaysian newspapers beens (sic) sued into bankruptcy (suing newspapers/news portal is quite common in Malaysia) by notable public figures (currently in an unrelated case the PM is demanding an apology with retraction from another news portal and are going to sue if the demand isn't met) before.

As a result the news media here are quite reluctant to publish stories that might insinuate anything without more solid backing.

Until the authorities actually do anything they will only do cursory stories based on republished sources. Only after confirmed LE action the media attention to the level in Thailand may actually begin.
Is investigative journalism really that dead in Malaysia?
At the time of publication the only news articles I've seen published by the Malaysian media do nothing but regurgitate what has been reported in Thailand.
There has been no breaking news on uFun Club out of Malaysia to speak of.
We of course can only dig so far, with Malaysian regulators and/or the media having to lead the charge at some point. Thai media appears to have kickstarted the conversation, with a thorough investigation into the flow of money between uFun Club and Sagajuta (Sabah) Sdn Bhd needed urgently.
Who are the main profiters? Who is pulling the strings behind puppets like Daniel Tay and General Athiwat Soonpan? Are other Malaysian "untouchables" involved???
Sadly the end-result of inaction by Malaysian police and regulators is that some of the culprits known (those unknown to us have already likely fled), have now purportedly fled Malaysia.
Assistant national police chief Lt-General Suwira Songmetta said police were trying to track down Malaysians Tay Kim Leng, 40, Lee Kuan Ming, 38, and Won Sing Hua, 42, who were facing arrest warrants for their role in UFUN's alleged public fraud.

"We have heard that Lee and Won have already fled Malaysia," Suwira said.
Bear in mind that this is news being reported in Thailand, with zero coverage from the Malaysian media.
uFun Club was added to the Central Bank of Malaysia's black list back in July of 2014, with regulators likely first aware of the scheme around that time.
With $1.17 billion dollars in stolen investor funds on the line, still they've done nothing.
Sounds to me like Malaysian regulators are hoping all of the uFun Club culprits flee, so they can then wash their hands of the scheme and claim they had no idea what was going on.
A Thai woman in her 40s said her friends introduced her to UFUN and she ended up investing Bt1.2 million.

"I was told that I would be able to earn returns of between Bt50,000 and Bt60,000 a month. But after I made the investment in December, the return rate was much different," she said.

She said when she tried to take back the investment, the firm told her she could not get the cash back but promised to give her gold or a car instead.

"I agreed to such conditions but the firm still has not provided me with the gold or a car," she claimed.

Another woman, identified only as Sam-ang, said she invested Bt100,000 in UFUN about five months ago.

"Since I made the investment, I've never got any returns.

"When I called the [UFUN] agent, she turned off her cell phone," Sam-ang said.
I said it yesterday and I'll say it again today: What a disgrace.
Footnote: Sensitive issue or not, readers are encouraged to do their own research on the contents of this article.
Useful search terms include "Sagajuta (Sabah) Sdn Bhd" "ufun" "1gateway klang" "Nazifuddin" and "Mohd Nazifuddin". Various combinations of the terms should provide you with all the information you need to verify what has been published here.
Any additional information from Malaysian readers concerning this matter would be appreciated. It hasn't been easy to put together due to the language-barrier, but I'm pretty confident everything above is accurate.