Two investigators caught stealing GainBitcoin funds

Two "cybersecurity experts" helping police investigate GainBitcoin have been arrested.
Pune Police allege the two investigators "duped Police and transferred crypto worth INR 20 Cr into their own accounts" ($2.6 million USD).
Pankaj Prakash Ghode and Ravindranath Prabhakar Patil were tasked with assisting police track down bitcoin laundered through GainBitcoin.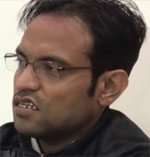 GainBitcoin was a 10% a month MLM crypto Ponzi. Its founder, Amit Bhardwaj (right), purportedly died of cardiac arrest back in January.
In order to further understand the fraud, the Police had handed over the data and wallet link to Patil and Ghode.

Instead of handing over the cryptocurrencies to the Police, the duo transferred part of those cryptocurrencies into their own wallets.

The duo is accused of producing fake and forged documents to the GainBitcoin investigating team and allegedly bought expensive cars out of the alleged fraud.
Ghode and Patil's work did lead to investigators recovering "241.475 bitcoins, 452 bitcoin cash and 94 ether from Amit and Vivek Kumar Bhardwaj."
Maybe they felt they weren't being paid enough?
In related news another of Amit Bhardwaj's relatives, his brother Ajay Bhardwaj, was interrogated by the Enforcement Directorate on Monday.
Ajay was arrested in 2018 but, like his brother, was released on health grounds.
As of December 2018 Indian authorities had recovered 451.999 bitcoin connected to GainBitcoin.
To date nobody has prosecuted. None of the seized assets have been returned to victims of the scam.