Gain Bitcoin Review: 10% a month ROI from bitcoin mining?

Gain Bitcoin provide no information on their website about who owns or runs the business.
The Gain Bitcoin website domain ("gainbitcoin.com") was on March 26th, 2013. Mark Lee is listed as the owner, with an address in Singapore also provided.
Other than a suspiciously empty LinkedIn profile that credits Lee as CEO of Gain Bitcoin, there is no information available that ties him to the company.
Of note is Mark Lee's location of New Delhi, India on his LinkedIn profile. It is highly unlikely the CEO of a Singapore company would be based in India.
It is also highly likely that Mark Lee, as represented in the Gain Bitcoin domain registration, doesn't actually exist.
The Gain Bitcoin Terms and Conditions state the company belongs to the Singapore company VariableTech PTE LTD.
Things get even more murky upon consideration of a "Team and Company Information", which links to a PDF file about Amaze Mining and Research LTD.
In addition to Gain Bitcoin, VariableTech also run The Bitex.
We provide flagship Bitcoin related services in the field of exchange, cloud mining, eCommerce, utility payments across different countries in Asia.
Amazing Mining and Research LTD claim on their website that they have 'produced up to 200% yearly returns on the investment in Alt-coin Mining'.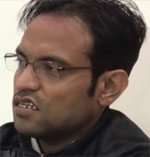 Amazing Mining and Research is headed up by CEO Amit Bhardwaj (right), who is based out of India.
An since deleted Gain Bitcoin marketing video featuring Amit Bhardwaj published earlier this year was archived by Coin Journal. In the video Bhardwaj touts a 10% monthly ROI through Gain Bitcoin.
Why Bhardwaj is not openly credited as the owner of Gain Bitcoin, which very much appears to be an Indian operation with no ties to Singapore, is unclear.
As always, if an MLM company is not openly upfront about who is running or owns it, think long and hard about joining and/or handing over any money.
Gain Bitcoin Products
Gain Bitcoin has no retailable products or services, with affiliates only able to market Gain Bitcoin affiliate membership itself.
The Gain Bitcoin Compensation Plan
Gain Bitcoin affiliates invest in bitcoin mining packages that pay a 10% monthly ROI for 18 months (180% ROI).
Basic Plan – invest 1 BTC and receive 10% a month for 18 months (1.8 BTC)
Amaze A3 – invest 4.85 BTC and receive 10% a month for 18 months (8.73 BTC)
Amaze A5 – invest 13.75 BTC and receive 10% a month for 18 months (24.75 BTC)
A direct referral commission of 5% is paid out when personally recruited affiliates invest.
Residual Commissions
Gain Bitcoin pay residual commissions via a binary compensation structure.
A binary compensation structure places an affiliate at the top of a binary team, split into two sides (left and right):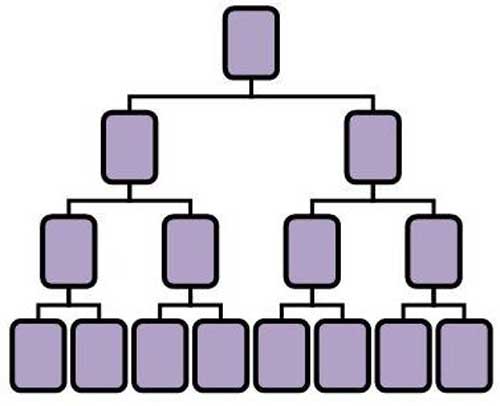 The first level of the binary team houses two positions. The second level of the binary team is generated by splitting these first two positions into another two positions each (4 positions).
Subsequent levels of the binary team are generated as required, with each new level housing twice as many positions as the previous level.
Gain Bitcoin pay an 8% commission per new investment package matched on both sides of the binary team.
Monthly Rewards
Gain Bitcoin reward affiliates who encourage investment via the following "monthly rewards":
get paid on 20 binary pairs in a month and receive a "mobile phone"
get paid on 35 binary pairs in a month and receive a "Thailand trip"
get paid on 80 binary pairs in a month and receive a "laptop"
get paid on 125 binary pairs in a month and receive an "Uzbekistan trip"
get paid on 225 binary pairs in a month and receive an "Amsterdam trip"
get paid on 500 binary pairs in a month and receive a "Las Vegas trip"
get paid on 1000 binary pairs in a month and receive a Renault KWID car
Joining Gain Bitcoin
Gain Bitcoin affiliate membership is tied to a 1 BTC to 13.75 BTC investment.
Conclusion
The first red flag Gain Bitcoin presents is the promise of "guaranteed returns" on the company website:
Using our proprietary methodology and years of experience in mining we are always able to beat the rues [sic] of difficulty & hence able to deliver a consistent Mining Outputs to our customers.
The second red flag is, no matter the mining power Gain Bitcoin does or doesn't utilize, the price of bitcoin fluctuates. This makes it impossible to promise a 10% fixed monthly ROI on invested funds.
Despite the conglomerate of shady companies Amit Bhardwaj is operating across India and Singapore (which looks more like a money laundering outfit than legitimate MLM company), no proof whatsoever is provided linking bitcoin mining to Gain Bitcoin ROI payments.
Meanwhile the only verifiable source of revenue entering Gain Bitcoin is affiliate investment. The use of which to pay a 10% monthly ROI would make Gain Bitcoin a Ponzi scheme.
The recruitment commissions offered on invested funds alone define Gain Bitcoin as a pyramid scheme, so Ponzi fraud isn't a far stretch.
Gain Bitcoin also has potential links to Ponzi schemes past. If you click on the Facebook link towards the bottom of the Gain Bitcoin website, you're taken to the company's official Facebook profile.
In the "about" section of the profile, a Gain Bitcoin affiliate referral link for "bigcoin7" appears:

BigCoin was a Ponzi points scam launched around 2013. It is the precursor to OneCoin, the largest Ponzi points scam in operation today.
The use of "bigcoin" for a corporate Gain Bitcoin affiliate referral link being a coincidence is unlikely. At the very least it suggests Gain Bitcoin is stacked with numerous admin positions, none of which would have been created with real money.
In any event, Gain Bitcoin won't be able to pay out a 180% ROI indefinitely. Once affiliate recruitment dies off, so too will new funds entering the scheme. This will see Gain Bitcoin exhaust invested funds (drained at 10% a month per account), until there's not enough money to pay affiliates out.
There's probably some bitcoin mining going on in the background to offset the inevitable collapse, but a 10% indefinite monthly ROI from bitcoin mining alone isn't possible to sustain.
When pressed on this by those with cryptocurrency mining knowledge, Amit Bhardwaj replied;
Whenever we get a chance to interact one to one I'll personally explain u the maths behind Gainbitcoin successful pattern for the user gains.

It's very simple, only cloud mining people makes it too complex.
Riiiiiiiiiiight.
As with all Ponzi schemes, when Gain Bitcoin goes bust the majority of affiliates will lose money.