Gain Bitcoin raids four years after Ponzi collapses

Authorities in Delhi have raided the houses of Bitcoin Gain scammers Ajay Bhardwaj and another accomplice.
The long-running investigation is now reported to have spread to additional police departments across India.
As reported by Business Today;
Six locations, including Delhi, were raided by the Enforcement Directorate of India (ED) as part of a large investigation into the alleged scamming of over 80,000 investors.

During the raid, the investigative agency seized numerous electronic devices and crucial papers.

The raid continued into Wednesday evening's late hours.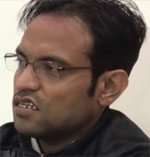 Ajay Bhardwaj is the younger brother of Amit Bhardwaj (right).
Amit Bhardwaj founded Gain Bitcoin in 2017. He is reported to have died of cardiac arrest back in January.
Inc24 additionally reports that the scope of the GainBitcoin investigation has broadened;
The ED is also deepening its investigation into other accused persons in the case. It is also looking into the role of the remaining family members of Amit Bhardwaj, including his wife, in the scam.
Several of Bhardwaj's family members are implicated in the investigation.
Gain Bitcoin was a simple 10% a month MLM crypto Ponzi. It collapsed in late 2017.
Personally I'm a bit skeptical much of value would have recovered through raids five years after the fact.
The ED investigation into Gain Bitcoin began in 2018.
Four years later on and nobody has prosecuted. None of the seized assets have been returned to victims of the scam.
Two experts assisting police tried to make off with $2.6 million earlier this year but were caught.
What impact the latest raids and expanded investigation has on the case remains to be seen.