GainBitcoin scammer Amit Bhardwaj dies of cardiac arrest?

GainBitcoin scammer Amit Bhardwaj has reportedly died from cardiac arrest.
Personally I'm not 100% convinced.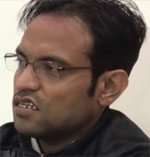 So far Inc42 are the only outlet claiming Bhardwaj (right) has died.
Amit Bhardwaj — the key accused of one of the world's biggest crypto Ponzi schemes has died from cardiac arrest today, people close to Bhardwaj confirmed the news to Inc42.
Surely there'd be an official source?
Earlier this month, Bhardwaj was found Covid positive and was hospitalised at Fortis Hospital, Vasant Kunj.

However, he had recovered from Covid, said one of his close associates.
Again, why are we relying on associates?
Casting doubt on Bhardwaj's demise is a feigned heart attack in 2018.
Bhardwaj had fled India on an African diplomatic passport.
Naturally Bhardwaj fled to Dubai, the MLM scam capital of the world.
As Indian authorities closed in Bhardwaj faked a heart attack, which somehow enabled him to escape Dubai to Thailand on March 30th.

Working with their Thai counterparts, Indian authorities were then able to apprehend Bhardwaj in Bangkok.
As you can see Bhardwaj has played this card before. Which means unless his cardiac arrest is confirmed by authorities or the hospital, I'm not taking "people close to Bhardwaj" at face value.
GainBitcoin was an MLM crypto Ponzi that pitched 10% a month from fictional bitcoin mining.
The scheme was launched in 2017, collapsed by the end of the year and was rebooted at GB21 in early 2018.
Following Bhardwaj's arrest in Thailand in 2018, he was extradited back to India.
He was granted bail in April 2019 on medical grounds related to "kidney ailments".
Total GainBitcoin losses have been pegged at $2.7 billion, up from an estimated $523 million in late 2018.
Indian authorities have so far only recovered a few million.
I've been loosely following the case and other than the odd procedural event, not much has happened over the past three years.
Pending confirmation of Bhardwaj's passing due to cardiac arrest, stay tuned…