GB21 Review: GainBitcoin Ponzi reboot touts $450,000 mining contracts

GB21 provide no information on their website about who owns or runs the business.
The GB21 website domain ("gb21.com") was first registered on May 9th, 2013.
The domain registration details were recently updated on January 10th, 2018, suggesting this is around the time the current owner(s) acquired it.
On their website, GB21 market MCAP altcoin mining packages.
MCAP is a worthless cryptocurrency attached to the Gain Bitcoin Ponzi scheme.
Gain Bitcoin launched in mind 2017 and offered investors a 10% monthly ROI on investment of up to 13.75 BTC.
The catch was ROI payments were paid in MCAP.
After investor recruitment died down, Gain Bitcoin collapsed in November, 2017.
MCAP pumped to almost $7 at the height of Gain Bitcoin investor recruitment in June, 2017. It is now worth 27 cents.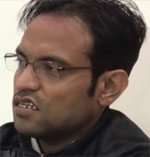 Gain Bitcoin was owned and operated by Amit Bhardwaj (right). It follows that he is also behind GB21.
According to recent Indian media reports, Bhardwaj is wanted by authorities in Maharashtra.
On Wednesday morning, Maharashtra minister of state for home Ranjeet Patil said that his government would ask the Enforcement Directorate, the central agency fighting economic crime, to probe allegations that Amit Bhardwaj and his company GainBitcoin had swindled investors of some Rs 2,000 crore through Bitcoin (BTC) Ponzi schemes – by far the largest such scam in India involving cryptocurrencies, if it is proven.

The moves by the Maharashtra government – it has also issued a 'lookout notice', made arrests, and sealed bank accounts – come at a time when Bhardwaj has left behind and closed the GainBitcoin operations and created a new company called GB21, which is another multi-level marketing (MLM) scheme being marketed aggressively in India and internationally.
Read on for a fullr eview of the GB21 MLM opportunity.
GB21 Products
GB21 has no retailable products or services, with affiliates only able to market GB21 affiliate membership itself.
The GB21 Compensation Plan
GB21 affiliates invest up to $450,000 on the promise of monthly returns of up to 25%.
Offered MCAP mining contracts include:
Basic – $100
Starter – $500
Promotor – $1000
Recruiter – $5000
Manager – $10,000
Silver – $47,000
Gold – $95,000
Diamond – $232,500
Titanium – $450,000
Monthly returns are paid in MCAP and vary over the twelve month maturity period as follows:
months 1 to 4 of the contract pay 10% a month
months 5 to 8 of the contract pay 15% a month
months 9 to 12 of the contract pay 25% a month
This equates to an effective ROI of 200% after 12 months.
A 5% referral commissions is paid on funds invested by personally recruited affiliates.
Residual Commissions
GB21 pay residual commissions via a binary compensation structure.
A binary compensation structure places an affiliate at the top of a binary team, split into two sides (left and right):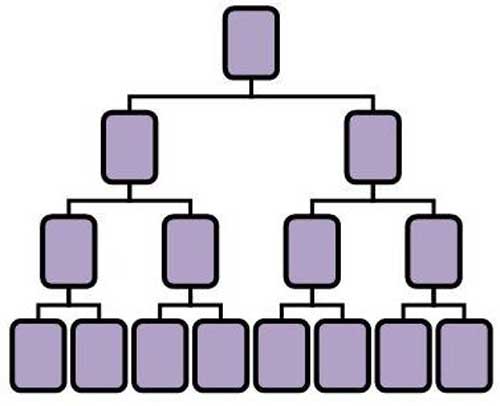 The first level of the binary team houses two positions. The second level of the binary team is generated by splitting these first two positions into another two positions each (4 positions).
Subsequent levels of the binary team are generated as required, with each new level housing twice as many positions as the previous level.
Positions in the binary team are filled via direct and indirect recruitment of affiliates. Note there is no limit to how deep a binary team can grow.
Residual commissions are calculated by tallying up new investment volume on both sides of the binary team.
GB21 affiliates are paid 7% of matched volume, with leftover volume on the stronger binary team side carried over.
The GB21 compensation plan doesn't state how frequently residual commissions are paid out, however typically it's a daily or weekly calculation.
Car Pool
If a GB21 affiliate manages to generate $450,000 in investment funds on both sides of their binary team within 60 days of signing up, they receive a $20,000 lease on a "luxury car".
GB21 will then continue to pay $10,000 on the lease, provided the affiliate maintains $450,000 on both sides of their binary team every six months.
Joining GB21
GB21 affiliate membership is free, however full participation in the MLM opportunity requires a $100 to $450,000 investment.
Conclusion
Desperate times call for desperate measures?
With Amit Bhardwaj wanted by police and Gain Bitcoin losses mounting, investing up to $450,000 in GB21 seems like folly.
More so considering police actually arrested Bhardwaj a few weeks ago.
No doubt Bhardwaj has a team that can keep up appearances, but for how long?
GB21 is a continuation of the Gain Bitcoin scam. Affiliates invest real money and given worthless MCAP coins, pre-mined by Bhardwaj.
The only way to turn a profit is to offload MCAP coins onto unsuspecting victims, which given the declining MCAP value obviously isn't working.
Ultimately GB21 will go down as a failed attempt to resuscitate interest in MCAP.
The collapse will play out the same as Gain Bitcoin. One day GB21 will be available, the next it wont with inevitable investor losses to follow.
Update 3rd April 2018 – As of April 2nd Indian media are reporting Amit Bhardwaj has fled to Dubai.
It seems that after his arrest Bhardwaj was released, wherein he promptly jumped on the first plane out of India.
Total /facepalm moment by Indian authorities if that's the case…
Update 5th April 2018 – Working with their Thai counterparts, Indian authorities have secured the arrest of Bhardwaj in Thailand.