Todd Hirsch on the run from terrorist charges, arrested in Panama
Serial scammer Todd Hirsch has been arrested in Panama.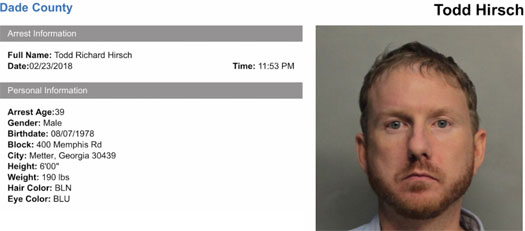 According to a local news report, Hirsch was charged and found guilty of fleeing/attempting to elude, DUI, reckless driving and six counts of terroristic threats.
The terroristic threats charges stemmed from Hirsch threatening to harm or kill law enforcement officers during his pursuit and subsequent arrest.
After being charged, Hirsch was sentenced to rehabilitation.
He "left the facility" last November but failed to "return to jail".
After going on the run,
Hirsch is believed to have flown to the Dominican Republic, but he returned Feb. 22 to Panama City, Panama.

From there, he planned to travel to Medellin, Colombia, but was intercepted by Panamanian law enforcement officials, who took him to Miami to await extradition, said Capt. Justin Wells.
Todd Hirsch first popped up on BehindMLM's radar in 2012, as admin of the Cloud 2×2 Ponzi cycler.
Over the years Hirsch has launched numerous MLM underbelly scams. His latest attempt was Real Destinations International.
Initially surfacing in early January, 2017, Hirsch continued to delay Real Destinations International's launch due to lack of interest.
It is believed the project was abandoned following Hirsch's initial arrest in mid 2017.
In addition to harassing law enforcement officers with threats of terrorism, Hirsch also isn't above harassing the general public.
In January, 2017, Hirsch filed a bogus DMCA notice against BehindMLM. The notice protested our legal use of the Real Destinations International logo in our company review.
That review concluded Real Destinations International itself was yet another Ponzi cycler.
Following his arrest in Panama Hirsch was extradited to the US in late February.
As of this month he is believed to be in custody in Candler County, Florida.