Crypto15 Review: Todd Hirsch out of jail, straight back to scamming

Crypto15 provides no information on their website about who owns or runs the business.
The Crypto15 website domain ("crypto15.com") was privately registered on August 4th, 2018.
Further research reveals Crypto15 affiliates naming Todd Hirsch as owner of the company.
Todd Hirsch first appeared on BehindMLM's radar as the admin of Cloud 2×2 cycler Ponzi back in 2012.
In early 2013 Hirsch re-emerged as the co-founder of Rocket Cash Cycler(another Ponzi cycler).
Rocket Cash Cycler collapsed in less than a year and was relaunched by Hirsch in early 2014. By mid 2014 Rocket Cash Cycler v2 had also collapsed.
A few months later Hirsch launched BitCoin Cycler, combining the same cycler Ponzi model with bitcoin.
BitCoin Cycler collapsed a few months later in early 2015.
In January 2016 Hirsch launched My Ad Cubes, a non-MLM HYIP adcredit Ponzi scheme.
My Ad Cubes appears to have collapsed sometime around March of 2016.
In early 2017 Hirsch returned with Real Destinations International, yet another matrix cycler Ponzi scheme.
Fortunately Real Destinations International's launch was perpetually delayed. After months of promises, the company website's was eventually taken down later in the year.
The failure of Real Destinations International appears to have hit Hirsch hard.
In February 2018 Hirsch was arrested in Georgia.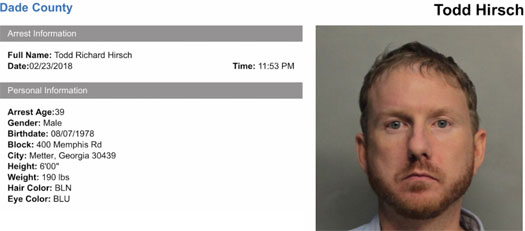 He was charged with and found guilty of fleeing/attempting to elude, DUI, reckless driving and six counts of terroristic threats.
The terroristic threats charges stemmed from Hirsch threatening to harm or kill law enforcement officers during his pursuit and subsequent arrest.
After being charged, Hirsch was sentenced to rehabilitation.
He "left the facility" last November but failed to "return to jail".
After going on the run,
Hirsch is believed to have flown to the Dominican Republic, but he returned Feb. 22 to Panama City, Panama.

From there, he planned to travel to Medellin, Colombia, but was intercepted by Panamanian law enforcement officials, who took him to Miami to await extradition, said Capt. Justin Wells.
What happened after that isn't clear. What we do know however is that Hirsch returned to social media on June 16th, presumably after a stint in jail.
Read on for a full review of the Crypto15 MLM opportunity.
Crypto15 Products
Crypto15 has no retailable products or services, with affiliates only able to market Crypto15 affiliate membership itself.
The Crypto15 Compensation Plan
Crypto15 affiliates invest $50 or more worth of bitcoin on the promise of a 150% ROI.
At the time of publication the Crypto15 affiliate backoffice advises an "estimated maturity time" of 60 days.
Residual commissions on Crypto15 investment is paid out via a unilevel compensation structure.
A unilevel compensation structure places an affiliate at the top of a unilevel team, with every personally recruited affiliate placed directly under them (level 1):

If any level 1 affiliates recruit new affiliates, they are placed on level 2 of the original affiliate's unilevel team.
If any level 2 affiliates recruit new affiliates, they are placed on level 3 and so on and so forth down a theoretical infinite number of levels.
Crypto15 cap payable unilevel levels at fifteen.
Residual commissions are paid out as a percentage of funds invested across these fifteen levels as follows:
level 1 (personally recruited affiliates) – 10%
levels 2 and 3 – 5%
level 4 – 3%
level 5 – 2%
levels 6 to 15 – 1%
Joining Crypto15
Crypto15 affiliate membership is free.
Full participation in the Crypto15 business opportunity however requires a minimum $50 investment in bitcoin.
Conclusion
Crypto15 claims to generate external ROI revenue through "professional traders, Power Node mining pools, and early participation in ICO's [sic]".
No evidence of any external ROI activity is provided. And beyond that, all you have to do is visit the Crypto15 FAQ to confirm it's a Ponzi scheme.
If I choose to quit using your services after I've made a purchase, can I get a refund?

A. No refunds, because all revenues are already shared with all active members and commissions paid to your referring sponsor.
Recycling new investment revenue with existing affiliate investors makes Crypto15 a Ponzi scheme.
Yet despite this, Todd Hirsch insists Crypto 15 isn't illegal.
Is Crypto15 a hyip, ponzi, pyramid scheme, or illegal?

No, this is not an investment site nor is it illegal in any way, shape, or form.

We sell advertising services and digital products.

Crypto15 offers a lot of advertising services of the highest possible quality within the site and also outside of the site through our network of advertising partners.
This is your typical adcredit Ponzi disclaimer, which the SEC addressed in 2016.
As per the SEC, it doesn't matter what you attach to a Ponzi scheme, be it adcredits or otherwise – using newly invested funds to pay off existing investors is Ponzi fraud.
As with all MLM Ponzi schemes, once affiliate recruitment dies down so too will new investment.
This will starve Crypto15 of ROI revenue, eventually prompting a collapse.
The math behind Ponzi schemes guarantees that the majority of investors lose money.