Hapi Travel Destinations Review: The Happy Co. travel spinoff

Hapi Travel Destinations' provides no information on its website about who owns or runs the company.
The only thing disclosed on the "about us" section of Hapi Travel Destinations' website, is that it is 'powered by The Happy Co.'
BehindMLM reviewed The Happy Co. in April 2021, noting at the time it was a rebranding of Elepreneurs.
There is no executive information provided on The Happy Co's website.
Revisiting The Happy Co.'s website today reveals that is still the case.
I came across Hapi Travel Destinations as part of BehindMLM's TheClub.Travel review, published December 2021.
TheClub.Travel is headed up by Jonathan McKillip, former President of Hapi Travel Destinations
McKilip was appointed in February 2021. He left Hapi Travel Destinations in August 2021.
In researching Hapi Travel Destinations for this review, I came across this unlisted video on the company's official YouTube channel:

The Happy Co., and by proxy Hapi Travel Destinations, is owned by Fai Chan (aka Chan Heng Fai).
Chan appeared on BehindMLM back in 2019, as co-founder of iGalen.
iGalen collapsed in November 2019, after losing the rights to its flagship product.
In BehindMLM's iGalen review I noted Fai's "partnership" with Elepreneurs and Elevacity. This partnership existed through Fai's company Health Wealth Happiness.
Elevacity was a travel booking engine themed MLM company, launched by Robert Oblon in 2014.
In 2017 Oblon launched Elepreneurs, which would functionally operate as Elevacity's successor.
In BehindMLM's second Elepreneurs review I noted ongoing confusion with Elevacity's and Elepreneurs' co-existing branding.
Elepreneurs' parent company Sharing Services Inc. accused Oblon of "gross financial misconduct" in February 2020.
It appears at some point after this Fai Chan acquired an ownership stake in the company (he might have been a silent owner prior), and rebooted it as The Hapi Co. in early 2021.
I'm unclear on why Fai Chan doesn't openly disclose  his ownership of The Hapi Co. and Hapi Travel Destinations.
Beyond ownership, whether Fai is running The Hapi Co. and Hapi Travel Destinations is unclear.
Update 17th January 2022 – Master Trainer Jeremy Jenkins has revealed in the comments below that Hapi Travel Destinations separates its retail and affiliate websites.
Executive information is provided on the affiliate website, revealing Garrett McGrath is CEO of both The Happy Co. and Hapi Travel Destinations.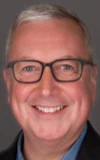 McGrath (right) appears to have made a name for himself in EvolvHealth.
That started in 2010, however McGrath's LinkedIn profile credits him with "over 25+ years of experience as a top network marketing professional".
McGrath has also been President of the Association of Network Marketing Professionals since 2012.
McGrath was appointed CEO of The Happy Co. in November 2021, having previously worked as President of Elepreneurs. /end update
One final note I'll make is that Hapi Travel Destinations was originally scheduled to launch in early 2021. Following whatever happened between Fai and McKilip, the launch was then shelved till around October.

As always, if an MLM company is not openly upfront about who is running or owns it, think long and hard about joining and/or handing over any money.
Hapi Travel Destinations' Products
Hapi Travel Destinations markets a discount travel booking engine.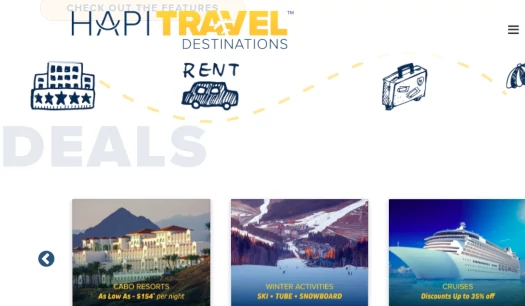 Exclusive Club membership costs $29 a month and provides access to the Hapi Travel platform, hotel discounts, rental car savings, airfare discounts, restaurant discounts and "exclusive discounts".
Premium Club membership is $59 a month and adds
Cruise Discounts
SwiftMD Telemedicine
Gift Cards
Show & Save Offers
Koiyn Cash Back
Shopping Boss App
Vendors Hapi Travel Destinations uses are not disclosed.
Hapi Travel Destinations' Compensation Plan
Hapi Travel Destinations do not provide compensation details on their website.
I typically don't review MLM companies I can't verify compensation details for, however with Hapi Travel Destinations I'm making an exception.
I'll go over why in the review conclusion below.
Joining Hapi Travel Destinations
Hapi Travel Destinations affiliate membership is $49.95.
Hapi Travel Destinations affiliates receive access to the company's travel memberships at a discount:
Exclusive Club membership is $25 a month
Premium Club membership is $50 a month
It is unclear whether Hapi Travel Destinations affiliates have to purchase and maintain a travel membership subscription.
Hapi Travel Destinations' Conclusion
Hapi Travel Destinations' compensation details not being available anywhere is strange. Strange in that there's plenty of affiliate presentations out there, from The Happy Co. affiliates.
I believe the reason for this is Hapi Travel Destinations doesn't have it's own compensation plan. Rather it's incorporated as a product within The Happy Co.'s base MLM opportunity.
There is a precedent for this confusion with Elevate and Elepreneurs.
Update 17th January 2022 – The Happy Co. Master Trainer Jeremy Jenkins has confirmed, compensation wise, that Hapi Travel Destinations is considered a product under The Happy Co.
Both opportunities do in fact share the same compensation plan. /end update
Personally I think if Hapi Travel Destinations is going to be marketed as a standalone company, which it is, then this integration within The Happy Co. needs to be clear.
If an MLM company can't be honest and open about who's running the show however, perhaps that's too much of an ask.
As a consumer Hapi Travel Destinations' memberships can be evaluated at face value.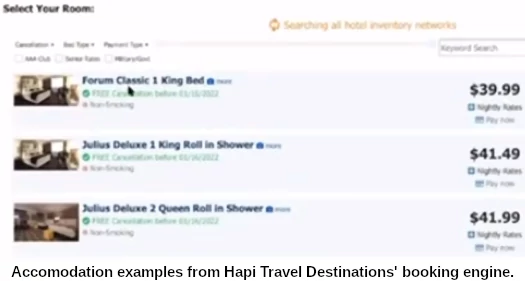 This isn't a consumer product review however. As an MLM opportunity, Hapi Travel Destinations' lack of transparency is a major red flag.
This sort of thing might be forgivable for a startup, but Fai Chan has been running MLM companies for years. And The Happy Co. itself dates back to 2013 with Elevacity.
There is no excuse, and this reflects poorly on The Happy Co., Hapi Travel Destinations and Fai.
Throw in the ongoing global uncertainty with travel as the COVID-19 saga drags on, and this is probably an MLM nice best to avoid at the moment.
Looking forward, The Happy Co. needs to address disclosure issues with respect to Hapi Travel Destinations.
If, for whatever reason, you're approached about Hapi Travel Destinations and are considering the opportunity; a quick litmus test is how many retail memberships your prospective upline has sold.
Weigh this against how many Hapi Travel Destination affiliate memberships they've sold and evaluate (you're looking for at least a 1:1 spread).
Unfortunately things get a lot more complicated if the affiliate is in and promoting The Happy Co. too. That said, retail was a noted focus in BehindMLM's The Happy Co. review.
All in all I think if The Happy Co. can clear up confusion about what Hapi Travel Destinations is and, more importantly with respect to due-diligence, how it fits into The Happi Co.'s MLM opportunity, they might have something here.
Hapi Travel Destinations itself is relatively straightforward and avoids the "bundling travel booking engine access to affiliate membership" pitfall. This would instantly rule it a pyramid scheme.
Pending The Happy Co. addressing issues raised in this review, approach with caution.
Update 10th September 2022 – Hapi Travel now has its own compensation plan.
BehindMLM published an updated Hapi Travel review on September 10th, 2022.