BitCoin Cycler Review: Todd Hirsch tries bitcoin

BitCoin Cycler is currently in prelaunch, with the company claiming to be headquartered out of Davao City in the Philippines.
Heading up BitCoin Cycler is Todd Hirsch, who is identified as CEO of the company in its marketing material: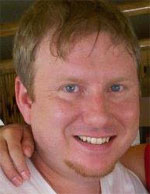 Hirsch (right) has a long history of releasing recruitment-driven matrix scams. His last venture was Rocket Cash Cylcler v2 (stylised as RCCv2), which launched back in February.
Alexa statistics reveal that RCCv2 flopped, which when coupled with the recruitment requirements required to keep the scheme afloat, means that it's likely collapsed some time ago.
Prior to RCCv2 Hirsch launched Rocket Cash Cycler in mid 2013 as a silent owner. Also recruitment dependent, RCCv2 launched when RCCv1 began to collapse.
Rocket Cash Cycler itself was a reboot of Hirsch's prior matrix scheme, Cloud 2×2.
Going back even further, Hirsch was then involved in the Ponzi schemes Zeek Rewards and Bidify. I've previously covered Hirsch's earlier MLM history in BehindMLM's cloud2x2 review:
Todd Hirsch was a member of the recently stopped $600 million Ponzi scheme Zeek Rewards and is also a self-described "top earner" member of Bidify.

Hirsch currently claims to be the "#4 top earning" affiliate in Bidify.

Bidify, a penny auction (Bidsson) attached to an MLM business opportunity had a similar Ponzi points compensation plan to Zeek, which was immediately changed following SEC action against Zeek Rewards.

Hirsch recently claimed in a video that he was involved in promoting Zeek Rewards and recruiting new investors knowing full well it was a Ponzi scheme.

Hirsch also recently claimed on Troy Dooly's MLMHelpdesk that he is a member of the suspected Ponzi investment scheme, 'Banners Broker'.

Describing himself as a "program jumper" on his blog, Hirsch claims he's 'in about seven different programs at this time and (that he's) joined and been apart of maybe over 50+ programs since (he) started in online marketing in early 2010.'
Mike Lavoie, named as the CEO of Skycoinlabs in BitCoin Cycler marketing materials is a longtime partner of Hirsch's. In their marketing efforts, Cloud 2×2 affiliates named Lavoie as co-founder of the scheme with Hirsch.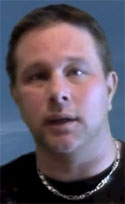 Only a few months ago, Lavoie (right) launched GoldAdMatrix. Similar to Hirsch's matrix scams, Lavoie's GoldAdMatrix had affiliates buy-in for between $2 to $567 and required constant recruitment to maintain commission payouts.
Alexa reveals some activity in Italy, but otherwise shortly after launch GoldAdMatrix appears to have flopped.
The mention of Sky Coin Labs in BitCoin Cycler's marketing materials is interesting, as Lavoie ("frenchy36") was seen promoting the scheme back in April:
Further research into Sky Coin Lab revealed it 'accepts investments from affiliates on the promise of ROIs paid out via BitCoin' (taken from our GoldAdMatrix review).
What is a BitCoin Ponzi scheme doing partnering up with BitCoin Cycler?
Read on for a full review of the BitCoin Cycler MLM business opportunity.
The BitCoin Cycler Product Line
BitCoin Cycler has no retailable products or services, with affiliates only able to market affiliate membership to the company itself ($250).
The BitCoin Cycler Compensation Plan
The BitCoin Cycler compensation plan revolves around affiliates buying positions for $250 and then recruiting others who do the same.
BitCoin Cycler commissions are paid out using a reverse 2×3 matrix.
A 2×3 matrix has one position at the top, two under that, two under that and two under that for a total of fourteen positions:

New affiliates are funneled in through the bottom of the matrix, with the top position being the pay position.
Once a BitCoin Cycler 2×3 matrix is full, the top position gets paid and the matrix splits. Thus the two positions that were previously on the second level of the matrix are now top positions on two "new" matrices.
These two new matrices now have eight empty positions on their third level, which again need to be filled before the top position is paid out on (referred to as a "cycle").
In addition to receiving a commission, the top position is also re-entered into the bottom of an existing 2×3 matrix (typically following the affiliate who recruited them).
This process repeats itself over and over again, slowly pushing newly created positions to the top of their own 2×3 matrix.
If a BitCoin Cycler affiliate recruits two or more affiliates, they can "jump" over other affiliates who have not met this requirement when a matrix board splits.
When a pay position in a BitCoin Cycler cycles out of a matrix, the affiliate who owns the position is paid $1000. They are also provided with a $250 investment in Mike Lavoie's SkyCoin Lab scheme (advertised daily ROIs) and re-entered at the bottom of an existing matrix.
Joining BitCoin Cycler
Affiliate membership to BitCoin Cycler is tied to the purchase of at least one matrix position.
This pegs the defacto cost of BitCoin Cycler affiliate membership at $250.
Conclusion
Bitcoins can be used to buy merchandise anonymously.

In addition, international payments are easy and cheap because bitcoins are not tied to any country or subject to regulation.

-Official BitCoin Cycler marketing presentation
Having launched a plethora of collapsed recruitment-driven matrix schemes between them, Todd Hirsch and Mike Lavoie now seek to join forces and combine Lavoie's bitcoin investment scheme with yet another matrix-based opportunity.
If we isolate the two opportunities at play here, BitCoin Cycler is just a run-of-the-mill pyramid scheme. Affiliates buy in for $250, recruit new affiliates who do the same and once enough new affiliates have been recruited, receive a cut of everyone's buy-in fee.
Once the recruitment slows down, like all the other matrix opportunities Hirsch and Lavoie have launched, BitCoin Cycler will collapse.
Now as for the pumping of BitCoin Cycler funds into SkyCoin Labs, now we get into Ponzi scheme territory.
SkyCoin Labs accepts investments on the promise of implied >100% daily ROIs over a year.
This is done under the ruse of "mining contracts", with Lavoie simply taking newly invested affiliate funds and paying off existing investors (there's no other revenue-source).
Lavoie does not appear to have registered with the SEC, and as such through SkyCoin Labs would appear to be engaged in the offering and sale of unregistered securities.
That said, SkyCoin Labs has never really taken off – so it's doubtful it's on the regulatory radar.
Looking at the performance of Hirsch and Lavoie's more recent matrix launches, I'd predict a small flurry of activity at launch followed by a gradual collapse a few months in.
Despite the name, BitCoin Cycler has nothing to do with BitCoin. This is just matrix recruitment scamsters trying to catch the tail-end of the BitCoin wave.