TelexFree's Carlos Costa receives prison sentence for tax fraud

Whereas Brazil can't seem to convict anyone over TelexFree's $3 billion in Ponzi fraud, regulators have managed to convict Carlos Costa for tax fraud.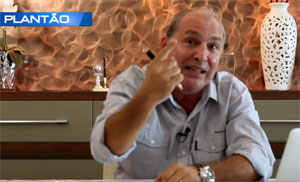 Costa is best known for being TelexFree's Bagdad Bob. Even as authorities in the US and Brazil closed in on TelexFree, Costa, often sweating profusely, denied anything was amiss in regularly uploaded YouTube videos.
News of Costa's tax fraud woes in Brazil first surfaced in December 2016.
Prosecutors at the Federal Public Ministry of Espirito Santo alleged Costa had failed to declare R$4.4 million in earnings, most of which is believed to have been stolen through TelexFree.
In a decision handed down last week, Costa was found guilty of R$3.9 million in tax evasion.
Costa's sentence was initially prison for three years, seven months and twenty-one days.
Due to a quirk in Brazilian law however (something about sentences being less than four years), Costa's sentence has been commuted to a R$1 million fine and community service.
Speaking to Gazeta Online, Costa's attorney has signaled he intends to file an appeal.
Whether Costa's tax fraud conviction assists TelexFree proceedings in Brazil is unclear. Last we heard there were eight criminal lawsuits filed in mid 2017, on top of the already existing indictments.
That was almost two years ago but and since then it's been mostly crickets. Whether anyone actually goes to prison over TelexFree in Brazil remains to be seen.
I suspect at some point we'll get random convictions and sentences pop up but who knows. Bit of a mystery how the criminal justice system works in Brazil once details of a case have been made public.