TelexFree civil stay of discovery granted, dismissals denied

Early last month the Department of Justice, who are currently handling criminal proceedings against TelexFree owners James Merrill and Carlos Wanzeler, asked the District Court of Massachusetts to order a stay of discovery in the SEC's civil case.
The DOJ argued that
Without a stay, Merrill and perhaps Wanzeler – charged in both actions – would use the civil discovery process in a manner that impairs proper administration of the criminal case.
Today Judge Gorton granted the DOJ's request.In his ruling, Judge Gorton based his decision on the following criteria:
Fed. R. Civ. P. 24(a)(2) allows a party to intervene as of right so long as the party establishes

(1) a direct and substantial interest in the subject matter of the litigation,

(2) that its ability to the protect the interest may be impaired if it is not allowed to intervene and

(3) that its interest will not be adequately represented by an existing party.
Collectively addressing the above three criteria points Gorton remarked, 'Without doubt that standard is met here.'
The subject matter of this civil enforcement action is nearly identical to that at issue in the government's prosecution of defendants Merrill and Wanzeler.

Moreover, the government has a discernible interest in intervening in order to prevent discovery in the civil case from being used to circumvent the more limited scope of discovery in the criminal matter.

No party present in the case can adequately represent such concerns. Accordingly, the government will be allowed to intervene.
In summary, Gorton agreed that discovery in the civil case might be used to undermine the DOJ's criminal case against Wanzeler and Merrill.
In addition to that, Gorton also reasoned that, as far as Wanzeler and Merrill are concerned, both the DOJ's criminal and SEC's civil cases against them have considerable overlap.
A stay would also conserve judicial resources and narrow the issues to be resolved in the event that criminal convictions are obtained.

Under such a scenario, defendants would be estopped from re-litigating issues decided against them. This will undoubtedly expedite resolution of the civil action once the stay is lifted.
Without second guessing the strength of the DOJ's case against Merrill and Wanzeler, that criminal convictions will be obtained against them is practically a given.
Of the eight named defendants in addition to TelexFree, only Faith Sloan had filed a motion opposing the DOJ's request.
In her objection, Sloan stated that \she opposed the DOJ's request because it would cost her money she didn't have. Sloan argued that she is currently "unable to support herself financially".
Shooting down this argument, Gorton stated
A stay in the civil enforcement proceeding will allow defendants to avoid substantial litigation costs while the criminal proceeding is
pending.

That appears to be precisely the same reason why defendants were virtually unanimous in their assent to the government's motion.
And on the topic of Motions to Dismiss, Judge Gorton also denied all pending Motions to Dismiss in the SEC case.
Previously Sloan, Santiago De La Rosa, Sannderly Rodrigues and Randy Crosby (referred to by the SEC as "the most successful promoters of TelexFree"), had all filed respective Motions to Dismiss in the SEC civil case.
Gorton dismissed all four Motions to Dismiss without prejudice.
The Court will deny without prejudice all four motions to dismiss. Once the stay of discovery is lifted, the promoter defendants may opt to re-file their motions to dismiss.
The logic-fail behind Sloan's objection was of course not related to her financial situation, but rather an attempt to perhaps push the SEC case ahead of the DOJ's criminal one. And the reason for wanting this is likely linked to Gorton's dismissing of the pending motions without prejudice.
With the almost certainty that criminal convictions are going to be recorded against Wanzeler and Merrill in the DOJ case, hearing the SEC's civil case afterwards means defending Sloan, Rodrigues, De La Rosa and Crosby's involvement in TelexFree as "the most successful promoters" all the more difficult.
With criminal convictions recorded against them, it goes without saying that Wanzeler and Merrill would be left without a leg to stand on defense-wise in the SEC's civil case.
Hell, Wanzeler's fleeing to Brazil all but sealed his fate. With every day he hides out in Brazil and refuses to face US regulators in court, he digs himself a deeper and deeper hole.
As for the four top promoters, following DOJ convictions they'd then be facing the uphill battle of defending their involvement in a billion dollar scheme.
And they'd be doing so against mountains of evidence collected against them – both in the public sphere (videos, promotions, public statements etc.) and privately (data seized from TelexFree's offices, bank records, recordings of TelexFree events etc.).
Unfortunately for Sloan, Rodrigues, Crosby and De La Rosa the stage has been set. The DOJ's case will be heard first and then once the owners have been charged with wire and securities fraud, they will then have to defend their involvement at the top of a billion dollar Ponzi scheme.
One last thing I'll cover is the exemption the SEC was granted, pertaining to discovery 'in aid of the asset freeze that has been entered as to each defendant'.
Trustee Stephen Darr will no doubt continue to work with authorities in tracking down every last dollar TelexFree had stashed away. James Merrill is currently under house-arrest and is being watched like a hawk. Wanzeler is hiding out in Brazil, with the SEC and DOJ no doubt doing their best to piece together his current financial situation and access to funds.
Of the four top-investors, Santiago De La Rosa and Randy Crosby have remained low-key. Of particular interest however are the activities of Sannderly Rodrigues and Faith Sloan.
Along with the co-defendants, Rodrigues and Sloan are both currently subject to the restrictions of a preliminary injunction. This injunction both freezes their known assets and prohibits them from 'conducting any further fraud involving securities or otherwise'.
Since the injunction was granted back in May, Rodrigues has since gone on to present himself as the poster-boy for iFreeX – which he touted as "the new TelexFree":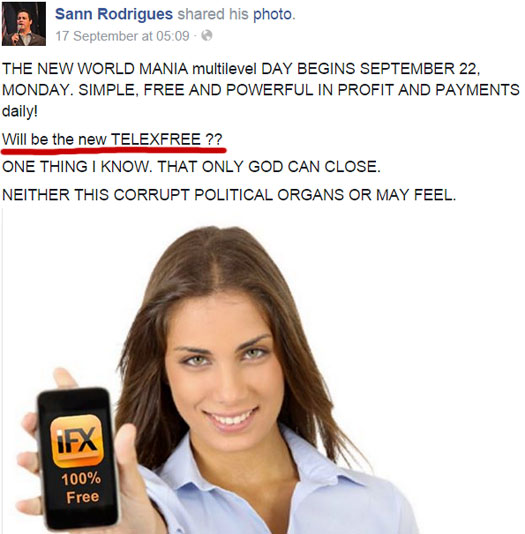 Run by persons unknown, iFreeX promises to pay affiliates for recruiting new affiliates, with how much they earn directly tied into how much they pay to join (see BehindMLM iFreeX review).
iFreeX's business model and Rodrigues marketing strategy were quick to attract the attention of the the Massachusetts Securities Division. Secretary of State William F. Galvin labelled iFreeX a pyramid scheme and went on to warn the public about getting involved.
Rodrigues has since deleted and ceased all public promotion of iFreeX, with the status of the opportunity currently unclear.
Faith Sloan has similarly attached herself to RE247365, with leaked backoffice information revealing she has made thousands of dollars off of affiliate recruitment, without personally selling a single product or service to a retail customer.
Yet despite having potentially earned tens of thousands of dollars by now, Sloan continues to file court documents that state she is unable to support herself financially.
Exactly how far the SEC wish to pursue their case against Sloan and Rodrigues is unclear. However Judge Gorton's exemption certainly grants them power to investigate breaches of the preliminary injunction and potential committing of perjury via filed documents.
The Court will continue to entertain any motions by the parties to modify existing consent orders and will permit the SEC to continue to ensure compliance with those existing consent orders against defendants.
Ditto the recovery of assets obtained via fraud that may be held offshore or in bank accounts held in family and friend's names.
Stay tuned…
Footnote: Our thanks to Don @ ASDUpdates for providing a copy of Judge Gorton's order on the stay of discovery in the SEC's case and dismissal of the pending Motions to Dismiss.