Faith Sloan "unable to support herself financially"?!

In an effort to strengthen the criminal case against TelexFree's owners, the Department of Justice requested a stay on discovery in the SEC's civil case.
The DOJ reasoned that
without a stay, Merrill and perhaps Wanzeler – charged in both actions – would use the civil discovery process in a manner that impairs proper administration of the criminal case.
At the time of publication, all parties involved in the SEC's civil case (including the SEC themselves), have indicated they do not oppose the DOJ's request.
Well, all except one: Faith Sloan.
In their original request dated early September, the DOJ claimed Sloan was waiting to see how her Motion to Dismiss played out before filing her reply.
With that a decision on that motion still pending (Santiago De La Rosa and Randy Crosby have requested their respective Motions to Dismiss be stayed until the conclusion of the criminal case), Sloan has filed a reply.
Sloan's reason for opposing the DOJ's request has nothing to do with the pending outcome of her Motion to Dismiss (which will likely be stayed if Crosby and De La Rosa's are).
Instead, Sloan argues
that so long as she is a defendant in the above entitled action (the SEC civil case), she must pay and continue to pay her attorney for representing her at a time when she is unable to support herself financially.
Say what?
Yo, this is the same Faith Sloan who's been furiously spamming the pyramid scheme RE247365 these last few weeks? She's claiming can't financially support herself?
Oh my.
To illustrate the absurdity of Sloan's claim, one need only look at her marketing efforts for RE247365 on her two marketing websites (faithsloan.com and bigshotmillionaires.com).
Sloan advertises RE247365 on BigShot Millionaires (styling herself as a "big shot millionaire" no less), as an opportunity where one has the 'potential to get paid 24 hours a day, 7 days a week, 365 days a year!'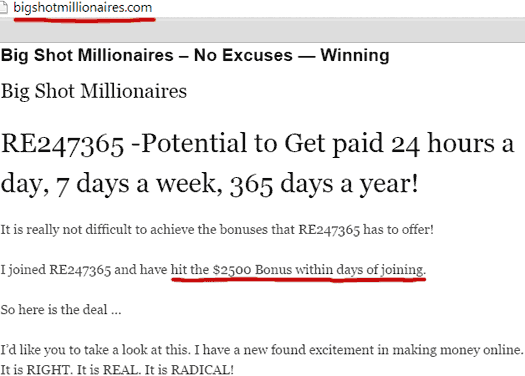 It is really not difficult to achieve the bonuses that RE247365 has to offer!

I joined RE247365 and have hit the $2500 Bonus within days of joining.
How much Sloan has made since she joined RE247365 and made her first $2500 is unclear. You can bet it's more than enough "to financially support hereself" though.
Just one component of the RE247365 compensation plan pays out $100,000 for the recruitment of 2000 affiliates into a downline. A matching bonus of 50% is also available, paying out on the aforementioned recruitment bonus.
And RE2475365 isn't the only opportunity Sloan appears to be currently involved in. Recently Sloan flew out to Dubai to attend a "Dubli Event":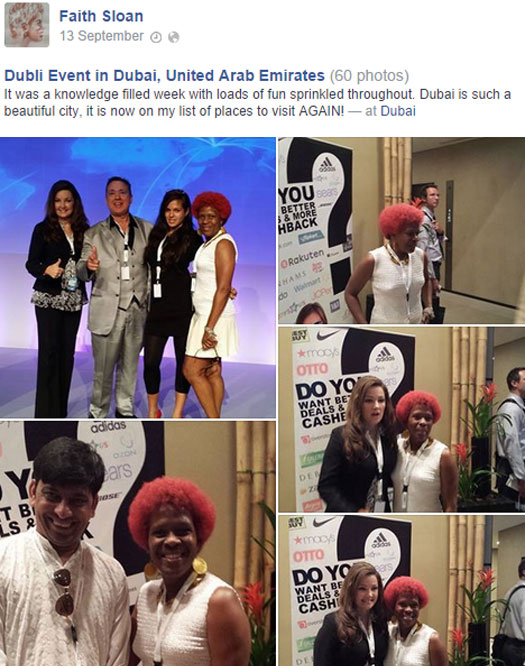 On my way to Dubai and will be staying at the 5star hotel, Marriott Marquis.

Dubai is a city of awe-inspiring ambition and unsurpassed luxury.
How far Sloan's tentacles extend into Dubli is unknown, but she certainly didn't just fly out there for the weather.
Affiliate membership to Dubli costs up to $12,000.
5star luxury hotels, flights half-way across the world, recruiting downlines that pay out thousands of dollars in commissions… no sweat.
Asked to defend her participation in a billion dollar Ponzi scheme though and all of a sudden Sloan is "unable to support herself financially".
Right.
Regulators with the SEC or DOJ looking into where Sloan might be stashing funds from her Dubli and RE247365 commissions, would be encouraged to investigate her Bitcoin activity (including possible laundering of funds to and from offshore accounts).
Sloan recently advertised the company "CoinBase" on her Facebook page, complete with an affiliate referral.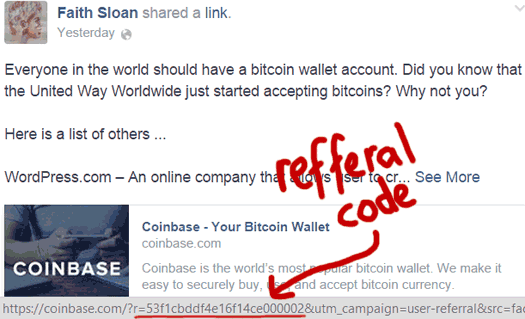 On their website, CoinBase identify themselves as
a Delaware Corporation with a principal office address of 548 Market Street, #23008, San Francisco, CA 94104, USA.
CoinBase market themselves as "the world's most popular bitcoin wallet." How much money Sloan has in her bitcoin account(s) shouldn't be too difficult to ascertain in a challenge to her DOJ objection, or by possibly compelling her to provide details through the preliminary injunction currently imposed on her.
In May, a preliminary injunction was granted against Sloan. Among other things, the injunction ordered her to 'cease conducting and further fraud involving securities or otherwise'.
I haven't yet looked at Dubli, but even the most cursory of regulatory glances at RE247365 should identify the recruitment commissions as blatantly resembling a pyramid scheme.
Go get 'em boys.