Faith Sloan poorhouse dichotomy continues…

As part of our continued coverage of the aftermath of the TelexFree Ponzi shutdown, today we again focus in on the claims of defendant Faith Sloan.
Sloan, along with several other top investors is currently being sued by the SEC for her involvement in TelexFree, a billion dollar Ponzi scheme.
In a response to the DOJ's recent request to stay discovery in the SEC's civil case, pending completion of the DOJ's criminal proceedings, Sloan filed an objection requesting
discovery be stayed against her until at least fifteen days after her Motion to Dismiss (ECF #154) shall have been acted upon.
Sloan claims she's requesting this because she
has found no full-time employment and because her savings as well as the retainer she paid her lawyer have been frozen by order of this Court, she should not be compelled to incur the substantial expense of responding to expansive discovery requests and proceedings pending a ruling on her Motion to Dismiss.
A number of "we knew nothing!" Motion to Dismiss' have been filed by defendants (Sloan's was filed in June), with none of them yet having been ruled on.
This latest move bears a striking resemblance to a filing made in the SEC's Zeek Rewards case only two days prior, where net-winner defendants in that case requested discovery efforts against them also be stayed until their respective Motions to Dismiss were ruled on.
Sloan was also an investor in Zeek Rewards, an $850 million Ponzi scheme shut down in 2012.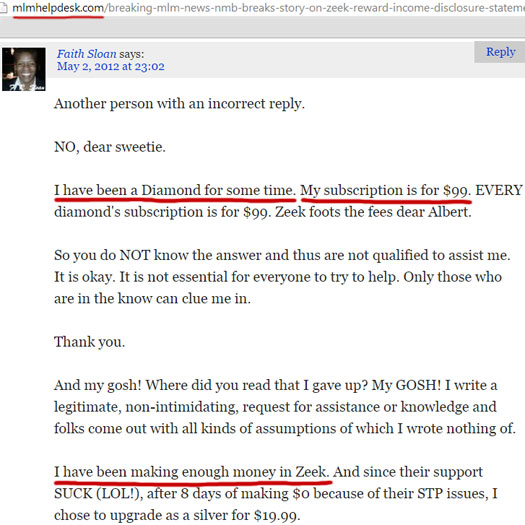 In any event, contrast Sloan's claims above, filed under penalty of perjury, with her latest Facebook posting: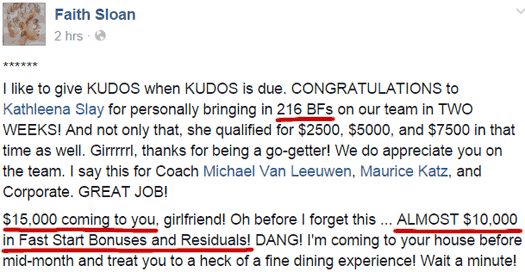 CONGRATULATIONS to Kathleena Slay for personally bringing in 216 BFs on our team in TWO WEEKS!

$15,000 coming to you, girlfriend! Oh before I forget this … ALMOST $10,000 in Fast Start Bonuses and Residuals! DANG!
The opportunity in question is RE247365, which charges affiliates $39.95 a month to participate and pays them for recruiting new affiliates.
Where exactly Slay is placed in Sloan's downline is unclear, however in addition to direct recruitment commissions (which Slay appears to have earnt), Sloan is likely earning a percentage matching bonus on Slay's earnings.
This of course is the same Faith Sloan who, under penalty of perjury, claims to be 'unable to support herself financially'.
Following the leak of backoffice images, it was earlier revealed that Sloan had made at least $7500 in recruitment commissions prior to the end of September.
Another 216 affiliates in her downline could potentially mean she's now earned a further $7500. And according to the September data, Sloan is potentially some thirty or so recruits away from earning a $25,000 commission for having 500 affiliates in her downline.
Whether or not Sloan is aware the SEC have access to the internet is unclear. A response from the agency to her latest request has yet to be filed.
Footnote: Our thanks to Don@ASDUpdates for providing a copy of Faith Sloan's "Amended Response To The Government's Motion To Stay Discovery".