Rodrigues receives two years supervised release for visa fraud

Following a guilty plea entered last month, earlier today Sanderely Rodrigues fronted court for a sentencing hearing.
Rodrigues faced a maximum penalty of ten years in prison, supervised release for three years, a $250,000 fine and deportation.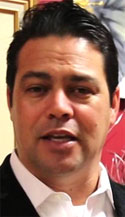 Judge Zobel sentenced Rodrigues to two years supervised release with no fine.
The case docket is ambiguous as to whether Rodrigues will be deported, stating only 'if deported leave the US'. Presumably this will happen if Rodrigues violates the terms of his release.
Prior to his sentencing Rodrigues had filed a motion requesting permission to file a sentencing memorandum under seal.
The motion was granted, however there's no entry on the case docket suggesting a memorandum was filed.
The gist of the intended memorandum might have been given orally at the sentencing hearing, which might explain why Rodrigues' sentence was on the lighter side of the scale.
Update 17th November 2016 – Rodrigues' attorney has advised that a memorandum was filed and read by the judge.
Sealed filings not appearing on case dockets appears to be a Massachusetts jurisdictional issue. /end update
In any event Rodrigues' prison sentence puts to rest visa fraud charges that saw Rodrigues initially arrested in May, 2015.
Rodrigues is still defending a case lodged against him by the SEC. The SEC are attempting to hold Rodrigues responsible for scamming millions of dollars from victims through the TelexFree Ponzi scheme.
Rodrigues had previously claimed he was a victim of the scheme.
Rodrigues also has an Interpol Red Notice issued against him, pertaining to an arrest warrant issued in Brazil for 'tax evasion and not obeying a Judicial Order'. Brazilian authorities are also investigating his involvement in the iFreeX Ponzi scheme.
If Rodrigues is eventually deported back to Brazil, he'll almost certainly be re-arrested by waiting authorities.
Footnote: BehindMLM originally incorrectly read the case docket and reported Rodrigues had received a two year prison sentence.
This was a simple mistake as the case docket for the sentencing order was (in my opinion) somewhat confusing:
Sentencing held on 11/15/2016 for Sanderley Rodrigues de Vasconcelos (1), Count(s) 1, The defendant was sentenced to TIME SERVED; 2 years SR; $100 SA; no fine; standard conditions apply; SC; if deported leave the US.
I'd looked up SR with respect to prison sentencing and seen it used to represent "safety responsibility", which I took to mean the responsibility of a prison towards inmates. Turns out it stands for "supervised release".
Apologies for any inconvenience caused and thanks to Rodrigues' attorney, Robert Eckard, for the clarification.