Clarification on Sann Rodrigues Brazilian arrest warrant

Earlier this week Sanderley Rodrigues was released on strict home detention conditions, following clarification that Brazilian authorities were not looking to extradite him.
This suggested that perhaps there was an issue with the investigation behind the Brazilian arrest warrant.
Clarification from Brazilian authorities however now clarifies the reason a formal extradition request was not submitted.
In addition to clarifying the status of extradition proceedings by Brazilian authorities, a report from Gazeta Online also explains exactly what Rodrigues is facing in Brazil.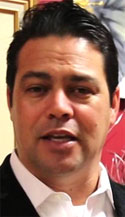 In total Rodrigues right) is the subject of two separate investigations, one regarding TelexFree and the other iFreeX.
TelexFree is the more straight-forward of the investigations, with Public Prosecutors in Espírito Santo probing whether or not Rodrigues was an insider in TelexFree's Brazilian operations (Ympactus).
The idea is to discover if the entrepreneur was just promoter or one of the business heads.
A separate investigation, also in Espírito Santo seeks to uncover the exact nature of Rodrigues relationship with iFreeX.
Rodrigues has publicly denied ownership of iFreeX, yet he was the sole public face of the company and organizer of iFreeX promotional events.
Then in May, just 2 days after Rodrigues was arrested in the US for visa fraud, both the iFreeX and 2PayNet payment processor websites went down.
And they are still offline today.
The nature of the Brazilian investigations into Rodrigues' involvement in TelexFree and iFreeX are paying specific attention to international money laundering crimes.
Rather than face investigation in Brazil and despite being ordered by a court to remain within the country, Rodrigues instead fled to the US.
That prompted Brazilian Federal Police to issue an international arrest warrant for Rodrigues through Interpol, which resulted in complications following his posting of bail in the separate visa fraud case.
According to William Helmer, an agent with the Brazilian Federal Police, Brazilian Public Prosecutors will eventually seek extradition of Rodrigues to face charges.
Helmer however notes that
the process for requesting extradition is time consuming and, (in this particular case), is very unusual.

We will have to translate any inquiry into English. (and) we believe that (it will take) up to seven months (to get) an answer.
My thinking is that Public Prosectors will probably wish to finalize their investigation and formally file charges against Rodrigues (whether or not he's charges as an insider with TelexFree is up in the air, but he was definitely running iFreeX), after which the charges and formal request for extradition will be translated and then submitted to US authorities.
That's where the "unusual" factor comes into play, as Rodrigues is already facing criminal charges in the US for visa fraud. And whether or not he is charged criminally in the US for his involvement in TelexFree remains to be seen.
How this all plays out ultimately remains to be seen, but what is clear is that Rodrigues is potentially facing at least three separate criminal cases – with a combined boatload of jail time.
In the US alone Rodrigues faces a maximum ten years in prison. What the potential jail time is on international money laundering charges in two separate Ponzi fraud cases in Brazil is I have no idea, but I don't imagine it's taken lightly.
Stay tuned…