Net-winners still trying to weasel out of TelexFree securities fraud case

Four and a half years after the SEC shut it down and with one of its founders in jail for wire fraud, you'd think TelexFree's net-winners wouldn't have a leg to stand on.
Not these shameless scammers.
With criminal proceedings against James Merrill concluded and Carlos Wanzeler a fugitive in Brazil, the SEC's civil case against TelexFree's top net-winners resumed.
Named as defendants in the SEC's case are Faith Sloan and Santiago De La Rosa, who to this day deny responsibility for their role in the $3 billion dollar Ponzi scheme.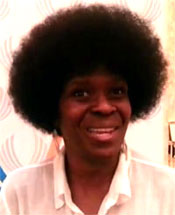 Faith Sloan's filings in the SEC's case are a typical reflection of the mentality those who profit from Ponzi schemes inhibit.
The SEC allege Faith Sloan (right) stole $160,400 from TelexFree victims and received $51,000 from the company itself.
Rather than acknowledge theft via scamming, Sloan has
Sloan's latest shenanigans saw her file a Motion to Dismiss against the SEC's second amended complaint.
Among other things, the SEC claim in her motion that Sloan
ignores most of the SEC's allegations against her, while offering self-serving denials of the rest
claims that she cannot be held accountable for statements on her own websites and
completely failed to address the SEC's third claim of relief against her
Dated emails between Sloan and TelexFree investors as well as YouTube videos featuring her are cited as evidence.
Despite this, Sloan alleges the SEC 'has not identified her fraudulent conduct with sufficient particularity'.
The whole "I'm not responsible for content on my website" defense is a bit of a mess.
Sloan argues that the SEC failed to allege she 'personally "composed the comments attributed to her" on her websites'.
The SEC claim this is irrelevant in a securities fraud claim.
Citing a Supreme Court example, Sloan does not deny she owns her websites and thus had ultimate control over what was and wasn't published under her name on there.
Then there's the defense that Sloan's statements about TelexFree on her website "were accurate".
Sloan ignores that securities fraud not only encompasses
affirmative misstatements but also statements that are technically true but are misleading without more information.

(Sloan's) promotional activities on behalf of TelexFree were fraudulent and deceptive, because, although she may have accurately described how the TelexFree program technically worked, she failed to disclose that the TelexFree investment
program was a Ponzi and pyramid scheme that was destined to collapse.
To this day Sloan does not acknowledge or disclose to those she recruits that the MLM opportunities she promotes are Ponzi schemes.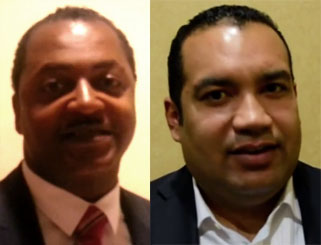 On November 10th, Santiago De La Rosa, another net-winner in the SEC's case, filed his own Motion to Dismiss.
In his motion, De La Rosa (left in the photo right with Randy Crosby), dismisses the SEC's assertion that TelexFree was a Ponzi scheme as "theory".
The problems with the SEC's theory – especially with respect to De La Rosa – is the complete absence of meaningful allegations that De La Rosa made any misrepresentations and the absence of meaningful allegations that De La Rosa (or any of the promoters) believed they were involved with anything other than a legitimate VoIP business.
This is obviously a rehash of the "I knew nothing defense", which as the SEC have pointed out in Sloan's similar dismiss motion, is irrelevant in a securities fraud case.
People who steal money in Ponzi schemes don't get to keep money just because they convinced themselves (truthfully or otherwise) the business was legit.
That should be common-sense, yet we have assertions such as this in De La Rosa's motion:
The SEC has failed to allege that De La Rosa sold or offered unregistered securities.
There is no dispute that De La Rosa was a top earner in TelexFree.
So uh what, TelexFree was a Ponzi scheme built on an unregistered securities offering… but De La Rosa, who promoted and profited from TelexFree didn't offer unregistered securities?
Riiiiiiiiiiiiiiight.
Given De La Rosa's motion was only filed a few days ago, the SEC have yet to file a response.
Randy Crosby, another defendant has been given till December 11th to respond to the SEC's second amended complaint.
Stay tuned…