Sloan files "I knew nothing!" Motion to Dismiss

Unhappy with being named a defendant in the SEC's civil case against TelexFree, Faith Sloan, one of the schemes top promoters, has filed a Motion to Dismiss the SEC's case against her.
Despite being one of the more prominent faces of TelexFree, self-titling herself as a "leader" and appearing at most, if not all, of TelexFree's promotional events where she was seated front-row with other TelexFree top-earners, Sloan is claiming she knew nothing of the deception and fraud behind the $1 billion Ponzi scheme.
Acknowledging that she 'operated websites touting TelexFree" and appeared in promotional videos posted on YouTube', Sloan claims this does not prove she has 'engaged in fraudulent conduct'.
(the SEC) must state the circumstances constituting that fraud "with particularity".
Apparently Sloan feels the evidence of her promotion of a billion dollar Ponzi scheme is not "particular" enough.
Why?
(the SEC) has summarized comments that Sloan allegedly made on the TelexFree website concerning the TelexFree compensation plan.

(the SEC) does not allege that Sloan composed the comments attributed to her on the website nor does (the SEC) describe with particularity any manipulative or deceptive device that Sloan allegedly used to sell memberships in TelexFree to those interested in purchasing such memberships.
If Sloan is to be believed, evidently the misrepresentation of a billion dollar Ponzi scheme is neither manipulative or deceptive.
In support of her motion, Sloan goes to great lengths to distance herself from TelexFree's owners and management:
Nowhere in the Amended Complaint is there any allegation that Sloan was a party to the creation or operation of the alleged Ponzi scheme or the definition of the TelexFree compensation plan.

(The SEC) does not even allege that Sloan was employed by any of the Defendants, that she shared or even participated in their illgotten gains.

Sloan was, in fact, an independent business owner, who was compensated for her services to (TelexFree) like all of the other "promoters" of TelexFree and no more.
While "no more" might have a ring of finality about it, there's a critical distinction to be made between Sloan and "all the other TelexFree promoters".
Sloan didn't lose money in the scheme. She's part of an exclusive club of TelexFree net-winners.
Unfortunately due to ongoing forensic investigations on the data seized by authorities back in April, exactly how what percentage of TelexFree affiliates lost money in the scheme has yet to be made public.
What we do know though is that historically, the percentage of net-winners in a Ponzi scheme is but a fraction of the total affiliate investor-base.
"Like all of the other promoters" my ass.
Concluding her arguments, Sloan then drops one final nauseating plea of ignorance:
knew nothing about TelexFree's income, sales or finance. Whatever she knew, or thought she knew, was based on what she had been told by her co-Defendants at webinars, until she became disappointed in their failure to keep their promises early in 2014 and realized that she had become the victim of their conduct, like so many other "promoters" of TelexFree.
Ladies and gentlemen, the following exhibits are taken from none other than this very blog.
I present to you comments made by Sloan circa February 2013. Here Faith Sloan can be seen publicly claiming that the "issue" of the TelexFree criminal investigation in Brazil was "addressed" and a "non-issue" for TelexFree in the US:
(TelexFree's) demise is over-exaggerated by the unknowing. They have addressed that when it was an issue back in January. It is a non-issue.
This "non-issue" would ultimately lead to a permanent injunction being granted against TelexFree in June 2013. As for it being a non-issue, given that TelexFree used the same Ponzi scheme business model the world over, as is clear it became "an issue" in the US when TelexFree ran out of money to pay investors with in early 2014.
In the same exhibit, Sloan goes on to dismiss concerns raised by a BehindMLM reader about TelexFree's compensation plan as "hearsay":
Honey, Julia, if you knew the compensation plan and how the products came in to play, you would know how they are able to pay out the income for 52 weeks. But I will leave that up to you.

As adults I hope we have 'graduated' and are able to figure out compensation plans and the business model without being swayed by hearsay.
That first paragraph is important, as it wholly annihilates Sloan's "I knew nothing" defense.
Remember Sloan's assertion earlier that her promotion of TelexFree was neither "manipulative or deceptive"?
With intimate knowledge of TelexFree's compensation plan and business model, Sloan quite obviously knew she was participating in a Ponzi scheme.
The proof of this is in the comment quoted above. Specifically:
If you knew the compensation plan and how the products came in to play, you would know how they are able to pay out the income for 52 weeks.
Contrast this to Sloan's claim in her motion that she 'knew nothing about TelexFree's income, sales or finance'.
Additionally, not cited in Sloan's Motion to Dismiss is any mention of her efforts to sell TelexFree's "products" to non-investors (retail customers).
According to information provided to them by TelexFree and the various banking institutions and payment processors they used, the SEC have pegged TelexFree's retail VOIP activity at 0.25% of the company's total revenue. So insignificant is revenue from any other third-party product that these figures to date have not been cited.
In claiming that "the products" and "how they came in to play" was how TelexFree paid out 200% annual ROIs to Ponzi investors, she herself must clearly have had significant retail activity taking place within her own business.
In her motion, Sloan asserts
Whatever she knew, or thought she knew, was based on what she had been told by her co-Defendants at webinars.
If Sloan is going to argue that what she was told was that the sale of products and services was how TelexFree "are able to pay out the income for 52 weeks", she's going to have to front some pretty convincing retail customer figures.
Failing that, I'm sure the SEC could look into the seized records and provide the court with an exact breakdown of Faith Sloan's generated revenue from recruited affiliate investors versus retail customers.
I mean gee golly gosh. Sloan made thousands of dollars in TelexFree, there must have been mountains of retail activity taking place in her "independent business". Right Faith?
Furthermore, when the SEC called Sloan up to inform her of their case against her, Sloan didn't protest with cries of selling VOIP and third-party products to customers and only doing what management told her to do.
Before hanging up on the SEC agent, Sloan's initial reaction was:
Why are you picking on me? There are bigger promoters than me.
Before the agent even had a chance to explain the SEC's case against her, Sloan had already jumped to the conclusion that she was being held liable for promoting TelexFree. And the question begs to be asked: Why would she think there was anything wrong with being the promoter of a legitimate VOIP company?
A decision of Sloan's Motion has yet to be made, but if the current preliminary injunction against her is upheld, Sloan paints a pretty bleak picture:
Sloan moves that the Court dismiss Plaintiff's Amended Complaint and the Preliminary Injunction entered by this Court on May 8, 2014, because she always told the truth in her dealings with "promoters" of TelexFree and did not engage in any manipulative or deceptive devices or contrivances to sell TelexFree "securities" to anyone.
Sloan also asks that, should the court deny her motion, she be permitted to pay $10,000 in stolen TelexFree affiliate investor funds to her lawyer.
Having lost her income from TelexFree, Sloan relies on her savings and will be denied her constitutional right to due process unless the Preliminary Injunction shall be dissolved, because she will be unable to retain and pay her attorney to defend her in this matter.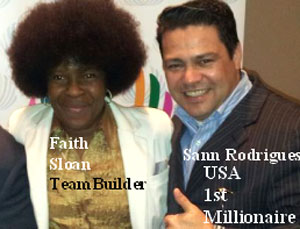 Perhaps a copy of that Sanderly Rodrigues video of Sloan declaring she's "100% TelexFree, booyah!" might be aired in court too. Providing of course the SEC saved a copy of it.
Since the preliminary injunction Rodrigues, possibly in violation of the injunction, has deleted the YouTube account on which Sloan's testimony (along with several other named defendant affiliates) was uploaded to.
Sann Rodrigues, a fellow co-defendant in the SEC case against Sloan, also claims to be a multi-million dollar earning "victim" of TelexFree.
Footnote: Our thanks to Don @ ASDUpdates for providing a copy of Sloan's Motion to Dismiss.