OnPassive & Crowd1 illegal pyramid schemes in Bhutan

OnPassive and Crowd1 have been declared pyramid schemes by Bhutan's Office of Consumer Protection.
The OCP is part of Bhutan's Ministry of Economic Affairs and is "mandated to promote and protect economic interest and safety of the consumers".
As per the OCP's OnPassive and Crowd1 warning;
The Office of Consumer Protection (OCP) notifies the general public not to engage in any way or form with the following business entities – (i) Crowd1 and, (ii) OnPassive.

Their business practices are found to be pyramid schemes.

The business entities are also engaged in misleading representation, misleading advertisement and infringement of consumer rights in contravention to Consumer Protection Act of Bhutan 2012 and Consumer Protection Rules and Regulations 2015.
BehindMLM reviewed OnPassive back in January 2019. As per its matrix-based business model, we also concluded OnPassive was a pyramid scheme.
OnPassive charges $97 to become an O-Founder, on the promise of commissions paid on recruitment of other affiliates.
OnPassive is coming up on four years of prelaunch. The only people who've made money in the business is owner Ash Mufareh and his team of devs in India.
Crowd1 is a Ponzi scheme that's also been around since 2019.
Since then Crowd1 has been rebooted through umpteen marketing ruses. The current ruses are virtual shares in a UK shell company and an NFT game nobody's interested in.
Crowd1 is run by Swedish national Jonas Werner.
Last year Werner fled Sweden to live in Dubai. Dubai offers scammers a safe-haven due to limited extradition treaties and non-enforcement of MLM related securities fraud.
BehindMLM considers Dubai the MLM scam capital of the world.
Bhutan is the eighteenth jurisdiction to take regulatory action against Crowd1.
Bhutan's pyramid scheme warning follows similar fraud notices from Nepal, Russia, Peru, New Zealand, Mauritius, South Africa, the Philippines, Norway, Namibia, Paraguay, Gabon, Vietnam, Cote d'Ivoire, Slovakia, Hungary and the Czech Republic.
Bhutan's OCP directs promoters of OnPassive and Crowd1 to "discontinue operation with immediate effect".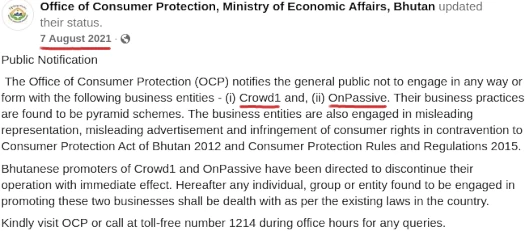 Continued promotion of OnPassive and Crowd1 in Bhutan will be "dealth [sic] with as per the existing laws in the country".
The OCP's warning was issued in August 2021. I became aware of it recently thanks to a tip off from The Recovering Hunbot.
Media in Bhutan seems to have only just picked up on the OCP's warning, not sure what the story is there.