Crowd1 now selling shares in new UK shell company

Crowd1's virtual shares scheme has come full-circle, with the Ponzi scheme now spruiking virtual shares in a UK shell company.
Crowd1 launched in mid 2019. The original Ponzi concept was affiliates investing in "owner rights" for virtual shares.
Since then Crowd1 has launched one ruse after another, in an attempt to convince affiliates their virtual shares were worth something.
Crowd1's owner rights have consistently paid peanuts. Clearly most of the money pumped into the scheme has been retained by its owners.
This culminated in former Crowd1 CEO Johan Stael von Holstein cashing out and doing a runner in December 2020.
Prior to disappearing, Holstein spent 2020 pitching a '3 to 5-year plan to bring Crowd1 into the NASDAQ and become a publicly-traded company.'
For most of 2021 Crowd1 has been drifting along. None of the company's previously launched ruses have generated any significant profit.
Crowd1's latest ruse was an attempt to cash in on the short-lived NFT fad.
Planet IX was announced back in April. It went nowhere and has been quickly forgotten about.
Now Crowd1 is pitching "shares in a UK PLC for future value creation".
PLC stands for "public limited company". As of yet Crowd1 hasn't revealed the company name.
UK as the selected shell company jurisdiction shouldn't come as a surprise. Companies House has been synonymous with corporate fraud for years.
So the pitch goes, at some point Crowd1 affiliates will be able to worthless "ownership shares", for equally worthless virtual company shares.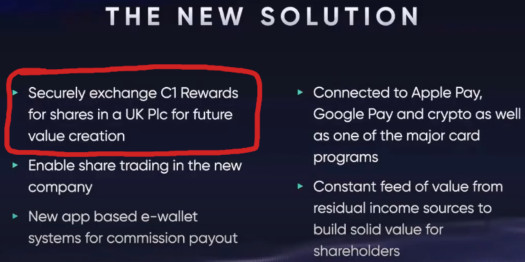 As per the marketing, the "share swap (is) planned for June/July 2021". Interestingly, Crowd1 is also pitching their new ruse as a tax loophole.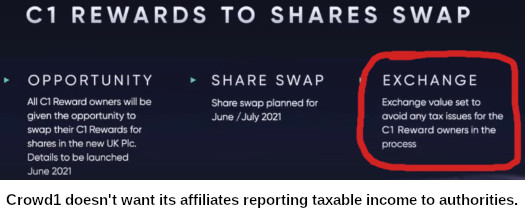 The primary reason Crowd1 wouldn't want affiliates to report taxable income is because it's a Ponzi scheme.
Believing a virtual shares scheme "avoid(s) any tax issues" is a risk Crowd1's affiliates take without any legal support from the company.
What's amusing about Crowd1's new share opportunity is that, on paper, it's no different to failed virtual ownership scheme.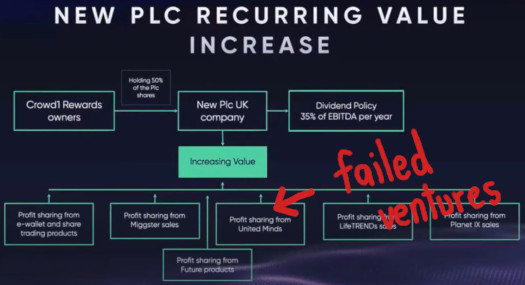 As above, you've got the same failed ruses being touted as providing "increasing value".
EBITDA stands for "earnings before interest, taxes, depreciation, and amortization". 35% of EBITDA will be set aside to pay Crowd1 affiliates who have invested in virtual shares.
The kicker is we already know these ventures aren't generating profit, because historically Crowd1's ownership shares have paid peanuts.
This is the same failed investment scheme, repackaged to pitch to new investors.
Soliciting new investment is Crowd1's only significant source of revenue – and has been since day one.
Looking further down the track, Crowd1 is pitching its own stock trading platform as "Multiwallet".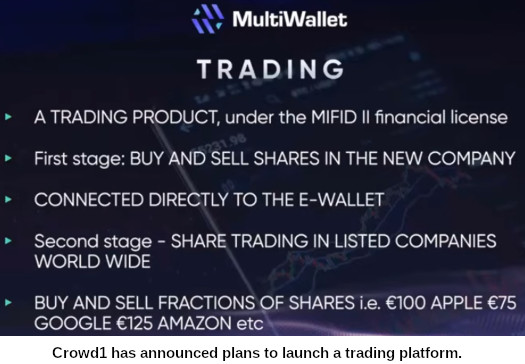 Presumably this will be run through the yet to be launched UK shell company. Or it could just be run illegally, with Crowd1 who knows.
What we do know is none of this will be launched with Crowd1's own company name.
To date Crowd1 has attracted regulatory attention in no less than thirteen countries; Peru, New Zealand, Mauritius, South Africa, the Philippines, Norway, Namibia, Paraguay, Gabon, Vietnam, Cote d'Ivoire, Slovakia, Hungary and the Czech Republic.
On its website Crowd1 represents it is based out of a PO Box in Dubai.
With no active regulation and practically no extradition treaties, over the past few years Dubai has emerged as the MLM scam capital of the world.
The last time an MLM Ponzi scheme used a UK shell company to commit financial fraud, it took the FCA eight months to shut it down.
How long Crowd1's UK shell company survives remains to be seen.
Update 13th October 2021 – Crowd1 has unveiled the name of their UK shell company as Digital Partners Network.