Planet IX, Crowd1's latest crypto Ponzi scheme "game"

Crowd1's latest ploy to extract more money from its affiliates is … a crypto mobile app Ponzi scheme.
How very… 2015?
To hear founder Jonas Werner pitch Planet IX though, Crowd1 just invented sliced bread.
Werner fronted a selection of Crowd1 affiliate investors from a stage on April 8th.
There he pitched Planet IX, on the premise of one hundred million people signing up during prelaunch.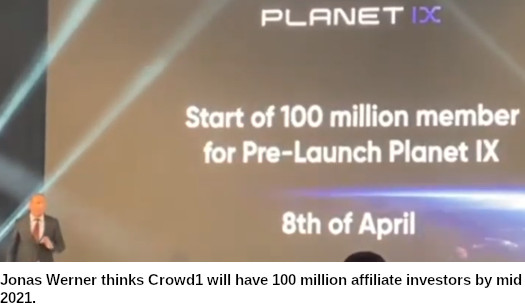 Planet IX is a "virtual real-estate game" in which Crowd1 has split up patched of Earth into hexagons (pix).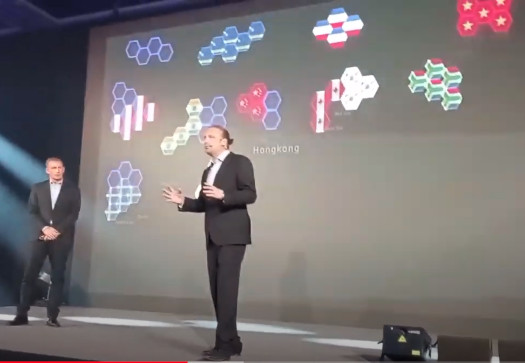 Crowd1 affiliates invest in pix lots through the Planet IX game app.
What you have to decide when you start is what land do you want?

Of course some of those places will be more expensive an that's the beauty with this game.

But you have to plan, you have to think, you have to think about the future. Because land that don't have the biggest value in the beginning, everything can change.

And after a couple of weeks, after a couple of months, it can be the most valuable land.

But it doesn't matter because all of you have the first chance to be in the game. If you are a leader you have to be fast.
As opposed to actual cryptocurrency, Crowd1 is soliciting investment in bitfix, bitfreeze? Through the thick Swedish accent I didn't quite catch the name.
Pix appears to be an internal token that is worthless outside of Crowd1.
If you're wondering how pix values are calculated, Crowd1 arbitrarily decides what they buy and sell for.
The Ponzi element comes into play by way of Crowd1 dictating what a pix position is worth and return, i.e. cashing out, being paid with subsequent investment.
Not to mention the initial injection of funds Crowd1 collects by selling its internal token and having affiliates invest in pix positions, which it created at no cost out of thin air.
Crowd1 is also jumping on the NFT bandwagon, with affiliate investors able to buy and trade "landmarks" within Platform IX.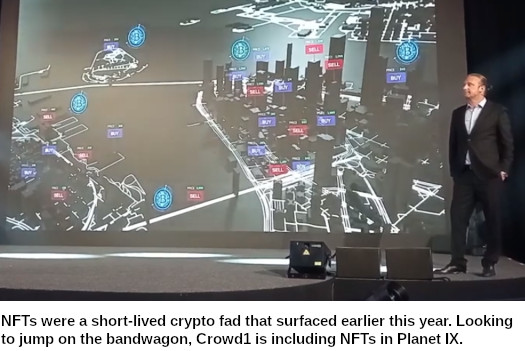 When you buy an NFT you're buying digital representation (oN tHe BlOcKcHaIn!) that you own some digital asset (typically an image).
Whether the person selling you the NFT actually owns the digital asset to begin with doesn't matter… because blockchain.
Apart from being pointless, NFTs also waste a colossal amount of energy when created.
We will change not only this industry, we will change the way you get paid and so on, involving crypto into everything. And we will make everything mobile.

So I know, we will be a billion people very fast because no one have done this before.

You, our friends together with all your leaders, with all your members, will be in the front seat while we change the online world forever.

This will be the most powerful game ever in the history. And as you can see we will involve cryptocurrency, the next wave of doing payments in the world.

Today there are a couple of hundred of millions of people using it and I promise you, I promise you, within a couple of months, within a year from now, it will be a payment that people all around the world will use.

What do you think will happen with our Planet IX if we do it with cryptocurrency?

If we have investment, trading in this game powered by cryptocurrency, I don't even think I can imagine.

We are the cryptocurrency company.
Starting this month, Crowd1 is letting its top affiliates sign up and invest in Planet IX pix positions. Over time lesser ranked affiliates will be able to sign up.
Once Crowd1 has preloaded Planet IX with existing affiliate investors, the public will be encouraged to sign up and lose money to them.
Crowd1 is already claiming its existing affiliates have invested into 48 million pix positions: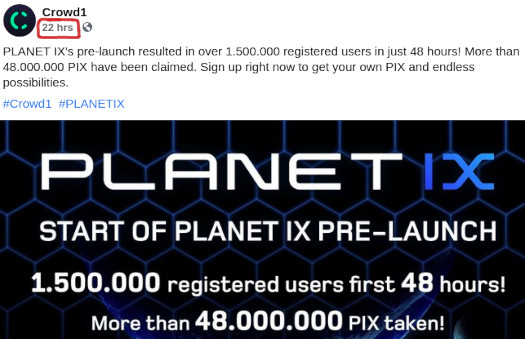 Planet IX is currently scheduled to open to the public in July 2021.
Crowd1's move to cryptocurrency follows The move to cryptocurrency follows Crowd1 attracting regulatory attention in fifteen jurisdictions.
This is likely to have put immense pressure on the Ponzi scheme being able to maintain regular banking channels.
Alexa currently ranks the top sources of traffic to Crowd1's website as South Korea (24%), Spain (16%) and Russia (15%).