Crowd1 pays off Emerge Gaming for Miggster Ponzi partnership

Crowd1 has "purchased" Miggster off Ponzi collaborator Emerge Gaming.
As per an agreement reached in early March, Nibiru e-Gaming AB will acquire Miggster for $5 million AUD (~$3.75 million USD).
Miggster was part of Crowd1's ongoing attempts to legitimize investment fraud with attached products and services.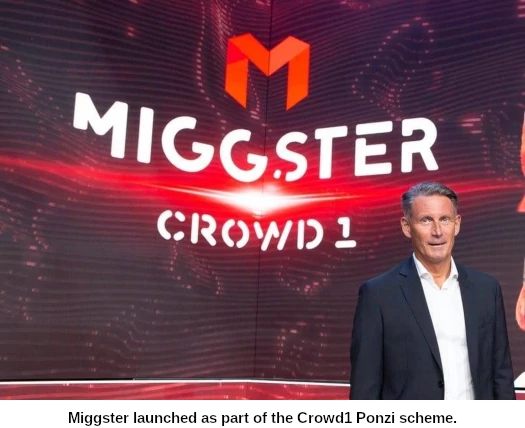 Crowd1 initially launched in 2019 with a gambling ruse. That fell apart in early 2020 when a purported gaming partner confirmed it had nothing to do with Crowd1.
Next we had Crowd1 "the apps" Ponzi. A few months later it was Crowd1 "the products" Ponzi.
After that Crowd1 returned to the app idea. Central to this was Johan Stael von Holstein and his Spanish shell company Tecnologia de Impacto Multiple S.L.
In a press-release issued in October 2020, Emerge Gaming announced it had
begun pre-registration for MIGGSTER Mobile.

MIGGSTER Mobile is a mobile eSports platform that uses Emerge's platform technology with new and enhanced features such as community competition.

This launch comes after Emerge's recently signed agreement with Europe's Tecnologia de Impacto Multiple S.L.
Emerge Gaming is an Australian ASX listed company run by CEO and Executive Director Greg Stevens.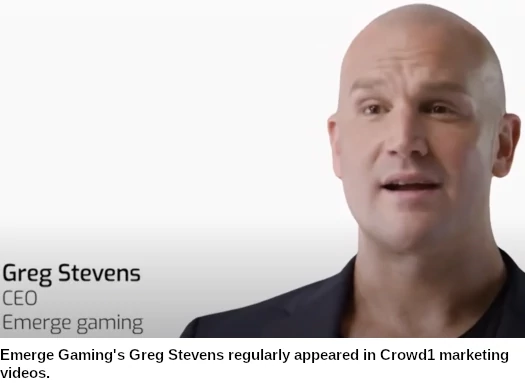 Miggster's launch came and went.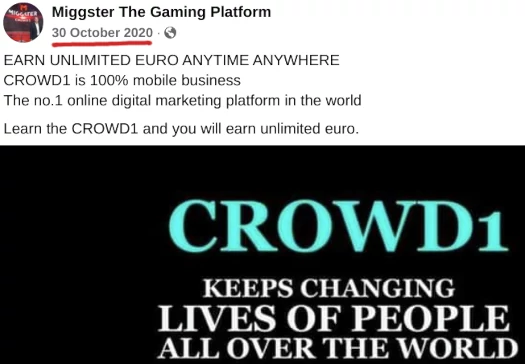 Crowd1 affiliates had signed on for a passive investment scheme, for the most part they couldn't have cared less about a mobile gaming startup.
By the early 2021 Crowd1 had migrated to cryptocurrency fraud, leaving Miggster languishing. Emerge Gaming continued to maintain the platform, pursuant to whatever financial agreement it had with Crowd1.
Nibiru e-Gaming AB is another Crowd1 shell company, set up in Sweden through Impact Crowd Technology.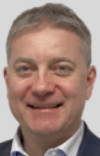 Impact Crowd Technology is a Spanish shell company headed up CEO Johan Westerdahl (right).
Westerdahl is a Crowd1's Chief Commercial Officer. He had a brief stint as CEO after Johan Stael von Holstein cashed out and bailed Crowd1 in late 2020 (shortly after Miggster launched).
Looking forward, it's likely Miggster will continue to flounder. Crowd1's migration to crypto fraud saw them launch Planet IX, also through Nibiru e-Gaming.
Planet IX wasn't what Crowd1 affiliates signed on for so it too has stalled.
Crowd1's most successful recent launch was Digital Partners Network. These virtual shares closely resembled Crowd1's original "owner's rights shares" Ponzi model.
Naturally after sucking investors in, Crowd1 cashed out and screwed them over.
Looking forward, interest in Miggster continues to decline.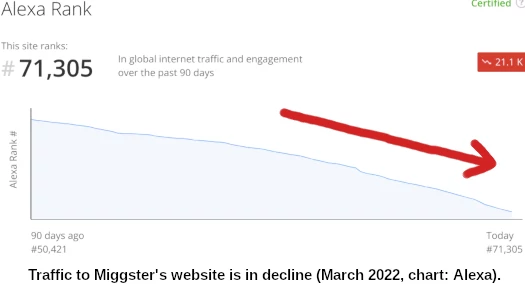 Alexa reports current top sources of traffic to Miggster's website are Russia (33%), Italy (19%) and Ukraine (13%). Russia is also the top source of traffic to Crowd1's own website (23%).
The Australian Financial Review reports that 98% of Emerge Gaming's income was a result of its partnership with Crowd1.
In addition to the $5 million Miggster buyout, Emerge Gaming is sitting on ~$22 million AUD from Crowd1. Proceeds of funds stolen through Crowd1's Ponzi scheme.
Emerge Gaming's shares had been suspended from trading since last December, pending its Crowd1 Miggster deal.
The Australian Stock Exchange launched an investigation into Emerge Gaming's Crowd1 partnership back in 2020.
So far nothing further has come of it. Australian authorities have a poor track record of regulating MLM related securities fraud, so it's unlikely anything will come of the investigation.

Crowd1 is operated by Swedish national Jonas Werner (right). Werner spends his time between Dubai and Sweden.
Dubai is the MLM scam capital of the world, so don't expect anything to happen there either. Sweden has unfortunately also shown no interest in going after Crowd1 or Werner.
Countries that have taken regulatory action against Crowd1 include Bhutan, Nepal, Russia, Peru, New Zealand, Mauritius, South Africa, the Philippines, Norway, Namibia, Paraguay, Gabon, Vietnam, Cote d'Ivoire, Slovakia, Hungary and the Czech Republic.