Crowd1 initiates Digital Partners Network shares dump

Back in June BehindMLM reported on Crowd1's planned UK shell company share dump.
It's taken four months, but Crowd1 has finally initiated what might be an exit-scam.
As revealed in new marketing material;
The Crowd1 Rewards programme is to be discontinued.

We are pleased to announce we have been in successful discussions with Digital Partners Network plc of London ("DPN") which is offering shares in their company in exchange for your Rewards.
When Crowd1 launched in 2019 the company solicited investment into virtual shares. Affiliate investors were told they were purchasing "owner rights" for the shares.
The business model was simple: invest in virtual shares and receive a ROI.
Crowd1 paid the ROI out of subsequently invested funds, and so you had your classic MLM Ponzi scheme.
As with all Ponzi schemes, eventually recruitment dried up, likely leading to withdrawals exceeding new investment.
Crowd1 eventually slashed calculated returns. The company has been stringing affiliate investors along ever since.
Digital Partners Network is a UK shell company Crowd1 set up shortly after the original June announcement.
UK corporate records show the company was incorporated on July 27th, 2021.
Listed officers of the company are John Moore and Leonard Martin Fertig. Randoms nobody in Crowd1 has ever heard of.
Digital Partners Network's incorporated address is a virtual office in London.
None of this should come as a surprise. The UK is a favored jurisdiction for scammers to set up shell companies in.
A Squarespace template website has been hastily put together for Digital Partners Network @ "digitalpartnersnetwork.co.uk".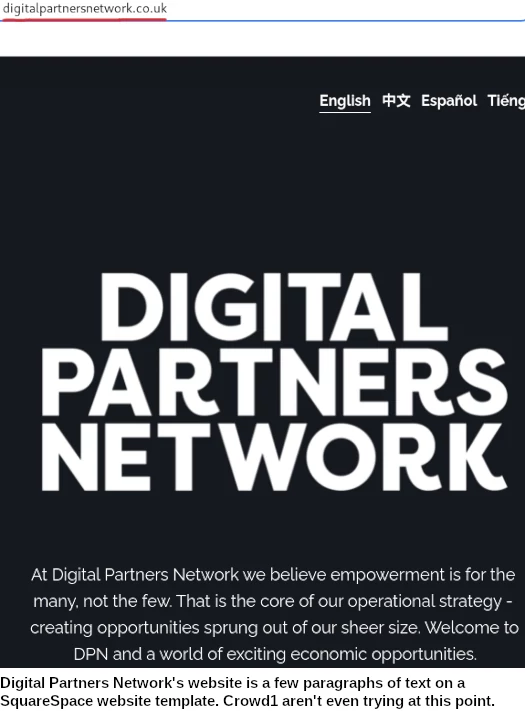 Putting aside the shell company nonsense, in order to sell shares Digital Partners Network needs to be registered with the FCA.
You can search the FCA's registry and confirm that, at time of publication, Digital Partners Network is not registered with the FCA.
All that's happening is Crowd1 is swapping "owner's rights" virtual shares for Digital Partners Network virtual shares.
Renaming an database asset would be just a few lines of code in Crowd1's backoffice.
Crowd1 affiliates have been given seven days to manually opt out of share conversion. After which all "owner's rights" virtual shares company-wide will be converted into Digital Partners Network virtual shares.
No idea what happens to anyone who does opt out. "Owner's rights" virtual shares have been worthless for over a year. That'll stay the same so I suppose they'll just be quietly forgotten about (again).
As part of their exit-scam, Crowd1 are also trotting out KYC:
In order to continue the process and receive your shares in DPN, please follow the link below and download the App to your mobile phone.

Later in the App there will be a requirement for a simple identification (KYC).
Since the early days Crowd1's top scammers, mostly from Europe, have targeted third-world countries.
Africa was heavily pillaged. Later India and south-east Asia were targeted.
Today, as per Alexa, visitors to Crowd1's website are mostly from Azerbaijan (21%), Russia (18%) and Kazakhstan (9%).
Crowd1 implementing KYC after two years is no doubt going to cause havoc. Which of course is the intended goal.
As to why this is happening, Crowd1 explains;
The first exciting opportunity for DPN, partnering with a company in the payments industry, (including a multiwallet) is in its final negotiations stage and we will inform the DPN shareholders about this shortly.
Crowd1 revealed Multiwallet back in June, when they initially announced the UK shell company exit-scam.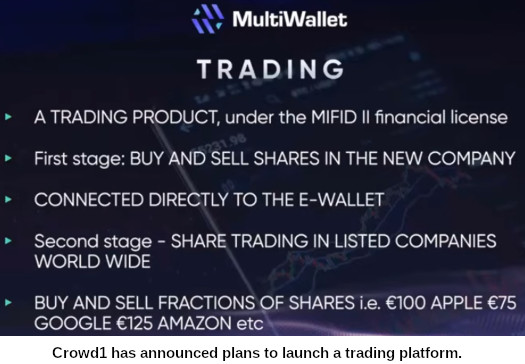 Like Digital Partners Network, Crowd1 is maintaining the fiction MultiWallet is a third-party company.
If we take a broader look at Crowd1's trajectory, Digital Partners Network virtual shares is the latest in a long line of failed ventures.
First Crowd1 had fake gambling partnerships, then the app platform nonsense and Mark Seyforth's failed MLM opportunity merger.
Crowd1's last ruse was the Planet IX crypto Ponzi. Crowd1 are still putting together sporadic dev update videos out but nobody is paying attention.
Crowd1 affiliates want the returns they were promised. And the bottom-line is Crowd1 can't deliver without new investment.
If you're wondering why regulators haven't put Crowd1 out of its misery, it's not for lack of effort.
Unfortunately there has been a distinct lack of effort where it mattered though.
To date Crowd1 has received regulatory attention in Peru, New Zealand, Mauritius, South Africa, the Philippines, Norway, Namibia, Paraguay, Gabon, Vietnam, Cote d'Ivoire, Slovakia, Hungary and the Czech Republic.
This has killed off recruitment of investors in these jurisdictions.

Crowd1 is run by Jonas Erik Werner (right). Johan Stael von Holstein signed on as CEO last year.
After encouraging god knows how many victims to invest god knows how many millions into Crowd1, von Holstein cashed out and disappeared last November.
Both Werner and von Holstein are Swedish nationals. To date Swedish authorities have taken no action against Werner, von Holstein and Crowd1.
Attempts to bring Werner to justice now are going to prove difficult, owing to him and the rest of the Crowd1 team since fleeing to Dubai.
Dubai is an MLM scam safe-haven. The UAE has no active regulation of MLM fraud.
UAE authorities do not cooperate with foreign investigations and the country has extremely limited extradition treaties.
Don't expect much from the UK with respect to Digital Partners Network either.
The FCA has admitted it has no interest in regulating MLM related securities fraud.
To that end I'm actually surprised Digital Partners Network hasn't been registered with the FCA.
Assuming Digital Partners Network shares don't pop up on Cyprus' stock exchange or some other dodgy jurisdiction, we might see Digital Partners Network debut on the London Stock Exchange yet.
Whichever exchange it happens on, getting Digital Partners Network listed would be the equivalent of a crypto public exchange exit-scam.
Crowd1 affiliates would be left bagholding worthless publicly tradeable shares. Werner and friends retire in Dubai to live off however many millions/billions they've stolen.