OneCoin offices raided, Bulgarian authorities finally react

Bulgarian authorities seemingly doing nothing while OneCoin operated a multi-million dollar Ponzi scheme has been a running joke.
Now, working in cooperation with Eurojust and Interpol, the Specialized Prosecutors Office raided OneCoin's Sofia offices over January 17th and 18th.
The raid was conducted in connection to an ongoing investigation into OneCoin, spearheaded by German authorities.
Last May it was revealed Public Prosecutors in the German city of Bielefeld had launched an investigation into OneCoin.
According to the Bulgarian authorities, prosecutors from Bielefeld traveled to Bulgaria to continue their investigation last October.
The court-ordered raid saw OneCoin's offices raided, as well as One Network Services and fourteen other companies.
A lot of material evidence has been seized, including servers, so far, 50 witnesses have been questioned.
OneCoin is notorious for its connections to shell companies set up all over the world.
Capital spoke with Bulgarian Public Prosecutors and claim OneCoin 'operates through hundreds of affiliated companies on 4 continents'.
In addition to money laundering, OneCoin and One Network Services are being investigated for working with "crime groups and terrorist organizations".
At the time of publication no arrests have been made.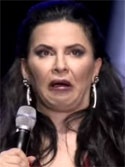 As has been known for some time, Ruja Ignatova is in hiding. It appears we can now confirm Ignatova (right) is on the run too.
The Bielefeld investigation pertains to "two Bulgarian women with German citizenship", with the other woman wanted by authorities believed to be Ignatova's mother, Veska Ignatov.
In addition Germany, Bulgarian authorities claim they are working with their counterparts in England, Ireland, Italy, the US, Canada (woot woot Ken Labine), Ukraine, Lithuania, Latvia, Estonia "and many other countries".
Shortly after Bulgarian Prosecutors announced the raid, One Network Services sent Capital an "official statement".
Capital observed they received the One Network Services statement from a "a previously unused gmail address".
The amusing press-release claims OneCoin
has never engaged in illegal activity both on the territory of the Republic of Bulgaria and in the other countries in which it operates.

What we observe, however, makes us believe that it is a demonstration against One Network Service Ltd., the virtual currency OneCoin and its creator Dr. Ruja Ignatova.

We see a purposeful media campaign to discredit the reputation of the above-mentioned and deliberate concealment of important features from the company's business, which presents us in a totally negative light.

We believe that such a media coverage of an ongoing investigation, which lacks a final conclusion of the relevant authorities, leads to misleading the public as to the veracity of the factual situation, questions the objectivity of the information disseminated in Bulgarian media, and could be interpreted by inferiors as a paired set of targets.
OneCoin also weren't very happy with authorities not taking the time to contact them and inform them they were being investigated;
 We also want to express our sincere surprise at the fact that none of the company's representatives were asked for opinion by media representatives.
Of particular concern to OneCoin investors is the company using the raid as a scapegoat for investor losses.
We would like to point out that as a result of the law enforcement action taken yesterday, the company and its partner companies suffer unjustified and serious financial losses.

From the partner companies' office, work equipment was seized, and our partners thought they were deliberately subjected to pressure that could lead to bankruptcy.
OneCoin began running out of money toward late 2016, with the company permanently suspending affiliate ROI withdrawals.
Whatever was invested throughout 2017, sans recruitment commissions, is believed to have primarily benefited Ruja Ignatova and her family.
As previously reported, the Ignatovas have access to a vast property empire. Ruja herself was last seen cruising off the Bulgarian coast in a $15 million dollar yacht.
Stay tuned…