Maximiliano Batista arrested, Leo Cositorto hiding behind religion

The Generation Zoe saga continues with Maximiliano Batista's arrest in Argentina.
With his political persecution excuses falling flat, founder Leonardo Corsitorto is now hiding behind religion.
Batista is considered Generation Zoe's second in command. Wanted by Argentine authorities, Batista was hiding out in Europe.
Last week authorities raided Batista's daughter's house. This prompted his lawyer to announce Batista would return to Argentina to turn himself in.
~12 hours or so ago Batista touched down in Buenos Aires and was promptly arrested.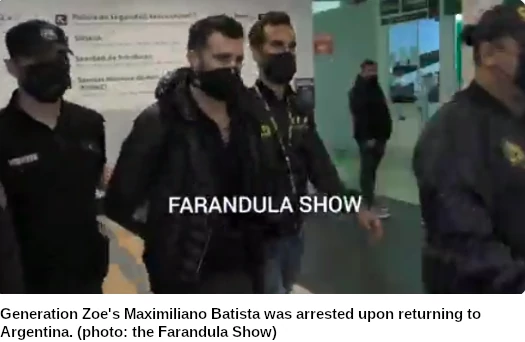 Generation Zoe's founder, Leonardo Cositorto, is also wanted by Argentine authorities.
When it was confirmed he was hiding in Colombia, Cositorto claimed he was being persecuted for political reasons.
I can travel without any problem, that was a request from the prosecutor who is aware of the case and has a bit of a heavy hand, but at that moment I am approaching cities in Colombia because the problem here is political, because they took some photos of me from a political act.
Cositorto would later stump for a Colombian senate hopeful (and Generation Zoe investor), but at the time didn't have any overt ties to politics.
In any event, that excuse appears to be have been dropped in favor of religion.
As reported by Informacion, in a March 20th webinar Cositorto assumed the persona of an "evangelical pastor".
Cositorto told viewers (most of whom would be Generation Zoe investors),
"God can give us 10 times more than what we had" and that "Jehovah is your partner".
As opposed to the simple math that guarantees every Ponzi scheme's collapse, Generation Zoe's demise is now being blamed on "the devil".
"You have already entered another dimension and another new life, stay there, live by faith, without hesitation, he who doubts is inconstant, may your peace or happiness not decline; prosperity comes from above", he addresses his " brothers, leaders, ministers ", to whom he warns about the betrayals that have taken place within their community, to later ensure that there will be a "transfer" by those who "are on the side of darkness" to the people who "stay on the light side".

Devil liar, manipulator, controller, who manages the hidden powers here on Earth, who puts the brothers against each other, who puts leprosy in our lives (…) and who now wants to destroy our identity as a believer, because if you stop believing, you can annul the blessing, distort your image and likeness of God," proclaims the Argentine, who again blames his situation on the "brutal attack that they have been doing from different places in this case towards me, that I am preaching the Gospel every week, taking it forward.

What a coincidence, that they take us out on television putting in the background parts that have to do with biblical teachings, mixing it with the supposed scam that they say.

All for what, to unfairly remove, expel, discredit Christianity and men of faith".

Cositorto assures that God "is going to reconstitute and position us" and that "many are going to have to keep their mouths shut and realize that God is supporting this company, these people and this team ."

"God tells you this afternoon that he is going to change everything and he is going to keep his word and he is going to reconstitute you , and to reconstitute what the Devil took from you and took from us ".
After Generation Zoe collapsed Cositorto launched the clone Ponzi scheme Sunrise Coach.
Sunrise Coach has been soliciting investments but to date has not paid any withdrawal requests.
Why Colombian authorities have not arrested Costitorto yet remains unclear.