iX Global's securities fraud climbs to $110 million

iX Global's and Debt Box's combined securities fraud has climbed to over $110 million.
This is up from the original $49 million the SEC sued the companies for last month.
The disclosure was made in the Temporary Receiver's September 13th First Status Report.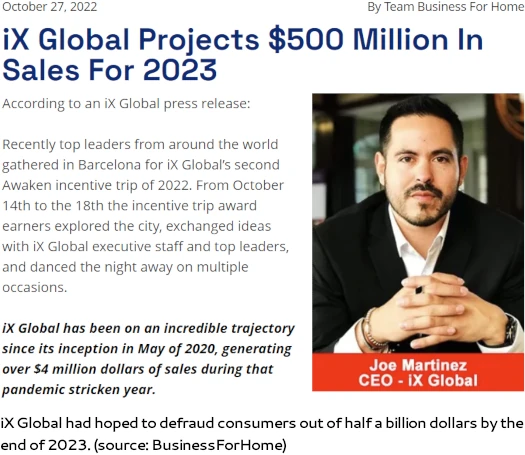 Between the Temporary Receiver and SEC, thus far the Temporary Receiver has only been able to around $11 million in assets.
$5 million of that is digital assets and $5.9 is fiat assets.
It should be noted that of the $5 million in digital assets identified, only $140,000 has been turned over by Debt Box's owners.
To date, the DEBT Council Defendants—citing various difficulties and questions about tax consequences—have only
transferred approximately $145,000 USD equivalent in Digital Assets to the Receiver.
Whether this means Debt Box's owners were hiding taxable income from the IRS is unclear.
Noting that prior to the SEC's filing, iX Global and Debt Box initiated plans to flee to Dubai, the Temporary Receiver claims to have
identified millions of dollars in Fiat Assets either transferred overseas or for purported overseas operations by Receivership Entities.

Though the investigation is ongoing, the Receivership Team expect to provide more information to the court concerning these assets in the coming weeks.
iX Global and Debt Box appear to have hoped to obtain visas and continue laundering investor funds, through the Dubai shell companies Digital Commodity House FZCO and Digital Commodity Software House FZE.
In addition to the $5.9 million frozen by the SEC, the Temporary Reeciever has
identified approximately $9.5 million in Fiat transferred from Receivership Entities to escrow companies, all for the purchase of real property.

Additionally, the Receivership Team has identified ~ $1 million in Fiat transferred from Receivership Entities to luxury vehicle dealers and for other car purchases and services.

Furthermore, the Receivership Team has identified several million dollars transferred from Receivership Entities for the purchase the Lazy Magnolia brewery, located in Kiln, Mississippi.
Pending sanctions against Debt Box's owners, who have refused to cooperate with the Temporary Receiver in violation of a granted TRO,
the Receiver intends to continue his investigation in order to identify, marshal, and secure assets rightfully belonging to
the Receivership Estate.
This will lead to a clearer picture of iX Global's and Debt Box's alleged fraud and, in particular, what happened to the bulk of the $110 million in investor funds that remains unaccounted for.