Debt Box's owners are hiding/selling frozen assets

As per a motion seeking a contempt order and sanctions, Debt Box's owners appear to be hiding and attempting to sell frozen assets.
Debt Box's owners are also allegedly not cooperating with a court-appointed Temporary Receiver.
As noted in Temporary Receiver's filing, these are direct violations of a previously granted Temporary Restraining Order.
Debt Box was the trading ruse attached to iX Global. In late July the SEC sued both IX Global and Debt Box, accusing the companies of $49 million in securities fraud.
Named Debt Box defendants in the Temporary Receiver's motion are
Jason R. Anderson – co-owner Debt Box
Jacob S. Anderson – co-owner Debt Box
Schad E. Brannon – co-owner and President of Debt Box
Roydon B. Nelson – co-owner, Director and Treasurer of Debt Box
The Temporary Receiver alleges that, as of September 13th, Debt Box's owners have refused to "turnover all books and records".
Between August 7, 2023 and August 29, 2023, counsel for the Receiver made no less than eight requests for compliance with the Orders.
Information Debt Box owners are legally required to turn over to the Temporary Receiver include "financial statements, assets and liabilities, employees, service providers, communications channels, and lists of law firms and outstanding litigation".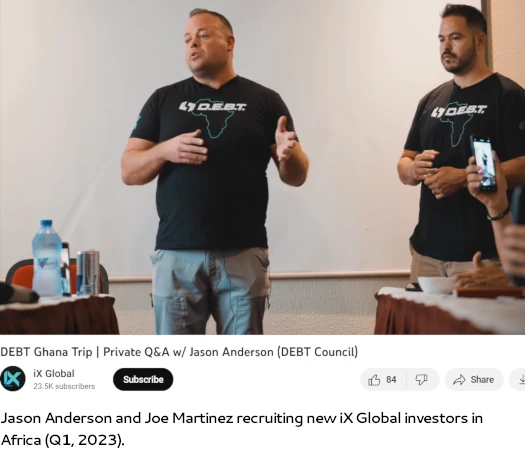 Other violations of the TRO alleged by the Temporary Receiver include not agreeing to sit for interviews, as well as refusing to turn over Debt Box critical passwords.
In a separate September 13th Status Report, the Temporary Receiver additionally noted he had "identified significant assets moved
overseas."
In their July 26th Complaint the SEC noted that prior to filing, iX Global and Debt Box executives and promoters initiated plans to flee to Dubai.
With respect to selling of assets, Jason and Jacob Anderson, through their company Blox, initiated foreclosure proceedings on a frozen property asset on August 22nd.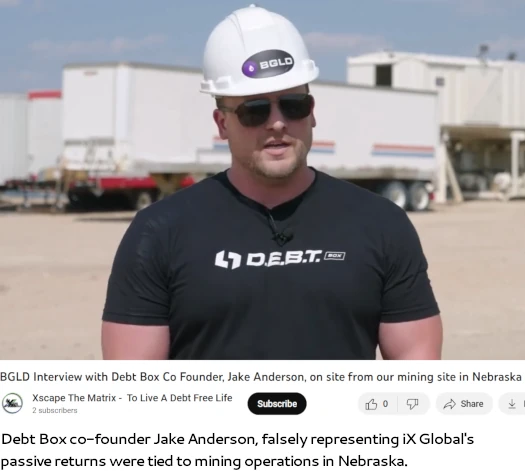 The iX Global TRO freezing the property was granted on July 28th.
The Receiver has attempted, unsuccessfully, to determine who is causing Blox to foreclose on, and attempt to sell, the Property.
The Temporary Receiver's motion was filed on August 13th. Responses from Debt Box's co-owners and a decision by the court remain pending.