USFIA Receiver recovers $20.4 million

On September 29th 2015, Thomas A. Seaman was appointed Receiver through the SEC's USFIA Ponzi case.
This appointment grants the Receiver
full powers of an equity receiver, including, but not limited to, full power over all assets and property belonging to, being managed by or in the possession or control of the Receivership Entities, and was immediately authorized, empowered and directed to take certain actions as set forth in the Temporary Restraining Order ("TRO").
A TRO was granted against USFIA and owner Steve Chen, it has since been converted into a preliminary injunction.
Pursuant to the TRO and PI Order ("Appointment Orders"), the Receiver has been charged with, among other things,

(1) assuming control over the Receivership Entities and their assets ("Receivership Assets"),

(2) performing an accounting of the assets and financial condition of the Receivership Entities,

(3) investigating, locating, and recovering Receivership Assets,

(4) pursuing claims and causes of action of the Receivership Entities, and

(5) preparing reports for the Court.

The Receiver has successfully taken possession of funds in bank accounts frozen pursuant to the Appointment Orders, real and personal property, and documents and records from the numerous sources
As per the appointment orders, on the 13th of November the USFIA Receiver filed his first report with the court.
This report contains a summary of work performed by the Receiver thus far, as well as his preliminary observations and recommendations.
Below is a summary of the key points of interest in the 36 page report.
USFIA's GemCoin was a Ponzi scheme
BehindMLM first reviewed USFIA's GemCoin back in June of 2015. I identified it as a Zeek Rewards Ponzi points clone, with penny auction bids switched out for a pseudo cryptocurrency.
As per the Receiver's preliminary investigation, here's his take on USFIA's GemCoin business operations:
At this point there is no indication of any legitimate Gemcoin or other viable business.

There is also no indication the Receivership Entities had any significant sources of income other than monies raised from investors.
As I called it, all USFIA were doing was shuffling newly invested funds around to pay off existing investors.
USFIA's amber mining operations are non-existent
All those claims of billions of dollars in assets and amber mining operations in South America?
Based on documents located at the company headquarters and gathered from other sources, it does not appear that the assets described in online and written marketing materials actually exist.

Instead of mines located around the world, millions of dollars in precious gems, and houses and cars available to be awarded to investors, the Receiver has found only costume jewelry and bins filled with rings of nominal value.
Evidently some amber queen costumes and Alibaba bulk-buy toy rings are all you need to fleece people out of $32 million dollars.
USFIA's amber jewelry is practically worthless
Described politely as having a "limited intrinsic value", turns out all the value of the amber USFIA showcased was grossly inflated.
The Receiver asked a qualified gemologist to ascertain the intrinsic value of the materials that comprise the jewelry located at the Company Offices.

Much of the ornamental jewelry is made of amber, a material of limited intrinsic value.

The Receiver is informed that amber is worth about three dollars a gram at the wholesale level.

There is a jewelry showroom located at the Company Offices that contains various pieces of ornamental jewelry made from amber or other materials of very limited value.

The pieces are hung in locked and lit showcases with price tags in the tens of thousands of dollars, far in excess of their actual value.

There is additional jewelry inventory of even less value in a separate part of the Company Offices, much of which is labeled as having value in the tens of thousands or even millions of dollars and appears to have been used to attract investors to the enterprise.
I know, you're as shocked as I am…
Details of how the USFIA office raid went down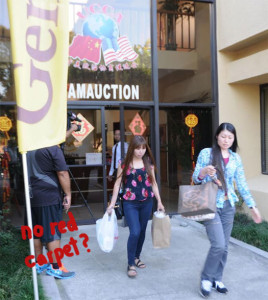 A bit of bonus reading in the Receiver's report details how exactly the raid on USFIA's Arcadia headquarters went down;
In conjunction with and with assistance from the U.S. Marshals and the Arcadia Police, the Receiver took control and possession of the premises located at 135 E. Live Oak, Arcadia, California ("Company Offices"), an approximately 18,000 square foot, two-story office building.

There were approximately 40-50 people in the Company Offices at the time of the takeover, including some subtenants located in the building.

The Receiver gathered those believed to be employees in a single location and requested they complete an employee questionnaire form, including contact information, computer log-in information, and other basic employment information.

The Receiver collected questionnaires from 32 employees and interviewed several of them.

All employees were terminated with the potential to be rehired pending further investigation and allowed to retrieve their personal effects under the supervision of the Receiver or his staff.

The Receiver retained a security company to guard the Company Offices and confirmed property and liability insurance coverage is in place.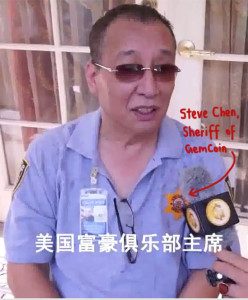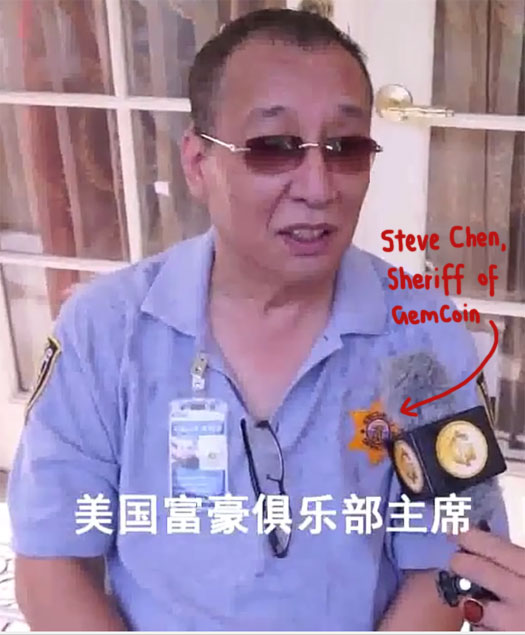 Steve Chen wasn't on site at the time of the raid but, likely after receiving a tipoff from his cronies, later rocked up with a loaded gun.
Initially, Defendant Steve Chen aka Li Chen ("Chen") was not present at the Company Offices.

Shortly after the Receiver arrived and the U.S. Marshals secured the Company Offices, Chen arrived.

He was wearing a security guard uniform and carried a loaded gun, which was not concealed.

The U.S. Marshals seized the weapon and also found $46,150 in cash in Chen's car.

The funds are being held by the Receiver.
As to the contents of USFIA headquarters:
The Receiver took possession of all personal property located at the Company Premises including all books and records, furniture fixtures & equipment, two new large Mercedes vans, five diamonds located in Chen's desk, a weapons safe with ammunition, and owner's manuals for two rifles (but not the rifle's themselves), a bag of 1,160 Chinese New Year cards each containing a $5 bill, and several designer (Chanel, Louis Vuitton, etc.) women's bags, some of which appear to have authentic receipts.

There is also an inventory of ornamental jewelry, none of which is characterized as either precious or semi-precious in nature.
Where Steve Chen's rifles are is, for now, a mystery.
$20.4 million dollars recovered
Despite stressing that additional accounting is required to 'identify additional assets to be recovered', to date the USFIA Receiver has recovered $20,447,824.55.
To put that figure into perspective, the SEC allege USFIA was a $32 million dollar Ponzi scheme. $20.4 million dollars represents a 63.7% recovery.
Steve Chen's properties seized
Remember all those flashy properties featured in USFIA marketing videos?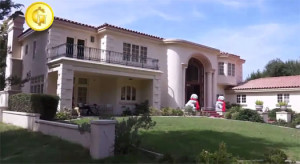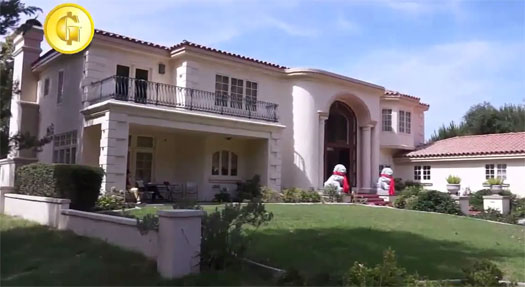 All gone.
The Receiver has identified and taken control of the USFIA office building in Arcadia, a hotel in Rancho Cucamonga, an apartment building in Alhambra, a warehouse, several single family homes, and parcels of undeveloped land, including a proposed golf course site in Moreno Valley.

-The 112 unit hotel was formerly a Days Inn, but had recently lost its flag with Days Inn.

The Receiver is in financial control of the hotel and manages the hotel with the assistance of the on-site employees, many of whom had been employed by the hotel for many years prior to its purchase by the Receivership Entities on August 1, 2015.

The Receiver confirmed that adequate insurance for the hotel is in place.

It appears the hotel was going to be used by Defendants to conduct fundraising activities.

-A 36-unit apartment building located in Alhambra. The Receiver is collecting the rents and paying appropriate operating expenses.

The building is 100% occupied and all tenants are paying rent to the Receiver.

-A mansion located in Bradbury that was not used as a residence and appears to have been used for fundraising and investor relations.

The home is apparently called the "Clubhouse."

-A single family home and a condominium, both located in Arcadia.
Additional seizures are likely to take place;
The Receiver has also identified several other single family homes purchased with funds from the Receivership Entities and vested in other individuals or entities.

The Receiver is further investigating and evaluating potential claims to recover these assets.
Mapping out USFIA investors and invested funds (losses)
Citing a 'lack of a current, reliable, centralized accounting system', the Receiver states he
has not yet been able to identify the entire scope of the USFIA enterprise, the number of investors, or their specific amounts invested and potential losses.
How long it will take I don't think anybody has any idea yet, but mapping out the investor side of USFIA is very much underway.
The Receiver has reviewed and analyzed certain Quickbooks files and hard copy business documents. However, bank records are still being gathered and analyzed.

As review of accounting records and banking records proceeds, the Receiver is still discovering and asserting control over additional assets as they are identified.
Tracking invested funds
As is common with modern online Ponzi scheme, USFIA laundered invested funds through shady banks in countries with weak or lagging financial regulation.
Large payments to companies outside the United States, including companies in China, Vietnam, Mexico, and the Dominican Republic, have been identified in company accounting records.
Steve Chen also used his wife to stash funds with, as well as a Ally Investors LLC, which looks like it might have been the Chen family slush fund.
Bank of America has frozen an account, as well as a safety deposit box, under the name of Jennifer Zhao aka Li Zhao ("Zhao").

The bank also froze and turned over to the Receiver a total of $3,034,930.10 that was in accounts under the name Ally Investors, LLC ("Ally").

The Ally accounts were frozen by Bank of America in response to receiving the TRO.

The Ally account balances were then turned over to the Receiver in response to a request by the Receiver that Bank of America turn over all balances in accounts of the Receivership Entities.
Appearing to fail to grasp that Steve Chen was operating a global Ponzi scheme, his wife has filed a furious response to the Receiver's actions.
Zhao, who is believed to be the wife of Steve Chen and is known to be the mother of his son, David Chen, and Ally have engaged counsel and demanded the accounts be unfrozen.

Company accounting records and bank records gathered by the Receiver, however, show Zhao and Ally received large sums from the Receivership Entities.

These records also reflect large cashier's checks drawn on one of the Ally accounts and cashed at a casino by Chen.

The Receiver, therefore, believes that Ally is simply another entity set up by Chen and Zhao to use investor funds for their personal expenses.

Accordingly, Ally should be considered an affiliate and therefore within the scope of the receivership pursuant to Section XI of the PI Order.
Don't think y'all will be getting those accounts unfrozen any time soon. But hey, that's what happens when you run a Ponzi empire.
Out of fairness the Receiver did reach out to Chen's family and ask them to explain how the money in Zhao's account and those of Ally weren't stolen investor funds.
Here's how that's going:
Counsel for the Receiver has met and conferred with counsel for Zhao and Ally and counsel for the Commission on two occasions and has asked counsel for Zhao and Ally to explain the nature and purpose of the transfers to Zhao and Ally.

The Receiver has also issued document subpoenas to Zhao and Ally.

To date, no explanation has been provided and no documents have been produced.

Moreover, the Receiver's investigation does not indicate any legitimate, independent business being conducted by Zhao and Ally to support their claims that the funds should be released.
The Chen family's golden goose is cooked. Whatever are they going to do now?
USFIA's lawyers are going to lose $600,000
Prior to the SEC shutting down USFIA, Steve Chen hired the law firm Bird, Marella, Boxer, Wolpert, Nessim, Drooks, Lincenberg & Rhow PC (Bird Marella).
Whether or not Bird Marella were hired in anticipation of pending regulatory action against USFIA is unclear.
In any event, the Receiver caught wind of a retainer being paid to Bird Marella and demanded they provide details.
Bird Marella initially refused to provide a copy of its engagement agreement or disclose any information relating to the retainer the firm had received.

After the Receiver made it clear he would request an Order to Show Cause re: Contempt and Sanctions if Bird Marella continued to violate Section XII of the PI Order, the firm provided its engagement letter, confirming its joint representation of Chen and USFIA, disclosed that it had received a retainer of $600,000.
That $600,000 is of course likely stolen Ponzi money, but Bird Marella are playing coy and 'would not disclose the source of the funds'.
The Receiver has demanded the $600,000 be immediately turned over and intends to seek relief from the Court if Bird Marella fails to comply.
Bird Marella can hang on to the funds or hand them over at a later date per court order. I don't recall any entity being permitted to keep victim funds in any of the major MLM Ponzi cases we've covered over the years.
Looking forward
The Receiver's efforts to marshal the assets and recover assets and relevant Receivership Entity documents and records are ongoing.

The assets and materials obtained to date clearly do not provide a complete picture of the Receivership Entities' assets, liabilities, history, and financial activities.

In addition, the connections to overseas enterprises and assets are not yet fully known.

The Receiver will obtain records from all financial institutions where the Receivership Entities maintained accounts as well as from attorneys and accountants engaged by the Receivership Entities.

The Receiver has served subpoenas on certain institutions, individuals, and entities and proposes to proceed with these efforts to obtain documents, assets, and information.

It may also be necessary to take the depositions of certain individuals to obtain a complete picture of the enterprise.

The Receiver will seek to locate any presently unaccounted for receivership
assets that may exist.

Once the Receiver has obtained bank records and records held by third parties, the Receiver will complete his accounting to establish, among other things, where the funds obtained by the Receivership Entities came from and where they went after they were received by the Receivership Entities.

The Receivership Entities own a hotel and an apartment building.

The operations of these properties generate revenue and the underlying properties have significantly more value as operating businesses.

Accordingly, the Receiver proposes to continue operations of these properties to preserve their value.

In doing so, the Receiver will consider the contracts in place for maintenance and operation and determine what, if any, changes may be necessary to maximize the value of the assets.

The Receiver will continue to gather information and identify the investors and creditors of the Receivership Entities.

The Receiver will then propose to the Court a methodology to disseminate information to investors, likely through the receivership website.
As the Receiver's investigation continues, a clearer picture of the USFIA Ponzi empire will be revealed.
No word yet on John Wuo, the former US politician whose name continued to pop up in conjunction with the scheme.
It may also be necessary to take the depositions of certain individuals to obtain a complete picture of the enterprise.

The Receiver's forensic accountants have collected 'roughly 100 terabytes of data was collected from approximately 240 devices.

The computer imaging work has been completed and the Receiver will be able to use the electronic data to both identify and address the assets, the interrelationship among Receivership Entities, and to prepare the accounting provided for in the Appointment Orders.

The Receiver also served attorneys, accountants, vendors, and other third parties with copies of the TRO and made a demand that each of these parties preserve all electronic and other documents in their possession, custody or control as provided for in the TRO.
Maybe after all of that's done, Wuo might pop up with a cameo appearance in the investigation after all.
One final note of interest is that on the 5th of November, Steve Chen pleaded the fifth in response to the SEC's request he provide accounting and personal asset information.
Defendant Steve Chen hereby invokes his Fifth Amendment right not to be compelled to testify against himself and respectfully declines to "prepare and deliver to the SEC a detailed and complete schedule of all of [his] personal assets . . . wherever located," as set forth in Paragraph IX of the Preliminary Injunction entered in this case.
The last time we saw the Fifth pleaded was in the Achieve Community Ponzi case.
Owners Kristi Johnson and Troy Barnes have since had criminal charges filed against them, with jail time looking likely.
Criminal charges against Steve Chen have yet to surface.