Kuvera palms off Ponzi losses to Westmyn & Travis Bott

Rather than take responsibility for investor losses, Kuvera Global has palmed them off to Westmyn.
Westmyn in turn is tied to the recently busted BitClub Network Ponzi scheme.
And linking all of this together is Travis Bott.
Kuvera Global is owned by Investview, an SEC registered company. We've been pointing out their flaunting of securities law for years.
What we're looking at today is Kuvera Global's cloud mining investment opportunity.
Launched in 2018, Kuvera Global offered "guaranteed" cryptocurrency mining contracts until late 2018.
At the time Kuvera Global blamed "a recent drop in the value of Ethereum" for the collapse.
That same month BitClub Network also collapsed and stopped paying out.
We'll get to why that's significant shortly.
Since the collapse of its purported mining operations, Kuvera Global has continued securities fraud with Crypto One, Equities and Equities Pro, cryptocurrency mining, tech startup investment service and Apex.
Up until recently, investors in Kuvera Global's original cloud mining operates have been quietly swept under the carpet.
A recent communication to Kuvera Global affiliates however reveals
the hosting services for purchasers of mining equipment were provided via your individual agreement with the company Westmyn LLC, who contracted with the mining service provider in Romania.
Westmyn is owned by Travis Bott, which we learned when the CFTC fined Kuvera Global $150,000 back in 2018.
The Romanian service provider is none other than Silviu Catalin Balaci.

Balaci (right) was recently arrested in connection to BitClub Network, which the DOJ alleges was a $722 million dollar Ponzi scheme.
Kuvera Global states it reached out to Westmyn but has "not yet received any answers".
In Summary:

Your hosting agreement is with Westmyn LLC.

Westmyn LLC contracted with the mining service provider in Romania, Silviu Catalin Balaci.

Silviu Catalin Balaci has been arrested in connection with the BitClub Network indictment.

We sent a formal communication to Westmyn LLC to provide us the status of the mining hardware and have not yet received an answer.

We are concerned that Westmyn LLC may be unable to access the mining equipment and get mining operations turned back on.

As the sales provider of the hardware, and also purchasers and participants in the mining, we are exploring a variety of options to get some sort of remuneration for the hardware.

We will provide updates as soon as we have them.
While Kuvera Global's communication babbles on about mining hardware, it's important to note the following:
Kuvera Global solicited investment into a passive investment opportunity Investview failed to disclose to the SEC
Kuvera Global funneled investor funds into Westmyn
Travis Bott, owner of Westmyn, claims he spent that money to purchase mining hardware from Silviu Balaci
Balaci was just arrested for scamming people through BitClub Network
BitClub Network also claimed to be generating mining revenue through purchased hardware, but in reality was just recycling investor funds to pay returns
The reason Westmyn and Bott have ghosted Kuvera Global is… brace yourselves, there is no mining hardware to recover.
BitClub Network was a Ponzi scheme and so was Kuvera Global's cloud mining opportunity.
One can argue the buck stops with Kuvera Global as the initial solicitor of investment, or Westmyn and Travis Bott for taking that money and laundering it through Balaci's Romanian Ponzi operations.
Either way, investors were screwed and to date US authorities haven't done anything.
As previously stated, Kuvera Global are still out there pushing unregistered securities.
Travis Bott has also moved on. He's now pushing unregistered securities through Onyx Lifestyle.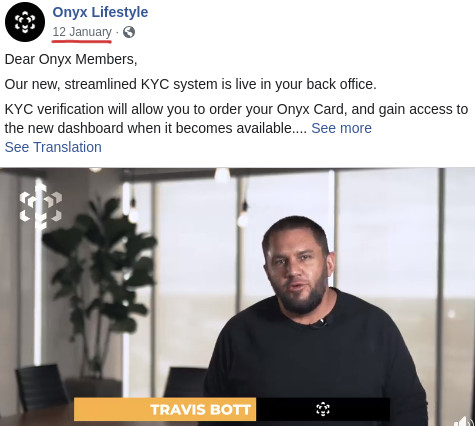 In late 2019 Dunamis Global collapsed. Shortly after the collapse, Onyx Lifestyle and Travis Bott announced Dunamis Global was being merged with Onyx Lifestyle.
Dunamis Global was another MLM crypto mining scheme (seeing the pattern yet?), founded by Joe Abel.
Joe Abel was part of BitClub Network and was also arrested in December.
Travis Bott, who like Kuvera Global also has a history of securities fraud, remains at large. His current status and whereabouts are unknown.