Divvee delves into forex. Ryze AI? Hodo Global? Travis Bott?

Divvee launched mid last year to a lukewarm reception.
The company provided access to discounts for $9.95 a month, which never really took off with retail customers.
By the end of the year the company had added "Rank and Share" to its offering.
Divvee's Rank and Share saw affiliates and free customers rewarded with points for rating mobile apps.
On the backend Rank and Share directly and residually on the recruitment of new Divvee affiliates.
Initially Rank and Share sparked renewed interest in Divvee, however from March interest once again began to wane.
Last month Divvee corporate and its affiliates began marketing something called Ryze AI.
Ryze AI is billed as a forex trading bot, attached to the free MetaTrader4 trading platform.
MetaTrader4 allows 'end users to write their own trading scripts and robots that could automate trading', which is where Ryze AI enters the picture.
If you punch "Ryze AI" into Google, the results are dominated by listings tied to Hodo Global.
Hodo Global is a travel savings MLM opportunity launched last year. They sell access to Ryze AI, which they describe as an "automated investment future", for $199.
Despite announcing Ryze AI back in January, interest in Hodo Global has continued to decline throughout 2017.
Like Divvee, Hodo Global are quick to point out in their Ryza AI marketing videos that they themselves don't provide the trading bot. They merely sell access to it through a license.
A Ryze AI brokerage FAQ on the Hodo Global website links to a document titled "Capital City Markets FAQ".
As per their website, Capital City Markets claim they were
established by an experienced team of Forex specialists and financial service professionals with a desire to create the ultimate trading experience for both retail and institutional traders.
No information about who owns or runs Capital City Markets is provided on their website. The Capital City Markets website domain itself was only registered in November, 2011.
The company does however claim to be "registered with and authorized by (the) Vanuatu Financial Services Commission", which brings us back to the Hodo Global FAQ.
First frequently asked question?
1. Why did Capital City Markets (CCM) decide to incorporate in Vanuatu?

After careful consideration and understanding HODO's international marketing capabilities, CCM decided to get licensed in Vanuatu for a variety of reasons, a few of which are listed below:

a. Vanuatu has recently passed legislation via the Vanuatu Financial Services
Commission, in effect regulating the currency trading (FX) industry.

As such, CCM has procured the Security Dealer License, becoming one of the first entities to attain said regulation.

CCM's first mover advantage will allow us to capture marketshare in a key geographic market in targeting South/East Asia.

b. Flexibility. Unlike peer regulators in alternative jurisdictions, VFSC has decided that vigilance and not over-regulation will be the metric by which governance will take place.

CCM will be able to offer customized trading conditions to their underlying clients in catering to leverage, hedging, trading and funding concerns.

c. Banking. Global counterparties (banks and payment service providers) view Vanuatu from a favorable standpoint and offer banking services for our clients.

d. Operations. Although the corporation is domiciled in Vanuatu, all of CCM's operations will be sourced from the European Union.

Clients will benefit from personal customer service when addressing concerns such as onboarding, funding as well as trade-related inquiries.
Buried among the waffle are the two key takeaways;
Capital City Markets is a shell company run by person(s) conducting business in Europe. They chose Vanuatu because there's little to no regulation there.
Note that the only public tie to Europe Capital City Markets has is a UK phone number provided on their website.
These are your first major red flags with Ryze AI.
A legitimate forex trading company should have nothing to do hide, be transparent and registered in a reputable jurisdiction.
Instead Capital City Markets presents itself as a lopsided setup designed to provide maximum protection to individuals running the company.
Other than the intention to eventually screw clients over, I can't think of why a reputable forex trading company would be set up this way.
And that's just the first question in the FAQ… as you read on things go from bad to worse:
Client's funds are received in the company's fiduciary segregated client bank accounts.

The funds are "off-balance sheet" and cannot be used to pay back creditors in the unlikely event of default/bankruptcy.
Translation: If we steal your money, we've stashed it away such that you're not going to be able to do anything to get it back.
Curiously, there's no mention of Ryze AI on the Capital City Markets website. Nor was I able to tie Divvee to it.
Divvee are much less forthcoming about who's behind the platform.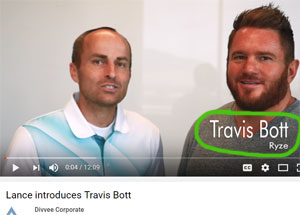 In a marketing video uploaded to YouTube on June 21st, Divvee's President Lance Conrad introduces Travis Bott.
As the screenshot to the left shows, Bott is introduced as the "Director of Ryze".
Hey guys, super excited to be here … I've had fifteen years experience in the industry.

(For) the last three years of my career I've actually spent (it) helping develop this product that we're calling Ryze.
On his LinkedIn profile, Bott cites himself as CEO of CTB Rise International since 2015. That's not quite three years but close enough.
According to Corporation Wiki, CTB Rise International is a Texas corporation that is "no longer active".
I wasn't able to find any links between CTB Rise International or Capital City Markets… but four months ago Travis Bott was promoting Ryze at a Hodo Global affiliate event.
If Bott is part of Capital City Markets, that information is not public.
In the Hodo Global video, Bott explains a subscription model for Ryze that permits affiliates to deposit up to ten million dollars with the company. The more invested, the higher the subscription fee charged.
Hobb shares the details of his own Ryze "1.0" account and claims he
funded $700,000 about nine months ago. And that account is now up to nine hundred and fifty something thousand dollars.

Right? So $250,000, a little over that in closed profits.

When you average that out over the period of time it's about 4% a month.
Remarkably, despite the obvious passive ROI nature of Ryze AI, Bott claims it's "not an investment".
Just a few minutes later however, Bott goes on to give an example of how Ryze works;
If you put in $50,000 and you got a 4% return, what would that be?

Two thousand dollars right?
Several times Bott stops himself mid-sentence from "guaranteeing" Ryze AI returns. He instead prefers to use the word "assured".
But uh yeah… Ryze AI is totally not an investment platform.
Despite Ryze AI seemingly going nowhere with Hodo Global over the past seven months, this is now the same platform Divvee are gearing up to launch.
Putting all of what we know together, both Divvee and Hodo Global are US companies pitching an automated forex opportunity to US residents.
Be it through Capital City Markets or CTB Rise International or however else Travis Bott and whoever he's working with have set it up, at the end of the day the appearance of an offshore corporation is pseudo-compliance.
Funds are paid to Divvee and Hodo Global to access the platform, meaning on some level both companies payment processor systems are tied to that of the actual owner of Ryze AI.
That's of course assuming Bott and those he's working with don't on some convoluted level have direct ties to Hodo Global and/or Divvee's owners.
So why all this secrecy?
Well to offer securities in the US you need to be registered with the SEC.
Neither Hodo Global, Divvee, Capital City Markets, CTB Rise International or Travis Bott are registered with the SEC.
This makes Ryze AI an illegal unregistered securities offering across the US.
Regardless of who is ultimately providing the platform, both Divvee and Hodo Global are US MLM companies pitching Ryze AI to their US affiliates.
As it stands Alexa estimates that 75% of traffic to the Hodo Global website originates out of the US. In Divvee it's 44%, with the US being the largest source of website traffic for both companies.
And whether there's more too it or not, I feel compelled to point out that Hodo Global's corporate address is the same as that of bHip Global.
Terry LaCore owns bHip Global and settled securities fraud charges for $50,000 in 2008.
What I haven't mentioned up until this point is Ryze AI has its own website over at "ryzeai.com".
The domain was registered to Travis Bott on December 6th, 2016.
An address in Mckinney, Texas appears on the Ryze AI website, which is the same corporate address provided on the Hodo Global website.
This is a different address to that of bHip Global, which was swapped out on the Hodo Global website for the Mckinney address.
But I digress. Whether LaCore is involved or not ultimately doesn't matter.
As a Ryze AI investor you're handing money over to people who've gone out of their way to avoid regulatory scrutiny.
Through Ryze AI you don't know who you're handing your money over to, where they're operating from or what exactly you're doing with your money.
You might be provided some token trades to follow through the company, but nothing that will show you dollar for dollar where your ROI came from each month.
That's sort of the point though. Ryze AI isn't being marketed to people who understand the ins and outs of forex trading.
Hodo Global and Divvee affiliates are being pitched on the concept of depositing money with Ryze AI and collecting a passive ROI of about 4% plus what they initially invested at the end of the month.
Should the SEC investigate Ryze AI and its ties to Hodo Global and Divvee, this probably isn't going to end well.