BitClub Network scammers plead not guilty, Weeks wants out

The arraignments of Matthew Goettsche, Jobadiah Weeks and Joseph Abel were held on January 15th.
All three BitClub Network defendants pled not guilty to the charges the DOJ has leveled against them.
Silviu Catalin Balaci, a fourth defendant in the case is believed to still be in custody in Germany. German authorities arrested Balaci at the request of the DOJ last month.
The fifth BitClub Network defendant, Russ Medlin, is still on the run.

The latest from the DOJ is that Medlin (right)
is believed to be residing in a country that does not have extradition with the United States, and has access to enormous wealth and two private planes.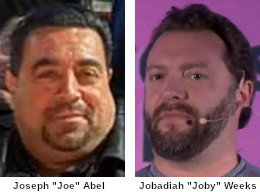 In related news, Jobadiah "Joby" Weeks is unhappy about his pretrial detention.
On December 20th Weeks filed a motion requesting his pretrial detention order be revoked.
As I understand each of the three BitClub Network defendants will remain in custody till their trial.
The DOJ filed their opposition to Weeks' motion on January 15th. In their response the DOJ addresses each of Weeks' arguments.
In a nutshell, the DOJ argues Weeks is a flight risk.
In his motion, Weeks ignores the central points—Weeks stands accused of serious crimes with considerable sentencing exposure, has tremendous access to wealth, has significant foreign travel and contacts, and has a demonstrated history of anti-government rhetoric.

There is no combination of pretrial release conditions that can change that to ensure that he will appear in Court to answer for the significant criminal liability that he faces.
The DOJ alleges Weeks and his co-conspirators bilked BitClub Network investors out of $722 million.
Sentencing wise Weeks is looking at an estimated 15 years in prison (25 years max).
Anti-governmentism is a common theme in cryptocurrency circles. In the MLM cryptocurrency niche however, this is often misrepresented as simple anti-regulation.
Not in the sense one might argue that regulation stifles business either. Rather it's a much more "I should be able to steal as much as I want from anyone because… cryptocurrency".
BehindMLM touched on BitClub Network's anti-governmentism as far back as 2014.
With respect to the DOJ addressing Weeks' own anti-governmentism, it's presented within the context of Weeks being unlikely to respect the law if released.
Through cited evidence, the DOJ establishes that Weeks' participation in BitClub Network saw him
thwart U.S. regulation, tax liabilities, and detection, and encouraging others to do the same.

For much of the conspiracy, Weeks encouraged potential U.S.- based investors to utilize virtual private network ("VPNs") to access the BitClub Network site to avoid detection by U.S. law enforcement and to anonymize the scheme.

Weeks publicly emphasized that the scheme was set up to avoid detection by U.S. tax authorities.
In one cited Facebook group chat, Weeks explicitly instructs an investor on how to evade BitClub Network's "no US investors" pseudo-compliance.
Person 1: Bcn blocked ppl in the states from joinjing so they wouldn't have to deal with the US government hitting them up for money all the time

Person 1: The US government sees mlm companies as their full time piggy bank

Investor: So the last line that says, "Do Not Join BitClub Network" is generated by whom?

Investor: Is there anything I need to do?

Weeks: No, youre [sic] good.

Weeks: When I see you, ill [sic] show you how it all works.

Weeks: We just change our ip addresses to ones outside the USA.

Weeks: All the money you make is NOT reported to the tax man so… Its [sic] like having an offshore account growing for you tax free.
When a US-based BitClub Network investor emailed him about having to confirm he wasn't a US resident, Weeks trotted out some hilarious sovereign citizen sounding bullshit;
Investor: I have always been a residence of the US [sic]. How am I supposed to get around this.

Weeks: United States is Washington DC, Virgin Islands, Guam, Samoa, Puerto Rico. (Do you live there)

US CITIZENS are corporations that are domiciled in the UNITED STATES. Are you a corporation or are you a human?

Don't you live in the Republic of Utah, thats [sic] not THE UNITED STATES? You're a flesh and blood American right?
And had Weeks of had his way, here's the official statement BitClub Network would have put out when is pseudo-compliance blocked US investors;
BitClub pays all of our members around the world daily, tax free.

Despite what you may have been told, America is, unfortunately, no longer a free country.

If you are a U.S. CITIZENS [sic] with a SS# (Slave Surveillance Number) Then you may get in trouble with your masters at the IRS for making a bunch of Bitcoin tax free.

As a precaution, we have decided to block people using ip addressed based in the USA from joining Bitclub.

We understand U.S. CITIZENS are property and we don't want any trouble with your owners.
Weeks' co-conspirators, namely Russ Medlin, are also brought up as incentive to flee.
Weeks not only has significant incentive to flee, the means to finance it, and the example of his uncaptured coconspirator (Russ Medlin) of the benefits of flight, he has contacts around the world—including coconspirators who likely would prefer to keep Weeks out of Court.
Indeed Joby Weeks or any of the other arrested BitClub Network scammers won't do Medlin any favors legally. Especially if they go the plea deal route.
Speaking of which, the DOJ's response reveals that
Weeks reached out to law enforcement in 2019 when the Government's investigation was already underway and still covert.

Weeks claimed that he was well-situated to provide information on international money laundering through his contacts and association with others involved in the flow of large sums of funds through overseas cryptocurrency exchanges.

But the agents did not inform Weeks that he or anyone at BitClub Network was under investigation.
To reiterate, Weeks approached the DOJ of his own accord.
Obviously BitClub Network had collapsed by this point but, although he might have suspected it, the DOJ's investigation into BitClub Network was still under wraps.
The agents Weeks spoke to engineered a meeting with him in Florida. This was a ruse to ensure Weeks was in the US during the time the DOJ intended to make BitClub Network arrests.
In his motion Weeks attempted to characterize this sting operation as he turning himself in.
The DOJ contends
Weeks did not show up to this meeting expecting to be arrested; at no point during the Government's investigation of Weeks was he ever informed of the instant charges or that the Government was investigating him or the others involved in BitClub Network.
Apparently upon being arrested and told he was, among other things, up for tax fraud, Weeks attempted to convince agents
that he might serve— in his words—as a "Jason Bourne" of cryptocurrency.

Indeed, when agents relayed to Weeks that his continued failure to pay his taxes was serious, Weeks cited to a possible defense to his criminal tax liability based on the Fourteenth Amendment.

Weeks' tone suggested that he viewed his failure to pay taxes as significantly less serious than the other significant misconduct he professed to be able to report to law enforcement.
Yeah, sounds like helping Weeks disappear upon release would definitely be in Russ Medlin's best interests.
To support his request for release, Weeks argued BitClub Network lacked "the traditional hallmarks of a "typical" Ponzi scheme".
Weeks also stated he intended to contest exactly how much BitClub Network investors lost.
With respect to his first argument, the DOJ replied
Weeks misunderstands this large-scale fraud as somehow meaningfully different from a traditional Ponzi scheme.

The record to date reflects that a federal grand jury found probable cause to believe that Weeks worked with others to engage in large-scale wire fraud and that Weeks promoted the illegal sale of unregistered securities in BitClub Network.

Whether the fraud mirrors a typical Ponzi scheme is beside the point that says nothing of the hundreds of millions of dollars taken from investors or whether Weeks poses a flight risk.

If anything, the size and international scope of this illegal conduct favors pretrial detention.
The same "what does this have to do with Weeks posing a flight risk" argument was brought against challenging how much BitClub Network investors lost.
The DOJ also pointed out that on one hand Weeks claims
his knowledge of the fraud is different from that of his codefendants because he "did not control the company's financial affairs," and "had no access to its bitcoin wallets."

Yet, on the other hand, he represents that the loss amount will be low.
How Weeks intended to prove BitClub Network victim losses were less than the DOJ claims was not stated in his motion.
Weeks' overall attempt to play down his involvement in BitClub Network was also addressed.
Although Weeks attempts to align himself with "more than 100 other people" who promoted the BitClub Network scheme … his involvement and roles were much more involved than the majority of people who promoted investment in the BitClub Network.

For example, as Weeks admits in his brief, Weeks "brokered the sale of tens of millions of dollars of mining equipment to BitClub[.]"
Weeks was also in constant discussion with BitClub Network's founders. These conversations went deeper than communications with an average investor.
For starters, as per documents Weeks submitted to St. Kitts authorities, one cryptoc wallet he held was used to launder $560 million.
Weeks now disputes his own provided figure. The DOJ own investigation has pegged the amount of laundered funds closer to $124 million.
Regardless, the differentiation between Weeks and a regular BitClub Network affiliate investor is clear.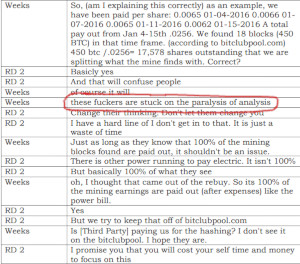 In one cited January 2016 conversation with Russ Medlin, during which BitClub Network investors are referred to as "fuckers", that BitClub Network was not paying out 100% of mining profits as advertised was disclosed to Weeks.
Weeks also communicated with BitClub Network vendors on behalf of the company.
When one such vendor expressed concern about having their company name published in a joint press-release, Weeks replied;
No need for a joint press release. 🙂

We understand there are a lot of people who don't know the difference between a legit MLM and a Ponzi scheme and we definitely don't want to hurt your brand in any way.
As BitClub Network began to collapse, Weeks also actively discouraged disgruntled investors from seeking refunds.
In one email exchange, Weeks told an investor seeking a refund;
Bro what are you retarded?

Bitcoin is up 971% this year. You want a refund? Thats [sic] the stupidest thing Ive [sic] heard all year.

Whats [sic] the matter with you [REDACTED] Why don't you start paying attention bro?

You've had 70,000 hours to figure out bitcoin, since it was invented…Bro…you still don't get it?

Bitcoin+golden egg. Bitclub = goose

you had to have heard that story before right? Which is smarter?
This didn't persuade the investor, prompting Weeks to promise him a 1000% annual ROI if he stayed in. The usual "live in fear" cryptocurrency cliches scammers use to cage their victims were also trotted out.
In another Facebook group chat with disgruntled investors, Weeks used shameless victim-blaming.
He even went so far as to represent BitClub Network slowly collapsing (returns had dropped to just a few dollars a day at this point), was all in the victim's heads;
There is a direct correlation to leadership ranks, and complaining.

Have you noticed that there are no actual leaders who are concerned at all because these things always get fixed?

The Mindset is so different between monster builders and miners who cant even get to builder…

Not only does it show in their ability to lead, but rich people think actually differently that [sic] poor people.

Its all in your head. Everything.

If you embrace stinking thinking, youre [sic] probably going to stay broke no matter what business you join or try to start. Guard your thoughts guys.
The DOJ claim these sentiments destroy any notion that Weeks was just one of ""more than 100 other people" who promoted the BitClub Network". I.e. Joby Weeks was a BitClub Network insider.
Weeks' admonitions suggest that he knew that, despite investors' dissatisfaction with their returns, he could not afford to lose them.

If he lost the members that he had recruited into his compensation structure, he would be losing his primary profit center because referral rewards proved more valuable than his investments—a classic unsustainable pyramid scheme.
When personally soliciting investment into BitClub Network, Weeks used a bank account held in the name Manna Ministries.
Instructions Weeks provided to investors included:
Don't mention bitcoin though. Put donation when sending the wire.

Say it's a donation and nothing to do with bitcoin.

Put that it's for "Antarctica Trip".
The entity name suggests Weeks, in his pursuit of evading detection by authorities, wasn't above using religion to mask financial fraud.
Weeks personal BitClub Network fortune, most of which is believed to be held in bitcoin, is yet to be determined.
The DOJ puts forth that even this alone is enough to deem Weeks a flight risk.
Not only are Weeks' financial holdings scattered around the world, U.S. law enforcement lacks visibility into these accounts or the ability to seize money from them.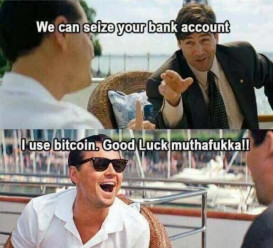 And for his part none of this is circumstantial. In 2017 Weeks' posted the meme on the right to Facebook.
Weeks' decision to send a meme to someone referencing the seizure of money shows that Weeks understands that cryptocurrency is harder to freeze than funds stored in a traditional bank account and suggests further that law enforcement has reason to seize funds from him.
Of what is known about Weeks non-cryptocurrency holdings, over $1.5 million is detailed in bank accounts held in Dubai and California.
The DOJ also cites additional offline crypto wallets Weeks is believed to own.
Weeks is also known to maintain cryptocurrency in easy-to-transport hardware wallets.

Hardware wallets are located on an external or removable media device, such as a USB thumb drive or other commercially available device, and designed to store cryptocurrency.

Some of these devices are quite small— some can be as small as a postage stamp—and highly portable. In July 2018, Weeks sent a Facebook message to another user that read, "I keep Trezor and ledge coins offline."

Similarly, in May 2017, Weeks sent a private message that read, "I use ledger and Trezor for hardware wallets."

Maintaining cryptocurrency on a hardware (or cold storage) wallet would give Weeks access to the funds stored therein from anywhere in the world.

At present, it is unclear how much cryptocurrency Weeks maintains.
And that's not for lack of effort on the DOJ's behalf.
Upon being taken into custody, Weeks was queried about his cryptocurrency holdings on December 10th.
Weeks declined to give consent to law enforcement to access his holdings.

However, Weeks advised that he had a cold storage bitcoin wallet buried in a tube somewhere in Colorado, a cryptocurrency go-bag for emergency purposes. He refused to provide its exact location.

Agents searching Weeks's residence in Colorado found an empty tube that matched what Weeks described.
Oh and then there's also Week's cash belt;
Finally, Weeks had what appeared to be multiple thousands of dollars in cash concealed in the belt he was wearing when he was arrested.

He did not tell the interviewing agents about it. The concealed cash was discovered only when the belt was removed when Weeks was processed for detention.
Nothing suss about that…
So in summary we have a sovereign citizen type character, who is demonstrably anti-government, anti-regulation and anti-law, with access to presumably vast amounts of cryptocurrency held who knows where.
Oh and I'm not kidding about the sovereign citizens stuff either;
Weeks evidently has close contacts with individuals overseas who are interested in forming sovereign states, usually involving some aspect of cryptocurrency as a focal point.

For example, in October 2017, Weeks emailed several coconspirators regarding his "buddy Vit, The President of Liberland."

In the email, Weeks pitched an idea by which each of Liberland's 500,000 "citizens" would pay $5,000 each to become "founding father[]" investors in BitClub Network and all existing BitClub Network members would be granted Liberland citizenship.

Weeks envisioned a $140 million commission for BitClub Network for onboarding Liberland citizens.

He said, "Starting a country is a mission a ton of people are on board with," and that Liberland, with BitClub Network's help, "would be the first country that runs on bitcoin mining instead of taxing its citizens."
In 2017 Weeks attempted to gain St. Kitts & Nevis citizenship and a passport via a $400,000 investment.
In one email between Weeks and a concierge he was using to apply for citizenship, Weeks stated:
Now you know why I don't want my US Passport anymore. Imagine the tax liability!
St. Kitts & Nevis ultimately rejected Weeks' application. This prompted him to apply for citizenship with Vanuatu.
That didn't pan out either.
A 2019 Facebook chat cited by the DOJ reveals Weeks also might have a Mexican passport.
User1: IRS took my passport

User1: I get it back in a few days

User1: Fuckers

Weeks: no shit?

Weeks: wow

Weeks: I can get you a mexican one for $20k
Upon his arrest;
Weeks had a U.S. passport and a diplomatic passport issued by the World Sports Alliance.

A Mexican national voter card was found in a subsequent consent search of his AirBNB rental.

Nearly every page of Weeks's U.S. passport was filled.
Despite all of this, in his motion Weeks played up his connection to Colorado.
In an effort to establish whether this was true, the DOJ sent agents to the "home" address Weeks' provided.
When law enforcement officers went to Weeks' purported "home" in Aurora, Colorado on December 10, 2019 they were met not by members of the Weeks family, but instead by several individuals who said that they rarely see Weeks at that residence, that he certainly did not live at that residence, and that he visited the residence only a few times a year.

Tellingly, when asked where Weeks lived, the people living in this house stated that Weeks lived all over the world, that he did not have a primary residence, and that he had lived this way for at least the last ten years.
The DOJ has also learned that
contrary to more traditional family ties … Weeks' immediate family has spent significant time traveling alongside Weeks.

This is not a case where Weeks' family will likely keep him in the United States.

Weeks' wife and child have accompanied Weeks on many of his travels.
To assist the DOJ with their investigation, Weeks was kind enough to document their travels together on a public blog.
The site claims that Weeks has visited all 7 continents and 141 countries.

It also has been reported that Weeks's daughter was the youngest person to visit all 50 states, completing the trip in just 42 days.

Far from a situation where a defendant would feel beholden to stay in the United States to be near their family—Weeks' family has demonstrated a near preference to travel outside of the United States.
At one point Weeks even pitched "Bitcoin Revolution" to co-conspirator Matt Goettsche.
In the last two years my wife and I have visited 400+ cities and over 100+ countries.

We basically fly around the world on private jets selling machines that print money. Who wouldn't like to have a machine that prints money?"

Meet Joby and his wife Stephanie Weeks, entrepreneurs, investors, the front-line soldiers in a battle to change the way you spend and save your money.

Except the money they want you to use is this NEW magical Internet money called Bitcoin!
Bitcoin Revolution was a proposed reality tv series documenting the Weeks' travels and bitcoin use.
The DOJ puts forth that Weeks'
"state of mind" and "state of living" suggests that Weeks is unlikely to follow pretrial release conditions of this Court.

Weeks is has an anti-Government streak and has shown a willingness to disregard laws that he believes should not apply to him and has also taken steps to encourage others to do the same.
Although he might not get to play Jason Bourne, I can't see Joby Weeks fighting this all the way to trial.
He's already signaled willingness to cooperate with authorities on multiple occasions
That's a ways off though. For now the matter before the court is whether Weeks is entitled to pre-trial release.
Personally, given the scope of the DOJ's case and that Russ Medlin is still at large, I can't see it happening.
As at the time of publication, oral arguments on Weeks' release motion have been scheduled for February 10th.
A decision on the motion will either be made on the day itself or shortly thereafter.
In the meantime, imagine what it must feel like to be running around thinking your some kind of crypto Jason Bourne. Y'know, totally above the law and outwitting authorities because you're just that clever.
Then at some point you develop the sinking feeling that all is not what it seems, and so you run to the very government you despise to turn on the criminals you associate with.
Thinking you've yet again outsmarted the authorities, you rock up to a meeting… only to be arrested.
My God, that must have been morally crushing for Weeks. And now he's sitting in prison with plenty of time to contemplate the mistakes he's made.
As with all the MLM Ponzi criminal cases, that Weeks will spend time in prison is practically inevitable.
If he pulls a deal he'll still wind up in prison, but instead of fifteen years of "pound me up the ass" it might be only… well, I can't say for sure because this is all still very much up in the air.
On the flip side maybe he'll fight the case for a few years. Given Weeks' "me and muh bitcoins are above the law" mentality, maybe that'll lead to some juicy Charles Scoville'esque meltdowns.
One can hope.
Oh and between all of that we've got Russ Medlin's eventual arrest to look forward to. Good times.
Update 11th February 2020 – Few minor updates to cover;
With the permission of the court Weeks filed a reply to the DOJ's response covered above.
He's basically tried to butter up the court with pre-approval of a house arrest monitoring (Shadowtrack), extradition waivers for Mexico and St. Kitts & Nevis, letters of support and family and charity event photos.
As far as I know the February 10th hearing went ahead but as of yet I don't have a decision.
Perhaps feeling emboldened by Weeks' motion, Matthew Goettsche filed his own "let me out of prison" motion on January 31st.
The DOJ has yet to respond. Our next update will be either the DOJ's response to Goettsche's motion or a ruling on Week's motion; whichever comes first.
Update 14th March 2020 – Still no ruling on Week's motion, or a DOJ response to Goettsche's motion.
On March 13th however the BitClub Network case received complex designation.
This resulted in a continuance until May 11th.
I'll check the docket again this time next month for any updates. Otherwise our next update should be in mid May.
Update 15th May 2020 – As of May 2020 Joby Weeks' previously accessible "Weeks Abroad" blog has been pulled offline.