Dunamis Global Tech collapses, merged with Onyx Lifestyle

Dunamis Global Tech has collapsed.
On a recent company webinar, Dunamis Global Tech admins announced a merger with Onyx Lifestyle.
Dunamis Global Tech initially launched as Dunamis Mining.
BehindMLM reviewed Dunamis Mining shortly after launch back in April. Based on its business model, we concluded Dunamis Mining was committing securities fraud.
As of December 2019, Alexa website rankings reveal Dunamis Global Tech had a brief spike of activity around June.

This was followed by a typical collapse trajectory.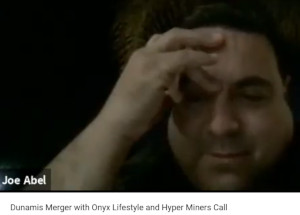 On a recent Dunamis Global Tech webinar, Joe Abel is credited as Dunamis Global Tech's founder.
Abel is brought on early into the webinar to announce;
[4:18] With the experience we've had in Dunamis, I'm happy to say that Dunamis is no longer.

We are completely closing the conversation on what happened in Dunamis.

And I'm here to welcome you guys, whoever's interested, in being part of our new venture that has been merged and collaborating with Travis Bott out of Utah.

The new opportunity is called Onyx Lifestyle.
BehindMLM reviewed Onyx Lifestyle in May. We found a LQD8 Block investment scheme, which we concluded was another instance of securities fraud.
Abel goes on to reveal Dunamis Global Tech has been merged as a new "division" within Onyx Lifestyle.
The new division is purportedly related to cryptocurrency mining and called Hyper Miner.
This appears to be a continuation of Dunamis Global Tech's crypto mining ruse.
Dunamis Global Tech victims, most of whom are owed commissions as I understand it, are being funneled into Onyx Lifestyle through an "offer".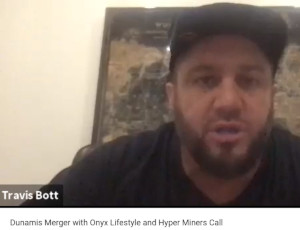 Later in the webinar Travis Bott, representing Onyx Lifestyle, goes on to further explain Hyper Miner.
[14:06] We have a program called Access IO that we'll be launching next week. Along with what we're calling Hyper Mining, which is basically the Onyx Dunamis coming together.

(This) will be Hyper Miner powered by Dunamis.

[17:20] It's a device that we've gone and developed that has… it's a… basically a power node, or super node that you can do staking, you can host blockchains on for rewards, we can use it to enhance our mining activities, we can use it to enhance our trading activities, and it has a cold surge wallet build into it.

What's cool about the program is you, as a member, can buy the device. You lease it back to the company, they're gonna pay you a fixed payment for a hundred and fifty weeks – and the basic premise is the device upfront is $2850 and over that hundred and fifty weeks you can make back out through the lease back, $6800.
Through Hyper Miner, Onyx Lifestyle affiliates invest $2850 on the promise of a passive $6800 ROI over one hundred and fifty weeks.
Despite quite obviously being a securities offering, neither Onyx Lifestyle, Travis Bott, Dunamis Global Tech or Joe Abel are registered to offer securities in the US.
At the time of publication Alexa estimates that Japan makes up 92% of traffic to Onyx Lifestyle's website.
Onyx Lifestyle isn't registered to offer securities in Japan either – or anywhere else in the world for that matter.
Update 11th December 2019 – On December 10th Joe Abel was arrested for his role in promotion of the BitClub Network Ponzi scheme.