BitClub Network creators arrested, DOJ alleges $722M Ponzi

The DOJ has gone after five individuals connected to BitClub Network.
Matthew Brent Goettsche, 37, of Lafayette, Colorado, and Jobadiah Sinclair Weeks, 38, of Arvada, Colorado, are charged by indictment with conspiracy to commit wire fraud and Goettsche, Weeks, and Joseph Frank Abel, 49, of Camarillo, California, are charged by indictment with conspiracy to offer and sell unregistered securities.
Goettsche, Weeks and Abel have been arrested. Two co-conspirators, whose names are under seal, remain at large.
The DOJ cites Matthew Brent Goettsche as a co-creator of BitClub Network.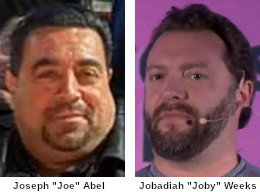 Jobadiah Weeks and Joseph Abel are cited as BitClub Network promoters.
I can't speak to the others, but barely a week ago we reported Abel was still actively scamming victims through Dunamis Mining and Onyx Lifestyle.
A sealed defendant is also credited as a co-creator. The other is a co-creator and also worked as BitClub Network's programmer.
As per Goettsche, Weeks and Abel's indictment, BitClub Network was a $722 million dollar Ponzi scheme.
As reported back in 2014 here on BehindMLM, BitClub Network's Ponzi ruse was bitcoin mining.
From its inception in 2014, BitClub Network was never about sharing crypto mining profits.
It was the goal of the conspiracy for the GOETTSCHE, (sealed), WEEKS, (sealed) and others (the "Fraud Co-Conspirators") to enrich themselves by soliciting and causing others to solicit investments in BCN through materially false and fraudulent pretenses, representations, promises, and omissions.

GOETTSCHE, (sealed) and others discussed and understood that BCN's purported cryptocurrency mining would not be profitable, but would serve to induce investors to purchase BCN memberships and shares in BCN's purported mining pools.

The Fraud Co-Conspirators made and caused others to make materially false and fraudulent pretenses, representations, and promises to, and to conceal material facts from, investors regarding aspects of BCN's investment products, including the information that was displayed to BCN's investors as proof of "bitcoin mining earnings" that purportedly were generated through BCN's bitcoin mining pool.
Cited evidence of fraudulent intent from inception includes emails between BitClub Network's founders.
In one such exchange, a sealed defendant gloated to Goettsche how the MLM side of BitClub Network would screw over 99% of affiliates.
The margins from the MLM [multi-level marketing] will also be insane cause I have seen your skill at constructing attractive matrixes that have almost O chance of paying more than 50% of max for 99% of the people :D.

Goettsche himself (right), stated in a 2014 online chat that 'BitClub Network's target audience would be "the typical dumb MLM investor"'.
In October 2014, two months after BehindMLM's published review, Goettsche and a sealed defendant discussed faking mining statistics to encourage investment.
GOETTSCHE: but we may need to fake it (mining profits) for the first 30 days while we get going.

(sealed): sure

(sealed): we can do that

GOETTSCHE: it needs to look real though :p

GOETTSCHE: so need a bit of your magic touch on it

(sealed): look real how? We fake real revenue numbers and show them in account daily

GOETTSCHE: and we dont want to fake it too good so that when we need to back it down it drops off

GOETTSCHE: terminolgy [sic]

GOETTSCHE: explanation of what is happening

GOETTSCHE: inconsistent numbers daily so its [sic] not perfect

GOETTSCHE: all kinds of stuff

(sealed): inconsistent numbers IS real

GOETTSCHE: people think we are not legit or are weary so we need to be careful rolling this out

(sealed): if we pay consistent numbers it will be fake

GOETTSCHE: i know… that what I am saying, make the numbers inconsistent

(sealed): yeah

(sealed): will make it real
This discussion continued, with BitClub Network's founders referring to their investors as "sheep".
"I guess most people do not know only 40% is used for mining and the rest for commissions," to which GOETTSCHE replied, "the leaders know … its the sheep that dont."
A few months later in January 2015, Goettsche and a sealed defendant concocted a fake node scheme to keep investment rolling in.
GOETTSCHE: having our own node

GOETTSCHE: yep

GOETTSCHE: its a big one

GOETTSCHE: I'll put together full details to make it achievable

(sealed): but that will instantly net us 10x that

(sealed): so you want our own pool

GOETTSCHE: yes dude

(sealed): and then we get miners to mine there?

GOETTSCHE: most of these idiots have no idea, they just want to make sure we can verify SOMETHING
Goettsche would go on to reassure the sealed defendant;
We are building this whole model on the back of idiots.

(To) prove the mining … just means convincing the morons ;).
BitClub Network's bogus mining pool was referred to internally as "shiny shit".
The reason for that is because BitClub Network's daily returns had nothing to do with bitcoin mining.
Goettsche and his programmer manipulated daily payouts at will.
GOETTSCHE: bump the daily mining earnings starting today by 60%

(sealed): 60%? wow. that is not sustainable, that is ponzi territori and fast cash-out ponzi

(sealed): but sure

GOETTSCHE: yea they have not been bumped in a long time

(sealed): ok

GOETTSCHE: we can push them back down, but we need a boost

(sealed): you do realize you need to pay for like 1000 days technically?

GOETTSCHE: we will dilute over time

GOETTSCHE: members will think its due to strong growth

GOETTSCHE: but right now the payout does not break people even after 1,000 days

GOETTSCHE: we need to look like we will break them even in 9-12 months and then start to curtain it from there

GOETTSCHE: just bump it by 60%, im putting together an update about newly installed equip and that we will be showing mining proof in the next week
As revealed by a June 2017 exchange between Jobadiah Weeks and Goettsche, despite its representations BitClub Network wasn't buying mining equipment.
We (Bitclub) can't just 'sell' people mining hardware (shares) in Bitclub and then not use the money to buy equipment. Its not right.

Bitclub makes 20% regardless of the price.
By September 2017 the writing was on the wall, and Goettsche hatched his exit-scam.
We close the current pool to new shares, we call it the Early Adopters Pool or Legacy Pool or some shit like this.

We continue to pay out for the total of the life of the pool but no more partial shares or new shares allowed in.

This means the day we close it we have 1,000 days that we calculate out and put on autopilot.

Here is my current plan… (in my head)

1. Limit sales by the hour to do $50 mil per month

2. Drop mining earnings significantly starting now

8. We retire RAF!!! (rich as fuck)
BehindMLM reported on BitClub Network first screwing over early investors in August 2016.
This was four months after the company pseudo-compliance banned investment from the US.
I say pseudo-compliance because…
ABEL, WEEKS, and others encouraged U.S. investors to utilize a VPN to obscure their true, U.S.-based IP addresses so that BCN and the Defendants could avoid detection and regulation by U.S. law enforcement.
Two years earlier Goettsche and his co-conspirators stated they were "staying anonymous" to avoid regulators.
The DOJ cite BehindMLM's "OneCoin abandon US operations" article, which Joseph Abel sent a sealed defendant in 2015.

Communications dated August 2017 further prove BitClub Network's operators were well aware they were breaking the law;
In or around August 201 7, BCN admitted in an investor update that "Bitcoin might be a security regulated by the SEC, [and] Bitcoin mining could potentially be a security[,]" yet did not register with the SEC.
BitClub Network's operators and promoters were apparently avid BehindMLM readers.
In March 2018 a sealed defendant emailed Jospeh Abel with our "Scott Warren's Crypto World Evolution securities memo is deeply flawed" article.

By March 2018 the cash flow situation within BitClub Network was growing increasingly desperate.
This promoted Joseph Abel to reassure affiliate investors;
We are, what they call in the bitcoin network, too big to fail. … It's important that you understand that. We're too big to fail.
Seven months later BitClub Network collapsed.
Matthew Goettsche, Jobadiah Weeks and Joseph Abel have been indicted on two counts; conspiracy to commit wire fraud and conspiracy to offer and sell unregistered securities.
The wire fraud conspiracy charge carries a maximum potential penalty of 20 years in prison, and a fine of up to $250,000.

The conspiracy to sell unregistered securities charge carries a maximum penalty of five years in prison and a fine up to $250,000.
The DOJ is also pursuing forfeiture of ill gotten gainst against Goettsche, Weeks and the two sealed defendants.
Stay tuned for case updates.
Update 16th June 2020 – BitClub Network's Russ Medlin has been arrested in Indonesia.