GSPartners abandons YouTube harassment lawsuit in US

GSPartners has abandoned its harassment lawsuit against against Chris Saunders.
Saunders own and operates the YouTube channel Grit Grind Gold, which he used to report on and criticize the GSPartners Ponzi scheme.
This attracted the attention of owner Josip Heit and promoters Michael Dalcoe and Antonio (Tony) Euclides Menesis De Gouveia, who filed a harassment lawsuit against Saunders in late 2021.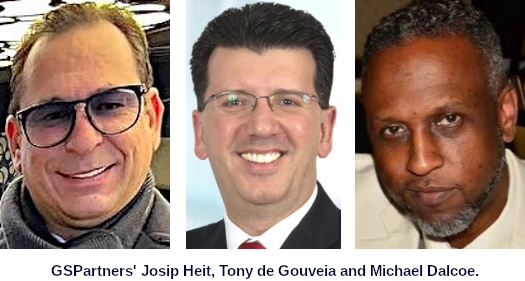 Heit and the GSPartners Plaintiffs claimed Sunders making videos on the Ponzi scheme constituted defamation.
Heit also took particular offense to Saunders pointing out his role in Karatbars International's failed KBC Ponzi.
On July 29th GSB Gold Standard Corporation AG, Josip Heit, Michael Dalcoe and Tony De Gouveia filed a stipulation of dismissal.
On July 29, 2022, Defendant Christopher Saunders executed a declaration in connection with the above-captioned matter.

Pursuant to the Saunders' Declaration, Plaintiffs GSB Gold Standard Corporation AG, Josip Heit, Antonio Euclides Menesis De Gouveia, and Michael Dalcoe, by counsel and with the signature and agreement of counsel for Defendant Christopher Saunders, hereby stipulate to the dismissal without prejudice of all claims in this matter.
The referred to stipulation from Saunders reveals he received
five thousands dollars in bitcoin from Mr. Ovidu Toma in connection with making the Statements and Allegations against Plaintiffs.

Since January 2020, Mr. Ovidu Toma has been providing me with documents and materials (that) corroborate Mr. Harald Seiz's role in Karatbars' purported wrongdoing.
"Ovidu Toma" refers to Ovidiu Toma, Karatbars International's former Chief Technology Officer.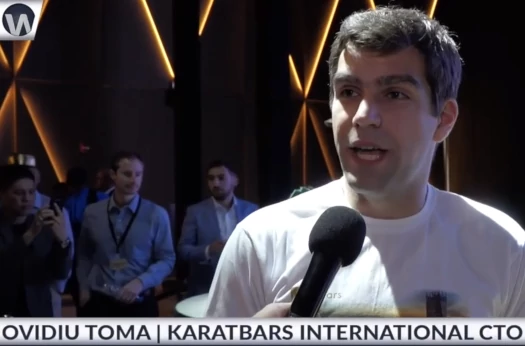 Today Toma heads up CryptoData as CEO. CryptoData sells crypto bro hardware out of Romania.
Getting back to Saunder's declaration;
I was aware, via first-hand knowledge, of facts and documents that any purported wrongdoing carried out by Karatbars in connection with its Miami crypto bank and the issuance of KBC/KBC tokens was perpetrated by Karatbars' CEO, Mr. Harald Seiz, and that said wrongdoing was perpetrated before any affiliation between Karatbars and GSB/Mr. Heit.
This is a strange concession to make. Heit was very much the face of Karatbars first foray in to crypto securities fraud.
In an interview dated April 2019, Seiz is introduced as a "big investor and Board Member" of Karatbars International.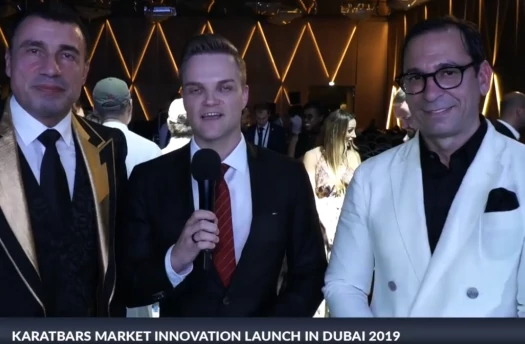 At the time Karatbars was shilling a "blockchain phone" in Dubai.
When asked about his statements at the event, and I quote;
You talked about the KBC uh coin. You said it's possible that it will be 1 kilogram of gold. Is this really possible?
Heit responded;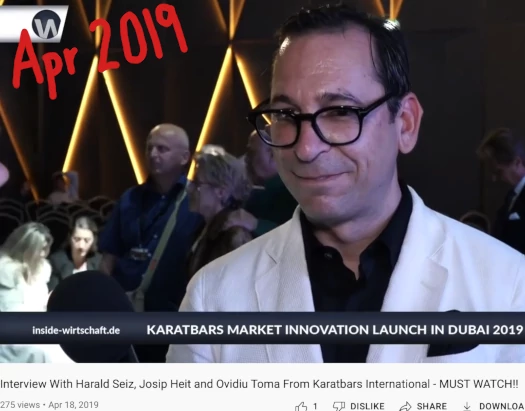 Yes, of course it's possible. Nobody think and many people recognize in uh, right time and there with us and they can join us.

We have last week, or before two weeks, we have just market capitalization of about 300 million dollar. And now we have almost one billion.

And still is it not realized mainnet. And when the mainnet will be realized, and this will be very soon, in some of months, I tell you; we will have market capitalization more than 200 billion.
After months of Heit and Seiz pumping up Karatbars' KBC, the KBC Ponzi coin dumped 62% following July 4th 2019 hype event.
It was Josip Heit, not Harald Seiz, who was sent out to address angry investors and explain the collapse.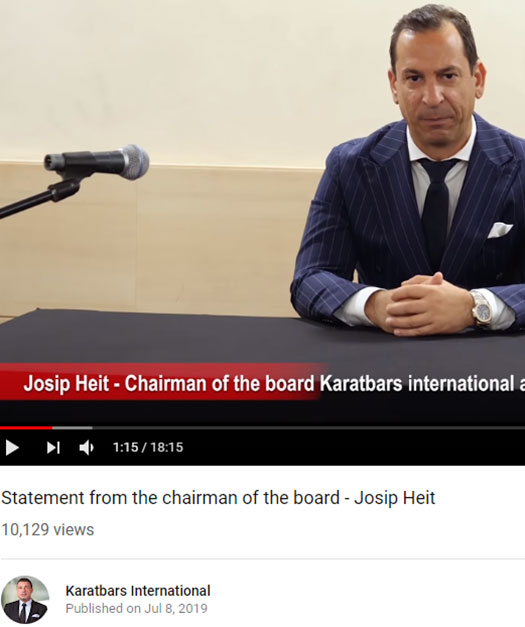 KBC continued to dump over the following months and was eventually abandoned. By the end of 2019 Heit had cashed out, left Karatbars and gone on to launch his own Ponzi spinoff, GSPartners.
GSPartners' Ponzi coins haven't fared any better than KBC. G999 is being propped up with wash trading, which I believe is slowly draining GSPartners' other Ponzi coin LYS.
G999 is being wash traded at around $0.002413. LYS continues to drain at $66.78.
The continued failure of G999 and LYS to take off prompted the launch of GEUR earlier this month.
GSPartners and Heit represent GEUR is pegged to the euro. It is believed GEUR was created because GSPartners investors didn't want to be left bagholding G999 and LYS anymore.
At time of publication GEUR doesn't exist outside of GSPartners. GSPartners is using GEUR to prop up its latest 300% ROI Ponzi reboot, metaverse certificates.
Such to the extent a settlement was reached between GSPartners and Saunders, it has not been made public.
Other than incorrectly asserting Heit wasn't involved in Karatbars KBC scam, Saunders has not retracted any of his other GSPartners related claims.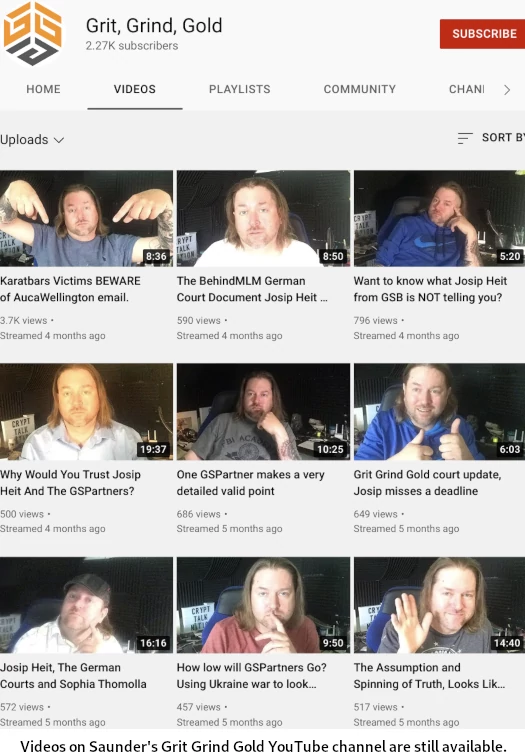 The GSPartners Plaintiff's Stipulation of Dismissal was approved by the court on August 2nd. This brings GSPartner's harassment suit against Saunders to an end.
Update 4th September 2022 – In what appears to be part of a reached settlement, all of Grit Grind Gold's social media profiles have been made private.
Additionally, all videos on the Grit Grind Gold YouTube channel have also been marked private.