Smart Media Technologies Review: YOBSN?

Smart Media Technologies launched in late 2010 and operate in the social MLM niche.
No actual company address is provided on the Smart Media Technologies website, with the company instead providing the Nevada based address of American Corporate Enterprises Inc. ("americancorpenterprises.com").
American Corporate Enterprises sell business registrations and a virtual executive office service in the US state of Nevada.
The Smart Media Technologies website domain ("smartmediatechnologies.com") also uses a virtual office space address in Nevada, belonging to Regus.
For all intents and purposes, Smart Media Technologies appears to be registered in Nevada by name only. On the Smart Media Technologies website, the company refers to itself as a 'debt-free, privately held global company'.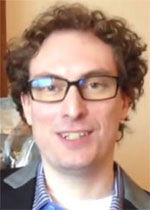 Named as CEO and Founder of the company is David Martin (right).
David Martin, has designed and developed banking platforms & digital banking security systems since 1998.
The name "David Martin" is too generic to pull up an accurate MLM history, but given the Smart Media Technologies website doesn't mention anything, I'd say it's a good bet that this is Martin's first MLM venture.
Read on for a full review of the Smart Media Technologies MLM business opportunity.
The Smart Media Technologies Product Line
Smart Media Technologies' flagship product is access to an in-house social network, which they call "Your Own Branded Social Network" (YOBSN).
YOBSN appears to be live at the domain "hppvip.com", however a visit to the domain demands that visitors enter a "current member login".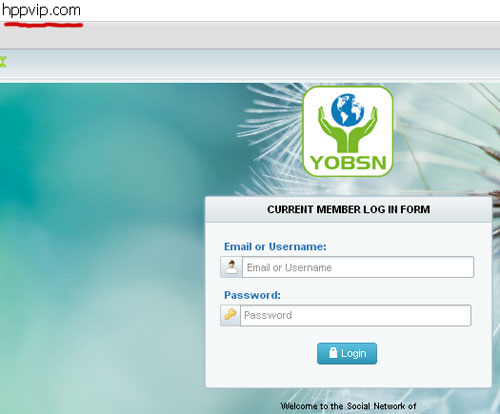 The YOBSN website domain was registered in November 2011, however the website still advises that YOBSN is in beta.
From what I've been able to ascertain, the basic idea seems to be a branded social network where the owner of the social network (a Smart Media Technologies affiliate) generates revenue via advertising on the network itself.
IMAGINE yourself making money easily with YOBSN when people go online for shopping, playing games, social networks, education, entertainment or just about anything they do online every day.
The Smart Media Technologies Compensation Plan
Smart Media Technologies affiliates can earn money off free social networking users they introduce to the network. This is in the form of revenue generated by getting free users to spend money within the social network.
The primary source of revenue and commission payouts however is the purchase of paid YOBSN accounts, which are available at three price-points:
Basic – $125
Basic Plus – $200
Professional – $400
Recruitment Commissions
When a YOBSN paid membership is purchased, the affiliate who recruited the paid affiliate earn a $25-$225 commission, depending on how much money the new affiliate spends on YOBSN membership.
Binary Commissions
Residual commissions in Smart Media Technologies are paid out using a binary compensation structure. A binary compensation structure places an affiliate at the top of two binary teams, left and right: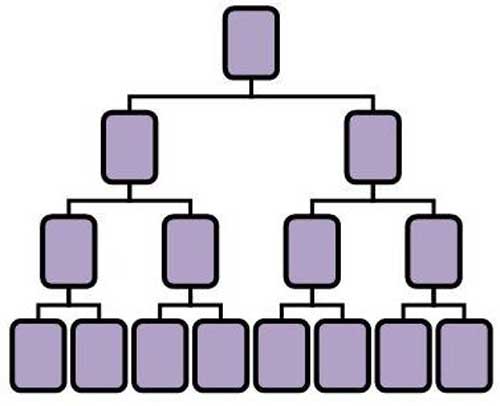 Each position in the binary represents a recruited paid affiliate, either via direct recruitment or the recruiting efforts of an affiliate's upline and downline.
Each paid YOBSN membership generates points, which are tracked on both sides of the binary.
Basic and Basic Plus = 100 points
Professional = 200 points
When 900 points are generated in each binary side, Basic and Basic Plus affiliates earn $25 and Professional affiliates earn $50.
The points matched are flushed from both sides and cannot be used again.
Additional Bonuses
A "matching bonus", "mega bonus" and "leadership and lifestyles" bonuses are mentioned in the Smart Media Technologies compensation plan, however no specific information is provided.
From what I can tell, the matching bonus appears to be recruitment based (recruit a specified number of affiliates to earn a match on what they earn through the binary), the mega bonus is a rank advancement bonus (probably tied into recruitment again) and the leadership and lifestyle bonuses are a monthly payment bonus (going to go out on a limb here and again suggest this is tied to recruitment).
Joining Smart Media Technologies
Affiliate membership to Smart Media Technologies is available in three options:
Basic – $125
Basic Plus – $200
Professional – $400
The difference between the plans appears to be customizable branding at the Professional level. The difference between "Basic" and "Basic Plus", according to the Smart Media Technologies marketing material is "your name in lights".
A $30 monthly fee is attached to each of the three plans.
Conclusion
Using the familiar MLM social network model, the problem with Smart Media Technologies lies in the recruitment nature of the business.
Why anyone would pay hundreds of dollars to brand themselves when most if not all major social networks provide this service for free (Facebook, Twitter and Google Plus being the primary examples), I have no idea (seriously… a $200 difference to personally brand a social network?).
Well, actually I do – the commissions Smart Media Technologies attach to paid affiliate membership.
Under the guise of generating revenue via advertising and third-party shopping and game purchase network deals, here's Smart Media Technologies honestly identifying what the social network front is really for:
YOBSN offers your Free Members so much value, they will actually thank you for giving it to them. That's not all… they will also build your list by sharing it with their family and friends…
Building a list of leads, hoping they build an even bigger list of leads for you and getting as many of them to pay for affiliate membership along the way.
Why would they pay? The same reason you did…
Purchasing the Basic Package qualifies you (for) rights to sell YOBSN Branding Packages and earn a Direct Sales Bonus (and) participate in Smart Media Shared Revenue System.
Basically, "pay to play".
You pay your affiliate membership fees (upfront and then $30 a month), and then go off and find others to do the same.
And the more you pay, the more you earn: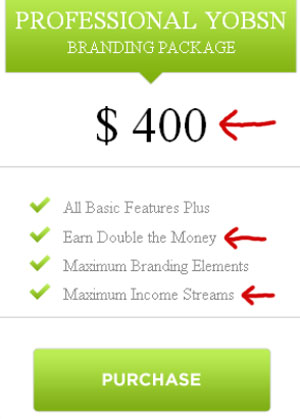 You'd be lucky to make a quarter of a peanut via Smart Media Technologies' social network revenue streams, maybe half of one on a good day.
Once the affiliate recruitment in Smart Media Technologies stops, so too will the commissions. I don't even think it's worth entertaining the idea that non-affiliates are using the YOBSN network.
Update 6th December 2014 – Wednesday 3rd of December saw police in Bangalore raid a Smart Media Technologies hotel presentation and arrest four leaders of the company, including owner Denise Driver.
Driver is a New Zealand national frequently cited as a "business leader" by Smart Media Technology affiliates.