Generation Zoe's Leonardo Cositorto extradited to Argentina

Following his arrest and announced extradition from the Dominican Republic last week, Generation Zoe Ponzi scammer Leonardo Cositorto has touched down in Argentina…
…where he immediately developed a sudden onset of high blood pressure requiring hospitalization.
Cositorto arrived in Argentina's Ezeiza International Airport just past midnight on Tuesday morning.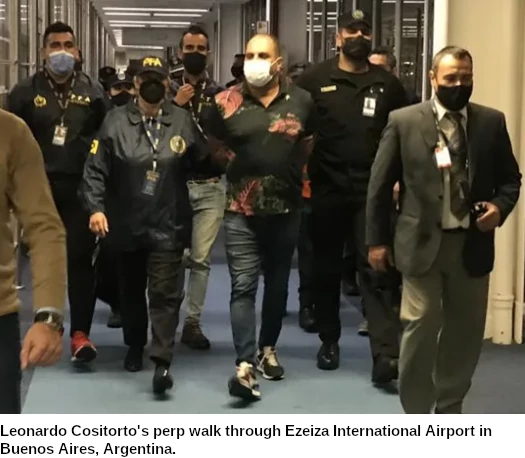 LaNacion reports Cositorto was wearing the same floral polo and jeans ensemble he was arrested in. That was then almost a week prior, suggesting Cositorto had slummed it in custody.
Primer Plano provided footage of Cositorto's airport perp walk of shame on YouTube.
Within 24 hours of arriving in Argentina, Cositoro came down with a spontaneous case of high-blood pressure. Cositorto's new condition struck prior to his first scheduled court appearance.
As a result Cositorto was hospitalized. The hearing, which would have also seen Costitorto testify before prosecutors, was suspended.
Cositorto's current status is unknown. Whether his doctors find any other sudden onset and previously undisclosed medical conditions, perhaps of the variety that might keep him out of prison for a longer period of time, remains to be seen.
In related news, Argentine authorities recovered $600,000 tied to Generation Zoe on Monday.
$628,000 was seized through six coordinated raids, which also netted authorities Generation Zoe related paperwork and electronic devices.
A day later Generation Zoe's legal adviser, Hector Luis Yrimia, turned himself in to authorities.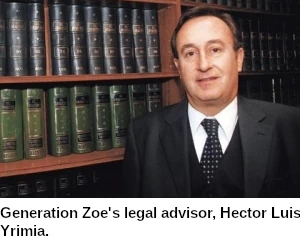 It seems prior to Generation Zoe's collapse, Yrimia fled to Dubai.
On Tuesday, the same day Cositorto arrived in Argentina, Yrimia turned himself in at Interpol's Dubai branch.
This is notable as Dubai is the MLM scam capital of the world. Through limited extradition treaties and non-regulation of MLM related securities fraud, Dubai provides a safe-haven for scammers like Yrimia.
Despite having an international arrest warrant out on him, had Yrimia done nothing he could have likely hid out in Dubai indefinitely.
Perhaps he didn't flee with enough to make the Dubai fugitive lifestyle work. Whatever the reason, Yrimia is the last suspect Argentine authorities have charged.
Yrimia's arrest and pending extradition brings the total number of Generation Zoe arrests to twenty.