The unsealed BitClub Network fraud indictments

When news of the BitClub Network arrests broke last December, we learned that the grand jury indictments behind the arrest were under seal.
And so they remained until all of the defendants were in custody.
That condition was finally satisfied last week, following Russ Medlin's arrest in Indonesia.
With Medlin's arrest came the unsealing of the indictments, which today we're examining as originally filed.
The five BitClub Network indicted in the case are Matthew Brent Goettsche, Russ Albert Medlin, Jobadiah Sinclair Weeks, Joseph Frank Abel and Silviu Catalin Balaci.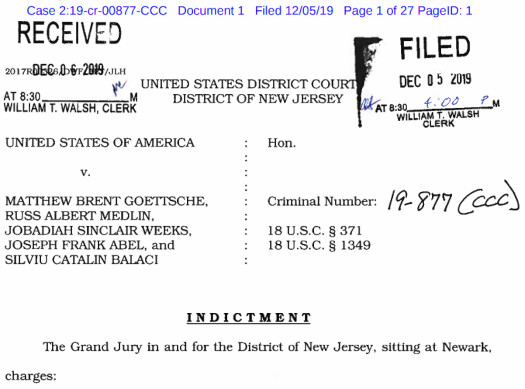 The indictment alleges Goettsche, Medlin and Balaci created BitClub Network. Weeks and Abel are cited as promoters.
As per the indictment, BitClub Network
was a worldwide fraudulent scheme that solicited money from investors in exchange for shares of pooled investments in cryptocurrency mining and that rewarded existing investors for recruiting new investors.
For reference, BehindMLM reviewed BitClub Network in August 2014.
The indictment charges that Goettsche, Medlin, Weeks and Balaci were engaged in a conspiracy
to enrich themselves by soliciting and causing others to solicit investments in BCN through materially false and fraudulent pretenses, representations, promises, and omissions.
The defendants
discussed and understood that BCN's purported cryptocurrency mining would not be profitable, but would serve to induce investors to purchase BCN memberships and shares in BCN's purported mining pools.
Puported external revenue derived from mining was "based on the materially false and fraudulent pretenses".
Through BitClub Network, the defendants solicited "at least $722 million from investors".
In or around July 2014, as part of an online chat exchange, BALACI told GOETTSCHE that BCN's target audience would be "the typical dumb MLM investor."
As the scheme unraveled, an exit-scam proposal put forth by Goettsche saw BitClub Network
"limit sales by the house to do $50 mil per month"; and
drop mining earning significantly starting on or around September 2017.
In his own words, this would allow Goettsche and his co-conspirators to "retire rich as fuck".
As is most of the MLM underbelly, Russ Medlin and Joe Abel are avid readers of BehindMLM.
Cited as evidence Medlin and Abel knew they were committing securities fraud, is an article I published in March 2018.
That same month Medlin emailed the article to Abel.
All up the indictment lays two counts against the BitClub Network defendants;
Conspiracy to commit wire fraud; and
Conspiracy to offer and sell unregistered securities.
Forfeiture with substitute asset provision is also being sought.
Assets cited in the indictment include
RBC Wealth Management accounts in the name of Getch Holdings, Getch Foundation and Getch Holdings LLC Construction Fund; and
any ownership interests held by Matthew Goetttsche, Gobit LLC and Getch 2021 LLC in Orbesehc Industrial LLC and HIIT Health LLC.
At the time of publication all five BitClub Networks are in custody, either in the US or abroad.
Stay tuned for updates as we continue to track the case.