Gordon Beckstead's BitClub Network money laundering plea

As per a chargesheet filed on March 24th, Gordon Brad Beckstead helped BitClub Network scammers launder "millions of dollars".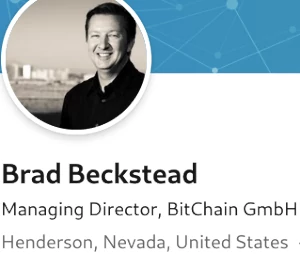 Before he got into investing in Ponzi schemes and money laundering, Beckstead, a resident of Nevada who professionally goes by Brad Beckstead, worked as a CPA.
In that role Beckstead claims to have
audited over 100 publicly traded companies
worked on SEC rules and regulation compliance; and
designed and implemented accounting systems, targeting SEC compliance in the US.
Based in Las Vegas, Nevada, Brad is a licensed CPA in the State of Nevada since 1995.  He is also a Certified Information Systems Auditor (CISA), is Certified in Risk and Information Systems Control (CRISC), and has achieved the AICPA's certification in International Financial Reporting Standards (IFRS).

Brad's audit firm, Beckstead & Company, CPAs, is registered with the Public Company Accounting Oversight Board (PCAOB), as a specialist in the audits of smaller public companies and private companies anticipating registration with the US Securities and Exchange Commission.
So where did it all go wrong?

One of Beckstead's clients was BitClub Network co-founder Matt Goettsche (right).
That relationship eventually led to Beckstead becoming a BitClub Network investor. Along the way the German shell company "Bitchain GmbH" was created.
As they say, the rest is history.
BECKSTEAD was associated with various corporate entities controlled by Goettsche, some of which were used to maintain accounts at banks.
Beckstead's chargesheet cites seven money laundering entities, one of which is Bitchain GmbH, and six banks.
The Goettsche Entities were "shell" companies, lacking any actual economic function or business operation and were established to anonymize control of the bank accounts and to disguise and conceal the nature, source, and ownership of Goettsche's income and ownership of assets.

Goettsche, BECKSTEAD, and others used the Goettsche Entities to shield Goettsche from any association with BCN and to disguise income derived by Goettsche through his operation of BCN.

BECKSTEAD directed and authorized transfers exceeding $50 million to and from the Entity Accounts.
Making use of his accounting background, Beckstead also assisted Goettsche with filing at least one fraudulent return.
A cited 2017 return omitted $16 million in BitClub Network earnings, seeing Goettsche dodge a $5 million tax bill that year.
In 2018 Beckstead assisted Goettsche with another dodgy return, this time omitting $49 million in BitClub Network earnings.
The DOJ has charged Beckstead with
money laundering conspiracy;
aiding in the preparation of a false tax return; and
aiding in the preparation of a false tax return.
Beckstead was arrested on March 24th. He waived prosecution by indictment and pled guilty to all three counts later that same day.
Beckstead was released on $100,000 bond, with a sentencing hearing scheduled for August 9th.
The money laundering conspiracy charge to which Beckstead pleaded guilty carries a maximum penalty of 20 years in prison and a fine of $500,000, or twice the value of the property involved in the transaction, whichever is greater.

The tax charge to which Beckstead pleaded guilty carries a maximum penalty of three years in prison and a fine of $100,000.
Matt Goettsche and his BitClub Network co-conspirators were indicted in 2019.
In September 2020 Goettsche rejected a plea deal. It is as of yet  unclear whether the conviction of his personal accountant will change his tune.
Due to ongoing discussions with the DOJ, on March 31st Goettsche's criminal case was continued till July 31st.
Update 10th August 2022 – There's something strange going on with Gordon Beckstead's case docket.
I went looking for an update on his sentencing today, and found Beckstead is out of the country. I double checked the case number, that's not the issue.
Beckstead's docket reflects a July 11th order granting him permission
to travel internationally from Las Vegas, Nevada (where the defendant currently resides) to the countries of England and Scotland, departing Sunday, August 7, 2022 and returning to Las Vegas, Nevada on Tuesday, August 16, 2022,
The reason for Beckstead leaving the country isn't provided (I'm assuming it's a personal matter).
Apparently there was a joint application filed preceding the order, however it's not recorded on the case docket. Nor are there any filings after Beckstead's March guilty plea.
Obviously with Beckstead out of the US the scheduled August 9th sentencing hasn't gone ahead.
I'll continue to monitor the docket for updated but we might not get any news for a while if filings are missing from Beckstead's docket.