BitClub Network abandon US, on the run from regulators?

One of the tell-tale signs that a share-based MLM opportunity operating in the US is a Ponzi scheme, is failure to register with the SEC.
All it takes is the filing of a few documents and annual reports, and the regulator has all the information to ascertain whether or not an otherwise questionable opportunity is legitimate.
The alternative is a regulatory investigation, which typically results in a civil case being filed and the Ponzi scheme in question shut down.
Possibly looking to preempt such an investigation, BitClub Network have announced they are abandoning US operations.
For those unfamiliar with BitClub Network, the company solicits thousands of dollars in investment for mining pool shares. The shares initially paid out for 1000 days, however the ROI period was recently reduced to 600.
From a March 1st Facebook posting, Here's how BitClub Network themselves pitch their opportunity:
Sravana XXX: how v will get daily income in bit club?

BitClub Network: Simply purchase a share in one of our mining pools and receive daily bitcoin payouts.
Invest money and collect a passive ROI, otherwise known as a securities offering. BitClub Network aren't registered with the SEC, so it's an unregistered securities offering – which is a violation of the Securities Act.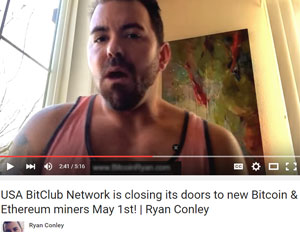 At the time of publication BitClub Network haven't confirmed the announcement on their website or social media accounts, we instead turn to an April 4th video by Ryan Conley.
[0:09] BitClub Network is going to be closing its doors to US participants, new ones anyways, come May 1st.
Conley doesn't offer up an explanation for BitClub Network's decision. He does state however
[2:41] we don't want the alphabet-soup gangsters, y'know, and the stupid powers the United States has to go ahead and shut us down.
At the time of publication Alexa estimate that around 11% of traffic to the BitClub Network website originates from US, so shutting down there is a significant loss of potential revenue.
On a logical plane the company's decision makes little sense. If BitClub Network were legitimate then there'd be no issues with registering their securities offering with the SEC.
The required financial statements would prove BitClub Network are above-board, opening up their revenue source(s) to scrutiny.
Since conception, the only source of recorded revenue going into BitClub Network has been affiliate fees and investment.
A US resident himself, Conley laments BitClub Network's decision but doesn't seem to fazed:
[0:25] Of course I wish that BitClub Network would still allow us to recruit people from the USA after May 1st, but it's not the case.

So what do you gotta do with life? You just keep rollin', rollin', rollin'. Right?

So, y'know I'm not hung up on it. I got so much stinking international business going on everywhere, I mean uh, South Africa is more on top of this shit than (the) United States anyways.

So I'll focus on South Africa, China… y'know.
In addition to BitClub Network, Conley also promotes MMM Global – a bitcoin-based cash gifting Ponzi scheme.
The scheme recently attracted the attention of regulators in South Africa. As the investigation continues, bank accounts of participants have been frozen due to money laundering concerns.
BitClub Network's founders are Zeek Rewards Ponzi veterans, and have previously stated they are "staying anonymous to avoid regulators".
The "stupid powers" Conley claims the US government has, has seen millions of dollars returned to victims of the $850 million Ponzi scheme.
In his video, Conley claims MMM Global affiliates "haven't been paid for three weeks". He suggests BitClub Network affiliates raid MMM Global downlines to fill their BitClub Network binary teams.
Despite MMM Global and BitClub Network going hand in hand, the latter professes it's not a Ponzi scheme:
Is BitClub a Ponzi Scheme?

A: NO! A ponzi scheme has no product, it's just a money game set up to pay people with other people's money and eventually it will crash and burn because there is no real money being earned from any outside sources.
In a sign that BitClub Network might be on the verge of "crashing and burning because there is no real money being earned from any outside sources", on March 16th the company recently announced a second virtual share mining pool.
The BitClub Network Ethereum Mining Pool goes live in just under an hour!

Shares in this pool are only available to Founder members and are limited to 1,000 total shares. It's not too late to become a Founder and stake your claim in the Ethereum pool!
How much it costs to sign up as a BitClub Network Founder member and purchase Ethereum pool shares is not disclosed.
Ethereum is the name of the project behind the Ether cryptocurrency launched last year. Ether is publicly traded and currently valued at $10.43 USD.
Update 4th May 2016 – If US-based visitors visit the BitClub Network website, they are now presented with the following message:
BITCLUB NETWORK IS NOT AVAILABLE IN THE UNITED STATES

You are seeing this page because you are attempting to access BitClub Network within the United States

As of May 1st 2016 BitClub Network is no longer offering new memberships to anyone located in the United States or any country/territory controlled by the United States.
Existing US-based BitClub Network affiliates are believed to still be able to access their accounts.