MMM Dubai Review: MMM Global "provide help, get help" Ponzi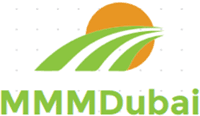 MMM Dubai provide no information on their website about who owns or runs the business.
The MMM Dubai website domain ("mmmdubai.com") was privately registered on October 20th, 2016.
MMM Dubai provide a link to UK incorporation for MMM Dubai Limited.
MMM Dubai Limited was incorporated with the UK Companies House on October 24th, 2016, four days after the MMM Dubai website domain was registered.
Four MMM Dubai Limited Directors are listed, all using an address belonging to a furniture store in London.
I wasn't able to find any information on any of the four Directors outside of the incorporation, likely suggesting the entire filing is bogus.
Supporting this is a badly photoshopped certificate of incorporation for MMM Dubai Limited, purportedly issued by the Dubai Financial Services Authority.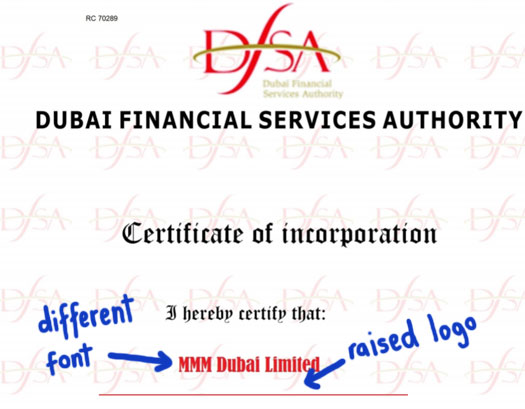 As above, someone has photoshopped "MMM Dubai Limited" onto a certificate issued in May, 2014.
The alignment of the company name doesn't match up and when compared to a legitimate certificate, the font for "MMM Dubai Limited" is different.
As always, if an MLM company is not openly upfront about who is running or owns it, think long and hard about joining and/or handing over any money.
MMM Dubai Products
MMM Dubai has no retailable products or services, with affiliates only able to market MMM Dubai affiliate membership itself.
The MMM Dubai Compensation Plan
MMM Dubai affiliates invest bitcoin on the promise of a ROI.
How much of a ROI is paid out is determined by which "package" an MMM Dubai affiliate invests in:
Student Package – invest $10 to $500 and receive a 120% ROI in 7 days
Executive Package – invest $100 to $10,000 and receive a 120% ROI in 30 days
Workers Package – invest $50 to $5000 and receive a 150% ROI in 15 days
After withdrawing a ROI payment, in order to continue an MMM Dubai affiliate must reinvest the same or more than they initially invested.
Referral Commissions
MMM Dubai affiliates receive a 5% referral commission on funds invested by personally recruited affiliates.
Upon qualifying as a "Guidian", MMM Dubai affiliates earn additional referral commissions via a unilevel compensation structure.
A unilevel compensation structure places an affiliate at the top of a unilevel team, with every personally recruited affiliate placed directly under them (level 1):

If any level 1 affiliates recruit new affiliates, they are placed on level 2 of the original affiliate's unilevel team.
If any level 2 affiliates recruit new affiliates, they are placed on level 3 and so on and so forth down a theoretical infinite number of levels.
Referral commissions are paid out across unilevel team levels as follows:
3% on levels 1 to 20
2% on levels 21 to 50
1% on levels 51 to 100
0.5% on levels 101 to 200 and
0.25% from level 201 onward
Note that MMM Dubai do not provide Guidian affiliate qualification requirements on their website.
Marketing Bonus
MMM Dubai affiliates qualify for the Marketing Bonus by
investing at least $500
recruiting at least fifteen affiliates who together have active investments of at least $3000 and
record a 90 second promotional video for MMM Dubai
MMM Dubai affiliates who qualify for the Marketing Bonus are paid an additional 3% referral commission on unilevel team investment volume.
Joining MMM Dubai
MMM Dubai affiliate membership is tied to an investment in one of three packages:
Student Package – $10 to $500
Executive Package – $100 to $10,000
Workers Package – $50 to $5000
The primary difference between the packages is ROI amounts paid out and how soon.
Conclusion
MMM Dubai is quite obviously modeled on the collapsed MMM Global Ponzi scheme.
As is typical of MMM Global reboot attempts, it's likely that someone who made some money in MMM Global is trying to resurrect the business model so they can steal some more.
On its website, MMM Dubai describes itself as 'Peer-to-peer (P2P) fundraising platform'.
The problem with classifying MMM Dubai as a fundraising platform is funds are being "raised" for payment to those who have deposited funds into the scheme.
A fundraising model requires funds raised for a cause, however in MMM Dubai the "cause" is ROI payments to affiliates.
This is an investment opportunity model, which is vastly different to legitimate fundraising.
The only source of revenue entering MMM Dubai is newly invested affiliate funds, the use of which to pay ROIs makes MMM Dubai a Ponzi scheme.
MMM Global offered a similar "provide help, get help" model. The Ponzi scheme in its last incarnation launched in 2014 and collapsed in early 2016.
MMM Dubai will be no different. As soon as affiliate recruitment drops off, so too will newly invested funds.
This will see MMM Dubai unable to meet its ROI obligations and prompt a collapse.
As with MMM Global, the collapse of MMM Dubai will result in the majority of participants losing money.